Torre: MLB, union working toward rule to protect middle IFs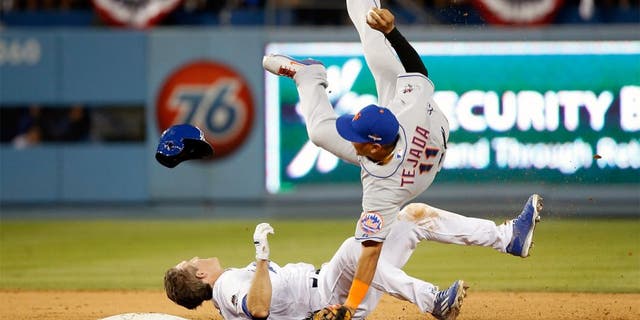 NASHVILLE, Tenn.
Major League Baseball hopes to push ahead with a rules change to better protect middle infielders from getting hurt by baserunners trying to prevent double-play turns at second base.
Joe Torre, MLB's chief baseball officer, said Tuesday at the winter meetings that MLB will work to draft the rule in conjunction with the players' association.
"I'm not saying it's not going to be in place by this season," he said. "It depends on if we can find a common ground."
Ahead of the 2014 season, MLB banned most home-plate collisions. Injuries at second base gained renewed focus after a hard slide by the Los Angeles Dodgers' Chase Utley broke the leg of New York Mets shortstop Ruben Tejada during the NL Division Series. Torre later suspended Utley for two games, ruling the slide illegal, discipline the players' association has appealed.
At the Arizona Fall League, players have been told for two years to slide directly toward the base.
"There's a way, I believe, you can do it without going out of your way to target the fielder," Torre said. "Doesn't mean we're not going to have collisions or guys landing on their rear ends in second base, but you know, I think we could try or I'd like to see us try to keep guys on the field."
Torre said it was unlikely there will be a change on the video review regulation that has caused baserunners to be called out for losing contact with a base while the fielder applies a tag for an extended period.
"When a camera shows you that the glove is on the guy's leg and he's not on the bag, how can you say he's safe?" Torre said.
"Jimmy Leyland, he's been trying to put wording together to try to eliminate that type of hold-on thing," Torre added, referring to the former Detroit manager. "But it's really hard for me to say it's OK to be safe if you're not on the bag and the glove is tagging."
Echoing what Commissioner Rob Manfred said at last month's owners' meeting, Torre said recommendations have been made to teams and owners about increased protective netting to guard fans from injuries from foul balls and bats that enter the stands.
He also said no change is likely next year to the rule expanding active rosters from 25 to 40 each Sept. 1. Some have complained each team should have an equal number of players for each game, and some advocate each team being able to use a subset of their 40-man roster each night in September.
Torre said that discussion probably will take place in collective bargaining for a labor contract to replace the current deal, which expires next Dec. 1.
"When you have, say, 28 guys and somebody else has 35, it's not a level playing field," Torre said. "We have to make sure we're able to cross the T's and dot the I's."