Tom Brady to be next star on Madden cover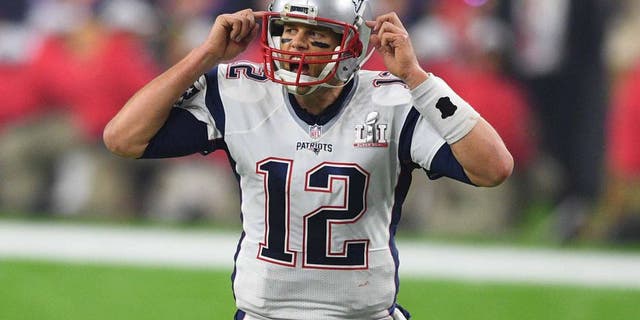 Now, Tom Brady truly has reached the pinnacle. At least in the eyes of his video game-loving son.
To the joy of 9-year-old Jack Brady, the five-time Super Bowl champion will be the cover athlete for Madden 18 , following his Patriots teammate and buddy Rob Gronkowski.
"I think it is very cool," Brady said. "I grew up not far from the headquarters of EA Sports and some of my neighbors and best friends worked there. And we hung out at the gym they built in the facility where a lot of the 49ers would go. To be a fan of the game and play it over the years, it is really a cool honor, so when the opportunity was presented to me, it was something I would not turn down."
Asked if this will put him in the same celebrity realm as Gronk, Brady laughed.
"Nobody has more fun than him," Brady said of the star tight end who was injured for the team's championship run last season. "He is such a great player and it's great for him to experience some of the cool things that come along with being in the NFL."
Gronkowski's absence for half of the 2016 season could have given his quarterback pause about accepting the cover role. After all, there's talk of a Madden Curse.
While pointing out that he works extra hard to keep fit -- how many NFL players are in as good or better shape at age 39 as they were a decade ago? -- Brady acknowledges that he's heard about the curse.
"I am not sure it's supposedly that there is a curse, I think there is a curse," he said. "I've been able to overcome a lot of things in my life, and now we've really got to step up our game."
Brady has to step up his video game skills within his household. Jack, his oldest child, provides stiffer competition than most NFL opponents give the Patriots.
Indeed, Brady isn't sure he could lead his team back from a 28-3 third-quarter deficit in Madden the way he did against the Falcons in the Super Bowl.
"I think Jack would have a lot better chance to come back," Brady said with a chuckle. "I used to be really good, but I don't have too much time to dedicate to it now with raising a family and my job and obligations. If he was down 28-3, there's no chance he couldn't come back. With me down 28-3 in Madden, I doubt it."
When Brady does take on Jack in the video game -- Madden NFL 18 became available for preorder on Friday -- well, it can get a bit awkward. Naturally, they both want to be the Patriots. Or, at the very least, they both want Tom Brady to be their QB.
"I think that is one of the negotiations we always go through before we start a game," Brady said, clearly enjoying the question. "He loves being the Patriots, and naturally it's hard for me to play with some other team. Usually he wins the opportunity, but it gets to be a little of both."
Brady doesn't think that's an unusual circumstance for gamers. He believes many fans are just as happy to use players they have on their fantasy teams when they play Madden as they might be using the guys they root for on the real grass on Sundays.
"It forces you to get to know different players on different teams," he said. "When you play this game, you pick players and you root for that individual. So many people say, `I use your team on Madden all the time.' But their (favorite) team might not be the Patriots."
The 2017 version of the Patriots figure to be a strong favorite for another title. They've been particularly active with trades and in free agency, unusual for New England, and made only four draft picks, none before the third round.
"I think there have to be lots of different ways to put the roster together," Brady said. "You can't skip any steps in the process of trying to build a team. We believe in what we do and we're trying to get all the new players up to speed as quickly as possible. The competition in the NFL is tough."
Although maybe not as tough as trying to beat his son in Madden.