Toews' tally reminds Luongo of Olympics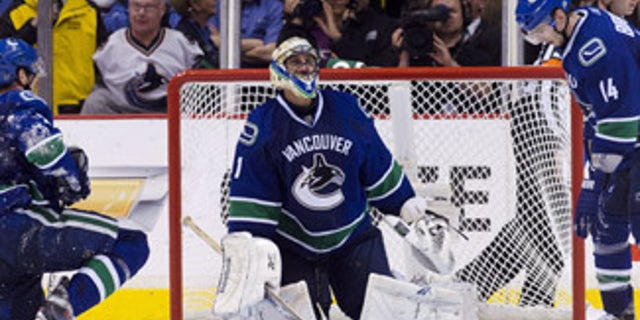 VANCOUVER -- Roberto Luongo thought back to February 28, 2010. The situation was so very familiar to him.
Nearly 14 months ago inside the very same building, very same dressing room he sat in Tuesday night, Luongo was wearing a Team Canada sweater awaiting overtime in the gold medal game of the Olympic tournament -- an overtime that had to be played because Zach Parise scored on him with less than a minute remaining in regulation.
Tuesday night, he was wearing a Vancouver Canucks' sweater, but he again sat in the home dressing room, this time awaiting overtime in Game 7 of the Western Conference Quarterfinals -- an overtime that had to be played because Jonathan Toews scored on him with less than two minutes remaining.
"It was almost an identical scenario," Luongo said following Vancouver's 2-1 overtime win over Chicago in Game 7. "The only difference is I felt much more comfortable this time around then last time because that was my first time."
Luongo had to make four saves before Sidney Crosby scored the golden goal for Team Canada 7:40 into the extra session. He needed to make only one before Alexandre Burrows scored the heroic goal for the Canucks 5:22 into overtime Tuesday.
The save was a beauty on Patrick Sharp, who tried to hammer in a backdoor feed from Toews only to find Luongo sliding perfectly across his crease to stop the puck with his blocker 49 seconds into overtime.
"Toews faked the pass and I think our D-man went down and he went around him," Luongo recalled. "As soon as he did that I knew there was somebody on the backdoor. Once he slid it across I slid across and made a blocker save."
The final save preserved what wound up being Luongo's defining moment in a Canucks' uniform. He came into Game 7 amidst swirling criticism over his play in this series and his ability to step up and be a big-time playoff goalie.
He was pulled from Games 4 and 5 -- he allowed 10 goals on 40 shots in 65-plus minutes -- and was relegated to backup duty in Game 6. He had to come in cold from the trainer's room (the Canucks claimed the bench in Chicago was too small for him to fit) late in the third period Sunday night and played well, but he did give up the overtime winner to Ben Smith, setting up Game 7.
Could he step up? Could he beat the Blackhawks with everything on the line? Could he prove -- hefty contract aside -- that he is world class?
The answer to every question is unquestionably yes. Luongo made 31 saves, just enough to edge out the Hawks in Game 7.
"They always say in tough times, that's when you see the true character of somebody," Luongo said. "Obviously it was a big game in my career today."
Follow Dan Rosen on Twitter: @drosennhl