Three Cuts: Braves' focus begins to shift to 2016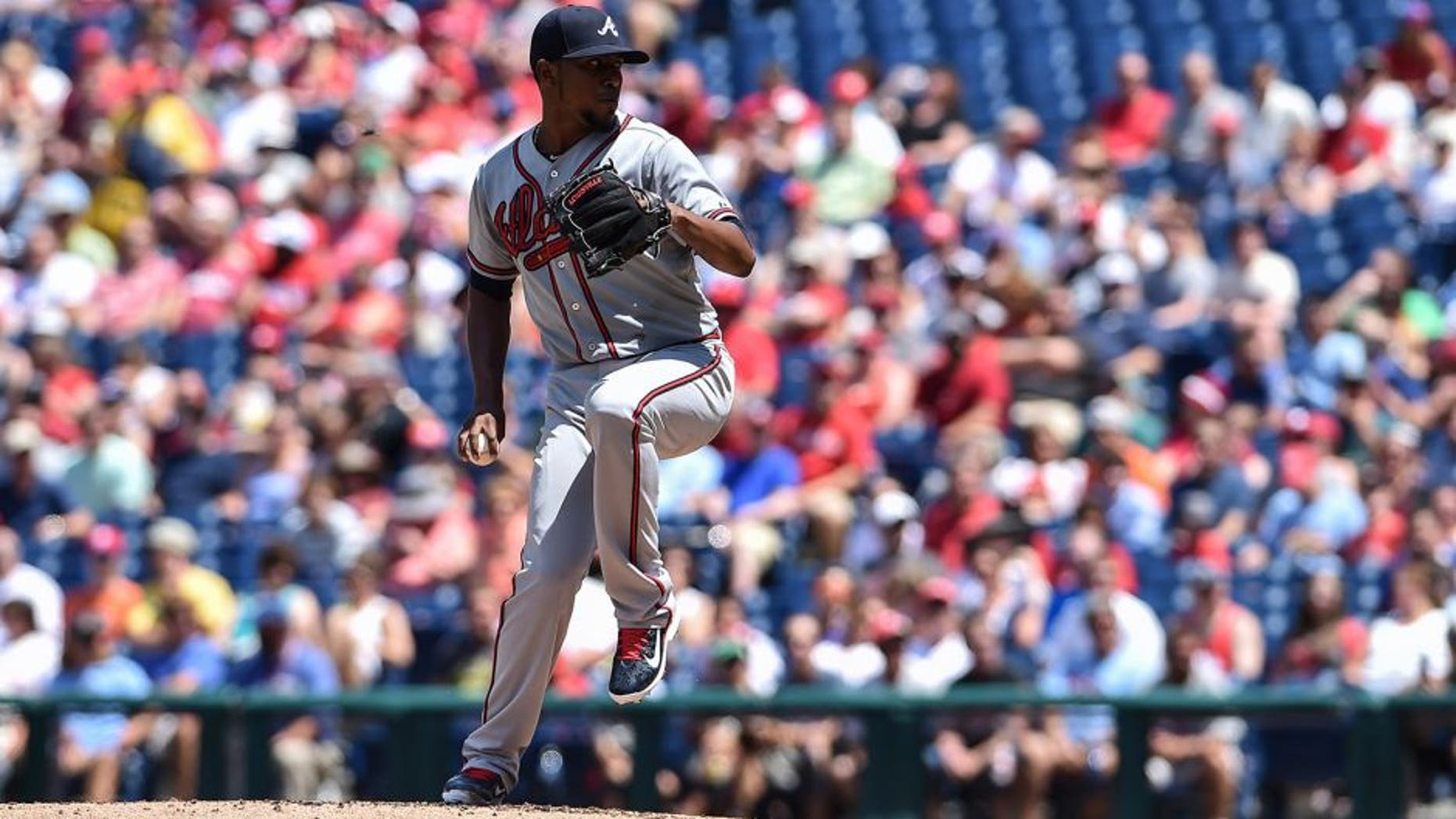 The Atlanta Braves capped off a week that was both memorable off the field (trade deadline movement) and forgettable on it (losing six of seven games) with a 6-2 win over the Philadelphia Phillies on Sunday. It was a brief respite from what has become one of the worst stretches in manager Fredi Gonzalez's tenure -- a lackluster stretch marred by injuries, trades and offensive production that has plummeted into baseball's cellar.
Here are three observations from a week that underscored the team's season-long focus on the future:
1. John Hart & Co. betting on acquired -- not inherited -- talent
Atlanta's front office placed most of its eggs into one basket leading up to the trade deadline. The organization acquired young pitching prospects at a breakneck pace, from the trade market to the draft, and never apologized for its single-minded approach. The result was a nine-month restocking of an underwhelming farm system, one which now ranks as one of baseball's best.
Under president of baseball operations John Hart and assistant GM John Coppolella, the Braves have never taken their collective focus off the future.
So, with that frame of reference, there was zero surprise the team functioned as trade market sellers at Friday's deadline. The only surprise was what was for sell, namely proven 24-year-old starter Alex Wood.
Atlanta's team-building strategy has been fairly clear from the beginning: Acquire enough young arms to not only reload the parent club's staff but also to flip for a big bat when the time was right. (Other than third-base prospect Rio Ruiz, the team did not acquire a single positional prospect regarded as a high-ceiling player.) Here's the catch: By flipping Wood in the team's three-team trade with the Dodgers and Marlins, Hart & Co. veered away from expectations, and they are taking on substantial risk in the process. Not only is the franchise betting that Hector Olivera, a 30-year-old Cuban infield prospect it fell for in the offseason before being out-bid by Los Angeles, will develop into a longtime middle-of-the-lineup bat, but also that its acquired arm talent will eventually reach Alex Wood's level ... and then higher.
The red flags concerning Olivera are well-documented. He's an unproven MLB commodity that's already reached a player's typical prime, there are major injury question marks and the team is not expected to truly compete for a couple years.
Grabbing productive reliever Paco Rodriguez, promising arm Zack Bird and a competitive balance draft pick did not hurt, but Olivera, at the moment, is the key for Atlanta. He has to produce, and produce well into his remaining five-year deal. Much like Nick Markakis' four-year deal, it seems that the Braves are not subscribing to the notion that rebuilding exclusively involves acquiring young talent.
"As we start to retool this offense," John Hart said of Olivera, "this is the first building block."
He needs to be.
The rotation's youth-filled future is just as intriguing, though.
In trading Wood -- and reportedly exploring trade options for Julio Teheran -- Hart's staff is betting on talent acquired rather than talent inherited. With just four players on the current 25-man roster remaining from last year's club, not to mention rumored trade negotiations involving Teheran and Chris Johnson, the Braves are looking to move on from both the good and the bad holdovers from Frank Wren's tenure. Cumbersome or expiring contracts, a closer being paid at the top of the market for a non-competitive club, a shallow farm system stocked with low-ceiling prospects ... most of those issues have been addressed.
The cupboard wasn't entirely bare, however. Wood and Teheran, while struggling at times in 2015, entered the season as two of the top young starters in baseball. Proven, cost-controlled young arms are extremely valuable commodities on the open market. As was illustrated earlier in the week, few starters have been quite as consistent as Alex Wood since his 2013 debut (MLB ranks of qualified pitchers):
ERA: 3.10 (21st, tied with David Price)
FIP: 3.18 (24th, one spot ahead of Cole Hamels)
WAR: 6.4 (45th, tied with Carlos Carrasco)
Even if Wood has peaked as an above-average MLB starter, a mid-rotation arm that will continue to draw elbow-related concerns due to his past Tommy John surgery and wonky delivery, he was a known commodity. He's been a two- to three-win player, in terms of WAR, with a fierce competitive streak for three seasons now. The Braves are trading -- or, in the case of Teheran, perhaps trying to trade -- the known for the unknown.
While the team has every reason to believe there's high-end MLB quality among the likes of Tyrell Jenkins, Matt Wisler, Max Fried, Manny Banuelos, Mike Foltynewicz, Ricardo Sanchez and Touki Toussaint, there are no guarantees. Many of those names are already developing at the major-league level and early signs are positive. That's a start. Still, the team took on plenty of risk in the Olivera deal, and it doesn't just have to do with whether his bat projects.
2. Braves' season on downward spiral
Sunday's win helped the Braves avoid their first four-sweep in Philadelphia since Bobby Cox was in elementary school, but it didn't erase what has been a terrible stretch for the club. The Braves have gone from the outside-looking-in at the playoff race just a few days before the All-Star break to 11 games under .500 and closer to the Phillies than the Nationals in the standings in a three-week span.
Of course, available personnel has a lot to do with the on-field issues. Injuries to Jason Grilli, Freddie Freeman and (recently) Andrelton Simmons have hindered the team's plans. Trades involving Juan Uribe, Kelly Johnson, Jim Johnson and Alex Wood are part of a grander plan but have certainly held the team back in the 2015 standings.
Still, losing 16 of 21 games wasn't part of the plan.
The Braves' offense ranked 28th in both runs scored and weighted runs created plus entering Sunday's slate of games, a nod to an implosion that began with Freeman's wrist injury. Other than Shelby Miller, who surprisingly received an entire run in support in his last start, the team's young rotation has hovered around replacement level over the past month. The bullpen sans Grilli and Johnson still ranks among the league's worst. Things are not likely to continue at this lowly rate, but it doesn't appear the team will be truly competitive until next season.
Atlanta looks positioned for two months of growing pains.
3. Talent and production still take precedence
The prevailing storyline in Atlanta's spring training camp, aside from the ongoing rebuilding-on-the-fly, was the team's addition of multiple veterans, and how the improved clubhouse dynamic was going to pay dividends both on the field and off. The Braves brought in well-traveled vets like Jonny Gomes, A.J. Pierzynski, Eric Young Jr., Alberto Callaspo, Eric Stults, Kelly Johnson, Jason Grilli and Jim Johnson, among others, on short-term deals aimed to keep the club relevant without handicapping its future plans.
Some moves have worked, some haven't. (With others, like Markakis' four-year deal, the jury remains out.)
One thing stands out, though: Clubhouse presence and leadership only carry so much value.
Gomes is the obvious example. Lauded by various teammates and coaches for his no-nonsense approach to baseball, the 2015 season has simply not gone his way. He's hitting .204/.307/.321 en route to what is shaping up to be the worst season of his career. In terms of value, no team has gotten less production out of left field (minus-1.7 WAR) than the Braves, and that's including the positive contributions of Kelly Johnson, who is now a New York Met.
This is not to say that Gomes was a disastrous signing -- it's a one-year deal as long as the team doesn't let him reach the 325 plate appearances needed to trigger his $3 million vesting option for 2016 -- and he's not the only example: Young, Stults and Callaspo were quickly discarded for better, younger options. Still, it's a clear example that talent and performance are better investment choices than targeting specific personality types for the clubhouse. (Winning cures all, etc.)
While the dynamics of the NL East have certainly shifted, there's still this: On Aug. 3, 2014, the Braves were 3.5 games back in the division. The 2015 version is 8.5 games back. Playing style and personality types changed, and in small sample sizes there were positive signs, but over the course of 162 games, injuries and trades involving talents like Freddie Freeman, Jason Heyward and Justin Upton took their expected toll. Production still matters most.
Shifting the clubhouse dynamic provides very little value if it doesn't improve the on-field product.