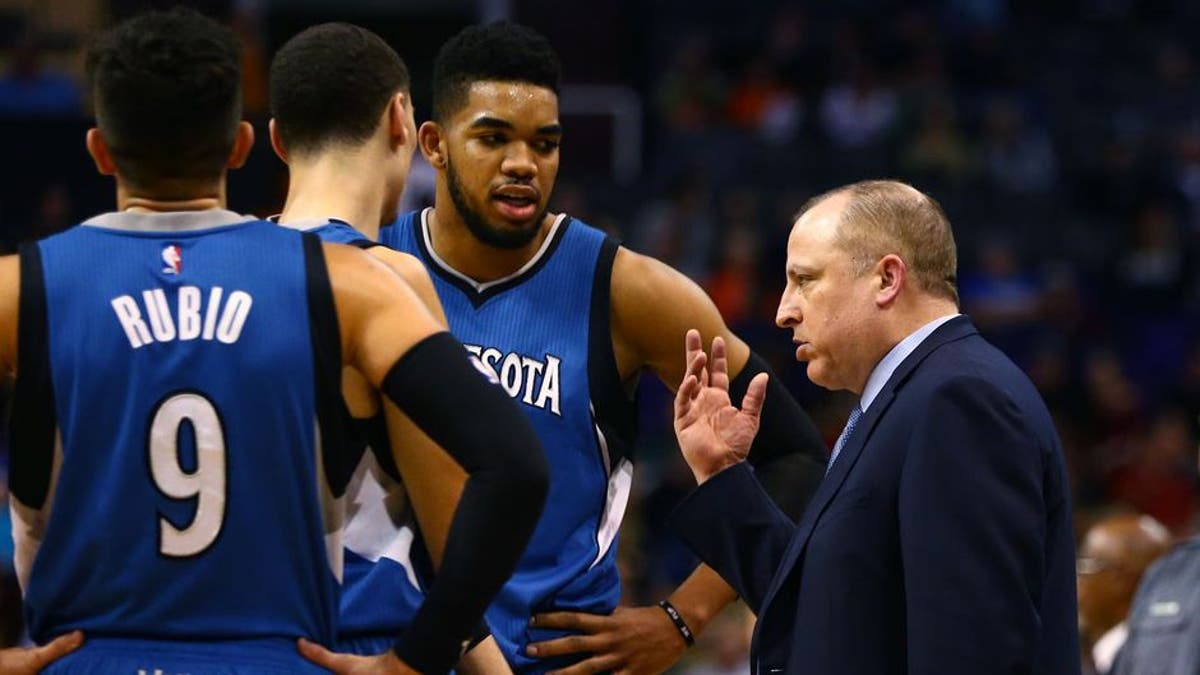 MINNEAPOLIS -- With Tom Thibodeau taking over a roster filled with young talent, the Minnesota Timberwolves finally seemed poised to show real progress toward ending the longest active playoff drought in the league.
Instead, they are headed to the lottery for the 13th straight season after winning just two more games (31) than they did last season. And as young as they are, it still marked a big disappointment for a franchise desperate for success.
In five years as coach of the Chicago Bulls, Thibodeau presided over two regular-season losing streaks of four games, both happening in 2013-14. In his first year as president and coach in Minnesota, the young Wolves had four four-game skids and two six-gamers, including an ugly one to end the season that sapped any sense of momentum going into a crucial summer for the franchise. The Wolves went 3-13 over the final 16 games, including two losses to the Lakers, one to Oklahoma City when the Thunder sat Russell Westbrook, Taj Gibson and Andre Roberson, and one to the free-falling Sacramento Kings at home.
"It's been 13 years of losing," coach Tom Thibodeau said after the season finale in Houston. "I'm sick of it after one."
Thibodeau tried to manage expectations from the start, emphasizing how much work had to be done to mold a team led by 22-year-olds Andrew Wiggins and Zach LaVine and 21-year-old Karl-Anthony Towns into a team that was built to last. He and GM Scott Layden were intentionally conservative in free agency last summer, preferring to throw the pups into the fire, play them big minutes and amass the data needed to make big decisions this summer.
"I came in with eyes wide open," Thibodeau said. "The important thing was to build a foundation and have Andrew and Karl develop a voice. … The best thing for us was to take the long view. We probably could've added some different type of players. But I think this was the best plan for us."
On the bright side, Towns, Wiggins and Ricky Rubio played extremely well and the Wolves ranked ninth in the league in assists per game while running an offense filled with ball movement.
"I feel like we've gotten peoples' attention," Wiggins said. "We play hard every game, play together. We're only getting better."
The downside? They finished the season 26th in the league in defensive rating, Thibodeau's specialty, and lost 22 games in which they held a double-digit lead.
"The challenge becomes how do you speed up the process," he said. "And that comes from the effort you put forth every day, your concentration, your study and then putting everything you have into each and every day. We have some really good young players who have grown and continue to grow. This is a critical summer for us."
Here are some things that stand out as the Wolves head into the summer:
TOWNS' BRILLIANCE
In his second season, the former No. 1 overall pick continued his rapid ascension toward elite status. Over the final 41 games he averaged 28.4 points and 12.7 rebounds while shooting 59 percent from the field and 44 percent from 3-point range, giving the Wolves a weapon that few defenses can handle.
RUBIO'S FUTURE
After hearing his name surface in trade rumors for much of the season, Rubio put together his finest season as a pro. Thibodeau helped instill a confidence shooting the ball that hasn't been there before, but it remains to be seen if he will be back for a seventh season in Minnesota. Rookie Kris Dunn had a very good defensive year, but struggled offensively, which could increase Rubio's chances of sticking around.
THIBS' ADJUSTMENTS
The demanding coach brought a system based on communication, discipline and precision, but the young team struggled to find consistency on the defensive end to help them finish off games. Will Thibodeau make any changes to the way he teaches to try to find a different way to get through to his players? Or were the shortcomings based more on the youth and inexperience of the core?
LAVINE'S RECOVERY
The third-year guard had emerged as a potent 3-point shooter and dynamic playmaker before tearing the ACL in his left knee on Feb. 3. If all goes well in his recovery he should be ready to play near the start of next season, but it may take him some time to recapture the form he showed before the injury.
SUMMERTIME ASSETS
The Wolves enter the summer loaded with assets to improve the roster. They will have roughly $30 million in salary cap space to pursue much-needed veteran help. A coin flip next week will determine if they have the sixth or seventh-best odds in the upcoming draft lottery.