They know nuthin': Belichick, Brady claim 'Deflate-gate' mystery to them
NEWYou can now listen to Fox News articles!
Bill Belichick knows nothing. Tom Brady knows nothing. So if neither the New England Patriots' head coach nor their star quarterback called the play, then exactly who deflated the game balls in the AFC championship game that put their team in the Super Bowl?
In separate news conferences called seven hours apart to address the spiraling scandal about tampering with game balls, Belichick told reporters only Brady could talk about his "personal preferences on footballs," and Brady said it was all a mystery to him.
"I didn't alter the ball in any way," said Brady, who acknowledged joking in a video made several years ago about preferring deflated footballs, presumably because they are easier to grip, throw and catch. He explained that what he meant was that he liked his pigskin inflated to 12.5 pounds per square inch, the precise bottom of the NFL range that extends up to 13.5 pounds. Eleven of the 12 game balls managed by the Patriots in Sunday's 45-7 win over the Indianapolis Colts were determined by NFL investigators to be illegally below the threshold, a situation that appears well beyond the realm of coincidence.
"I have no knowledge of anything," said Brady, clad in a gray sweatshirt and team ski hat. "I have no knowledge of wrongdoing. I have no problem saying that – as far as I know."
Insisting "I don't believe I'm a cheater," Brady said fans are free to believe otherwise.
"If that's what they feel they want to do, then I don't have a problem with that," he said, adding that criticism is "part of being a professional athlete."
The star quarterback praised the team's equipment managers, and said they, too, are at a loss as to how the balls came - apparently - to be tampered with.
"There's a lot of people that have more information than me," he said. "I have questions, too, but there's nobody that can answer the questions I have."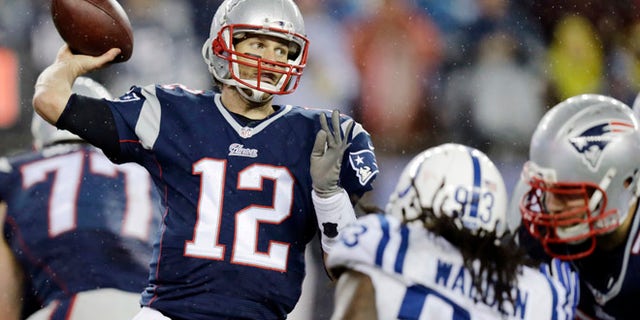 Earlier, Belichick said he first heard about the controversy on Monday.
"When I came in Monday morning, I was shocked to learn of the reports about the footballs," Belichick said. "I had no knowledge of the various steps involved in the game balls and the process it went through and what happened. So I learned a lot about that."
"Tom's personal preferences on footballs are something he can talk about."
"I think we all know that quarterbacks, kickers and specialists have certain preferences," Belichick said. "Tom's personal preferences on footballs are something he can talk about."
Asked if he had talked to Brady about what is being called "Deflate-gate," Belichick simply said, "I have no explanation for what happened" before cutting the morning news conference off.
Brady likely will be forced to talk to NFL investigators, who are taking the matter seriously ahead of the sport's biggest game on Feb. 1. The scandal has already cast a shadow over the event, partly because it involves a team that has cheated before.
The Patriots were penalized a first-round draft pick, fined $250,000 and Belichick was personally fined $500,000 after an investigation by the NFL determined the team had illegally videotaped their opponents' hand signals during a 2007 game.
And unsubstantiated accusations of cheating have long dogged the team, stemming from their Super Bowl wins in 2002, 2004 and 2005. The St. Louis Rams claimed the team illegally videotaped their walk-through practices prior to the 2002 game, and players on the other defeated opponents have said the Patriots seemed to have inside knowledge of their playbooks.
The Patriots lost the Super Bowl in 2008 and 2012, both times to the New York Giants.
According to NFL rules, home teams are required to provide 36 balls for outdoor games and make the balls available for testing with a pressure gauge prior to the game. Belichick pledged to cooperate with the league investigation, but insisted that he is clean.
"I have never talked to any player, staff member about football air pressure," he said. "That is not a subject that I have ever brought up."
While Belichick insisted he knew nothing about air pressure and game balls, he did display extensive knowledge of preparing the pigskin for practice, saying he deliberately made footballs hard for his team to handle.
"My personal coaching philosophy, my mentality, has always been to make things as difficult as possible for players in practice," Belichick said, explaining that he has his team work with wet, sticky, slippery balls in practice. "However bad we can make them, I make them.
"We never use the condition of the football as an excuse," he added. "We play and we kick with whatever we have to use."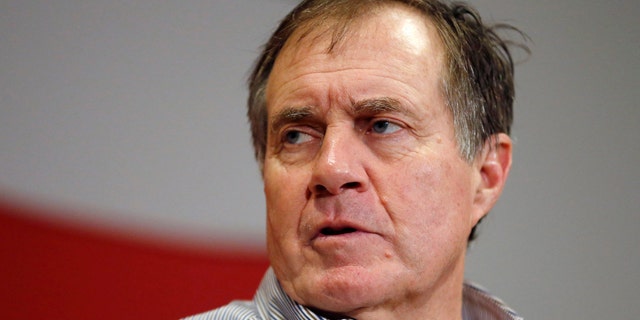 In the victory over the Colts, Brady completed 23 of 35 passes for 226 yards and three touchdowns. Colts' quarterback Andrew Luck, completed only 12 of 33 passes for a mere 126 yards.
Ex-players have come down on both sides about whether deflating the balls might have given the team an edge, and one, former Tampa Bay Buccaneers quarterback Brad Johnson, openly admitted having balls deflated in the 2002 Super Bowl, in which his team beat the Oakland Raiders 48-21.
But Colts tight end Dwayne Allen said his team was simply beaten by a better squad.
"They could have played with soap for balls and beat us," Allen tweeted. " Simply the better team. We have to continue to build!"
The Patriots also were accused of flouting the rules in the game before Sunday's contest, in which they beat the Baltimore Ravens using unorthodox formations that Ravens Coach John Harbaugh said were designed to confuse the officials and his defense.
Super Bowl XLIX takes place Feb. 1 in Glendale, Ariz. The defending champion Seattle Seahawks, who punched a return ticket with a 28-22 win over the Green Bay Packers prior to the Patriots-Colts game, are a two-and-a-half-point favorite in early betting.