There's no debate, Conor McGregor is the 2015 'Fighter of the Year'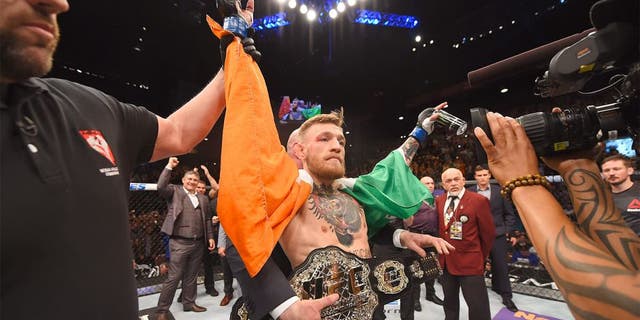 In the final Great MMA Debate podcast for 2015, it's time for our year-end awards for "Fighter of the Year," "Fight of the Year." Plus, Matt Brown responds to Tyron Woodley after their recent dust up on Twitter.
On last week's episode, Brown said he would love to face the loser from the UFC 195 main event between Robbie Lawler and Carlos Condit. Woodley took exception to his matchmaking with an exchange over social media.
Brown responded during the latest podcast while offering to settle things with Woodley inside the Octagon rather than to talk about things on Twitter.
"Here's Woodley for you, I don't even care if he read the article, if he's got a problem with what I'm saying how about we fight about it instead of talk about it?" Brown stated. "You want to come out and say all this s--t on Twitter, let's fight about it."
Retired UFC light heavyweight and current Elevation Fight Team coach Eliot Marshall also joins the show to break down UFC 195 as well as weigh-in on the picks for "Fighter of the Year" and "Fight of the Year."
While there were several great performances in 2015, the three hosts on the show this week all agreed that the choice for the best fighter this year was UFC featherweight champion Conor McGregor.
McGregor dethroned Jose Aldo at UFC 194 to cap off his incredible 2015 where he also finished Chad Mendes and Dennis Siver by TKO while becoming the undisputed featherweight champion of the world.
"He knocked out Aldo with one punch in 13 seconds," Brown said about his choice. "I was trying to think of anybody else that could even come close to Conor."
The guys also make their pick for "Fight of the Year" in 2015 as well.
Listen to the final episode of 2015 via Soundcloud or download and subscribe to the podcast via iTunes.