The True Greatness of Mariano Rivera Goes Beyond 602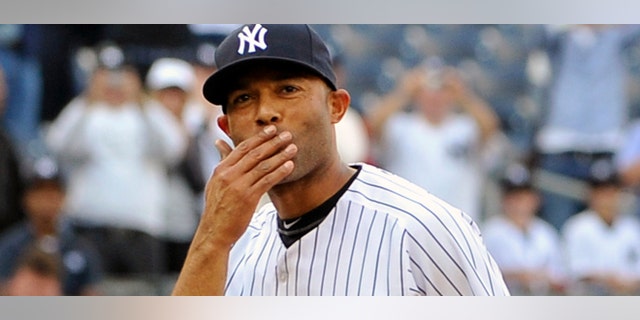 Mariano Rivera is the greatest closer of all time. Setting the regular-season all-time save record on Monday was just another reminder of his dominance.
However, when the New York Yankee reliever's legacy is ultimately considered, 602 – or whatever the final number will ultimately be – will serve as a noteworthy milestone, not a defining moment.
When Rivera is inducted into Cooperstown – an inevitability at this point – he will be remembered for numbers and achievements that do not figure into the most recent of the many records that have fallen to the Panamanian pitcher.
Forty-two playoff saves and counting.
A streak of 34 1/3 scoreless playoff innings.
A postseason ERA of 0.71.
Five World Series rings.
A World Series MVP.
Three shutout innings against the Red Sox in Game 7 of the 2003 American League Championship Series.
Those are the career-defining moments for Rivera, not a single pitch of which is reflected in 602.
Rivera will enter the Hall of Fame, not because he recorded more than 600 regular-season saves, but because he is quite possibly the greatest postseason player of all time.
There's no question that 602 is an accomplishment. But it is one defined as much by situation and longevity as by skill. The save, as many sabermetricians, baseball analysts and even fans will tell you, is not a statistic fully indicative of ability or individual accomplishment.
Certainly, no one even nears the kind of numbers Rivera has put up in his 17-year professional career without an incredible amount of talent, ability, dedication and work ethic.
However, the save is also contingent on being on a team that actually wins. Rivera's rookie season in 1995, the Yankees won 79 games. The team hasn't won fewer than 87 in the 16 seasons since, winning more than 90 games in 14 of those years and more than 100 in five of those seasons.
That fact doesn't detract from his greatness. After all, without Rivera, those numbers could have been very different. But the saves don't define him, either.
What sets Rivera apart is his intangible and invaluable ability to step onto the mound in the most high-profile, high-pressure situations and deliver. For a decade and a half, he has been the pitcher hitters don't want to face. The mere mention of his name in the ninth inning can bring an entire city's worth of opposing fans to abandon hope of a comeback.
Rivera is among the rarified strata of athletes who need no last name. He has unquestionably earned a place in history among baseball's biggest stars, and he did so long before 602.
Maria Burns Ortiz is a freelance sports journalist, chair of the National Association of Hispanic Journalists' Sports Task Force, and a regular contributor to Fox News Latino. Follow her on Twitter: @BurnsOrtiz
Follow us on twitter.com/foxnewslatino
Like us at facebook.com/foxnewslatino