The <i>Other</i> Football: Tired of Sepp Blatter as FIFA head? So is Michael van Praag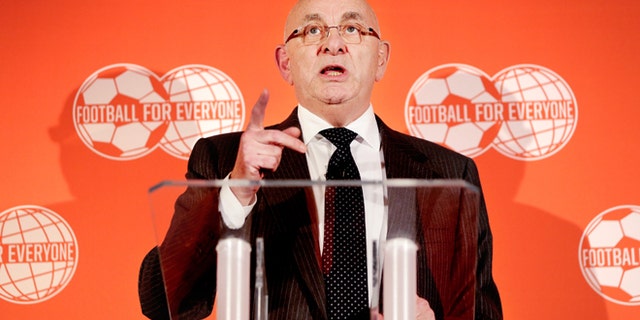 NEWYou can now listen to Fox News articles!
He once said that he would not run for a fifth term, but 79-year-old FIFA chief, Sepp Blatter, is doing just that. He is seeking re-election to the presidency of soccer's world governing body on May 29.
Blatter will face some competition this time: FIFA's member federations – currently 209 of them – had only him to choose from in 2007 and 2011 (when his one challenger was forced out amid bribery charges).
But can there be a fair ballot at an organization that has been plagued by scandal after scandal in recent years?
Dutch FA chief Michael van Praag, 67, told me in an exclusive interview why he's taking a shot at the top FIFA job.
"You cannot allow the guy who's responsible for the state FIFA is in right now to be responsible for the turnaround," the former Ajax Amsterdam chairman told me. "People just don't buy that, the associations don't buy that either."
He said "people were listening" when he showed up at the recent congress in Paraguay of the South American football confederation (CONMEBOL). And although the confederation had looked like it was backing Blatter, some are now saying it will delay announcing its vote until the election.
"I was there to introduce myself to members, to tell them why I want to do it," van Praag said.
He told me FIFA under his leadership would be open and transparent: People will be able to see where the money is spent; they will even know his salary.
He also pledged to serve only one term.
In his program of action [linked: www.michaelvanpraag.com], van Praag says he would make public the report, which FIFA commissioned in 2012, in which former U.S. attorney Michael J. Garcia looked into all nine bids for the 2018 and 2022 World Cups following allegations of corruption and collusion.
FIFA voted on only releasing a "legally appropriate version."
Still van Praag warned it would be tough to change the World Cup venues – Russia in 2018, Qatar in 2022 – under the present rules and regulations.
"It will be impossible to take away these World Cups from these countries," he said.
Some have raised concerns about Russia and Qatar's human rights records in challenging the choice of hosts. Van Praag has an impressive plan to expand the standards FIFA sets for future prospective hosts.
"It should be in the statutes and in every big bid regulation that human rights have to be preserved," he told me, "If it's in the bidding contract then you can do something about it, but if it's not in the bidding contract, you have no legal right to withdraw due to those reasons."
Van Praag said that unless he sees proof that the Qatar vote was corrupted, he doesn't believe the Cup should be taken away from the Middle Eastern country.
I hope to interview the other three candidates for FIFA president in future weeks.
Video of the week
Watch what happened after the Grays Athletic coach, Mark Bentley, inserted himself into a game in an English amateur league last week.
From the wires
Sunderland has fired manager Gus Poyet with the club fighting to avoid relegation from the Premier League.
The 47-year-old Uruguayan has been in charge of the northeast club since replacing Paolo Di Canio in October 2013.
Last year, Poyet was rewarded with a new two-year contract after taking the club to the League Cup final, but Sunderland has struggled this season.
Sunderland, which is owned by American businessman Ellis Short, is only one point above the relegation zone with nine matches remaining.
Short says "sadly, we have not made the progress that any of us had hoped for this season and we find ourselves battling, once again, at the wrong end of the table. We have therefore made the difficult decision that a change is needed."
The Associated Press contributed to this report.