The New York Mets need to sit Matt Harvey down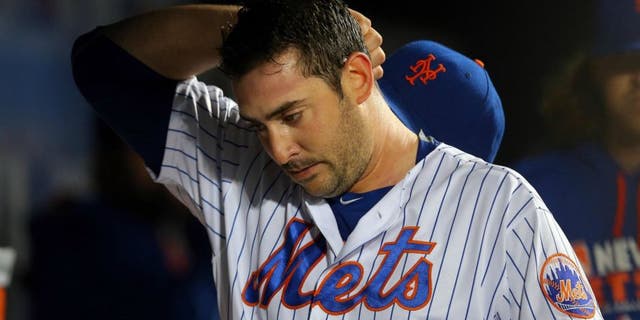 Matt Harvey hit an all-time low on Thursday night. Facing the division rival Washington Nationals, Harvey was tattooed for nine runs (six earned) on eight hits in 2.2 innings in the Mets' 9-1 blowout loss. He tied a season-low with two strikeouts and gave up his fifth homer of the season. Harvey's ERA now sits at a bloated 5.77 and his body language on the mound and in the dugout is alarming. Even Bryce Harper feels bad for him.
Since 2012, he's seen his strikeout per nine innings drop each year, from 10.62 to 8.01 now. Batters are hitting .325 against him, a full 103 points higher than his previous career high in 2015.
He looks like a pitcher in need of rest, and he certainly needs it. That may sound strange given that it's May and he's only started nine games, but fatigue appears to be a factor. After going deep into the postseason and neglecting to be shut down by the team, Harvey hasn't been the same pitcher. The big question is why.
His agent Scott Boras discussed with Ken Rosenthal on Friday what could be playing a role in his client's struggles this season after being dominant in 2015. One possibility? Tommy John surgery, which Harvey underwent in 2013.
In addition to the procedure maybe playing a role, confidence is nowhere to be found for the 27-year-old righty, which is a huge problem. He's never been the flashiest pitcher on the mound, but he's an emotional guy -- fist pumps, fiery outbursts. Those have been nowhere to be found in 2016, though.
"First thing we've got to do right now, I think, is try to build up some confidence," manager Terry Collins said. "Some way, somehow."
And while his velocity is down from the 95-plus consistency he had in the past few years, he's still touching 96 mph. It's the frequency with which he throws flat 93-mph fastballs that's alarming.
So how do the Mets go about "fixing" their supposed ace? Sit him. Put him on the bench and skip his next start -- and they're considering it.
"We're going to take a look -- is that best for him, is that best for us?" Collins said via ESPN. "We're not going to commit to anything at this time. But I will tell you, as I sit here today, I'd certainly trust him. I certainly believe in him. I hadn't seen him struggle like this before."
The Mets have lost six of Harvey's nine starts and now sit in third place in the hotly-contested NL East, 2 1/2 games back from first place. It's still early, but the Mets can't afford to continue to lose games that Harvey starts. New York isn't winning games with Harvey on the bump, and while a struggling pitcher may seem like a cold shooter in basketball, whom coaches tell to "shoot your way out of the slump," that isn't the case with Harvey. He needs rest, and more importantly, he needs to take a break from struggling.
Boo birds rained down on Harvey in New York on Thursday night after combusting against the Nationals. That's not something Harvey has experienced in his career, despite pitching in New York. He's loved among fans, and rightly so. He's dominant when on his game. The problem is, he's far from being in top form.
And it's not due to injury. Both the Mets and Harvey insist he's completely healthy. He's not worried about an innings limit as he has been in the past. He's not worried about preserving his arm in 2016 -- or at least he shouldn't be. All he's focused on is going out there and pitching, and it's not working. He and the Mets are searching for answers that can't necessarily be found in four or five days before he takes the mound next.
There hasn't been a better time to sit Harvey down, either. Steven Matz is returning to the bump on Friday. Noah Syndergaard has been almost unhittable. Jacob de Grom hasn't missed a step from his stellar 2015 campaign. Heck, even Bartolo Colon's 3.75 ERA is respectable. Harvey is the weak link in an otherwise outstanding rotation, and it's not even close.
Not to mention, the Mets have the bullpen to win games in which starters allow three or four runs. They just can't make up for the five- and six-run debacles that Harvey has been giving them.
He has yet to go more than six innings in any start this season and has put a great deal of pressure on the bullpen each time he goes out. He's barely averaging more than five innings per start, which most teams get out of their No. 4 starters, not their aces.
No one can know for sure if a skipped turn in the rotation will cure Harvey's woes, but him pitching every five days isn't helping. His fastball velocity is down 2 mph from last season and he's allowing a .435 opposing batting average when his fastball clocks below 94 mph, which is right where his average is sitting.
The Mets don't have an answer for Harvey's struggles, and neither does he. He's just as baffled as the rest of us.
"There's as many answers that I'd like to find as you guys are looking for," Harvey said. "Right now, everybody saw the game. I'm not happy about it. I know nobody else is. I've got to pick up tomorrow and, like I've said all along, start over and keep looking for answers."
Harvey and the Mets can search all they want, but the next step in getting the 27-year-old ace back on track is taking him out of the rotation.