The LA Galaxy are looking to prove that they're still one of MLS's best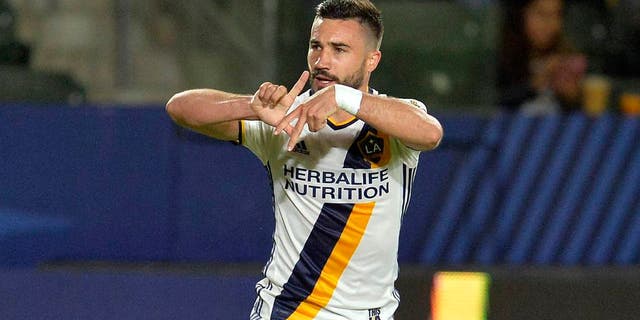 The LA Galaxy have had a very un-Galaxy-like start to the 2017 season.
The team that has long been known as a powerhouse that demands high expectations has looked middling at best. They've struggled to impose themselves through the first six weeks of the MLS season and their only wins have come against weakened 10-man teams after red cards.
It's easy to look at their slow start and then point to the offseason they've had: Bruce Arena, the man who helped define the club over roughly the past decade left to coach the U.S. national team. When Steve Gerrard and Robbie Keane exited, there weren't any big-name, high-priced imports coming in behind them. Suddenly, the roster is peppered with unknowns who have come up from the Galaxy's reserve squad.
But the Galaxy have a good coach in Curt Onalfo, Arena's longtime assistant. They have a talented roster with players like Giovani Dos Santos and Jermaine Jones pulling the strings. They have the makings of a team worthy of the Galaxy name.
Sure, this team is embarking on a new era one that focuses more on homegrown talent rather than superstars and one without Arena for the first time in a long time but it's a team capable of meeting the same expectations that were there before.
This Saturday, when the Galaxy head to Orlando City (2:30 p.m. ET on FOX), they can prove it.
After all, this is still an LA Galaxy team. Even if there were reasons for their slow start, those are being resolved the deeper the Galaxy get into the season. With team chemistry slowing building, players returning from injury and others simply adjusting to league, the Galaxy are going to start running low on excuses.
While the Galaxy may no longer be a team that hinges its fate on David Beckham-style signings, the biggest factor in LA's slowly changing fortunes may be Romain Alessandrini, their new Designated Player. The 28-year-old Frenchman arrived to LA with little fanfare because, well, he's not a big name. He is a different kind of Designated Player than LA has been known for but he's a skilled player capable of adding needed creativity to the LA attack.
Of the Galaxy's seven goals scored this season, Alessandrini has been involved in five, scoring three of them and assisting two others. The winger is an adaptable attacker, who can score goals himself or create chances from anywhere in the midfield. And he seems to be getting better as he adjusts to the physical, grueling nature of MLS play and the weather extremes of North America and jells with his team.
But other bets much smaller bets seem to be building toward bigger payoffs. Nathan Smith, a defender who Onalfo brought up to the first team with him this season, is quietly growing into his role and showing he may be the Galaxy's long-term solution at right back. With Robbie Rogers injured and looking increasingly unlikely to return, the Galaxy have lucked out that Smith has grown better with each game this year. The 22-year-old is a confident two-way player who adds width in the attack and is good at tracking runners in the back.
Add in the return of Gyasi Zardes, who started his first match since an injury in August, and things should only get better from here. With Zardes' speed and off-the-ball movement that give defenses fits, he will give Dos Santos more space to be threatening and Zardes should score his own share of goals.
There are going to be some things Onalfo must figure out too, like the Galaxy's best choice in goal and the pairing in central midfield, but he can and should figure them out. And once he does, the Galaxy should look steadier than they have early on.
At goalkeeper, Onalfo has put his faith in a Clement Diop, a player he brought into the reserves, but he's had a shaky start to the season. At some point likely sooner rather than later Diop will get settled, learn from his earlier mistakes and show he can do the job consistently this season. Otherwise, Onalfo will turn to Brian Rowe, who showed he is capable of the starting job last year with the Galaxy, and it'll be an improvement.
The partnership with Jones and Joao Pedro may also require some tinkering to get right. Jones has played as a box-to-box midfielder in front of Pedro, who figures to be the preferred starter, and it's shown signs of improvement as they get more comfortable together. But as Jones prefers to play in a free role, Pedro needs to do a better job adapting. Pedro hasn't had a great game yet, but he can once that tandem gets worked out and both players are on the same page.
Once all these pieces come together, the team's overall performances should fall in line. The Galaxy have the luxury of resources and an open Designated Player spot too, so once they figure out what's working and what isn't, the summer transfer window can add to the progress they make. They just need to get to that window with a better idea of who they are.
The good news is there have been glimmers of chemistry developing. If a decent 2-2 draw to Montreal last weekend wasn't a flash in the pan, it appears players are becoming more comfortable in the roles and trusting their teammates to do their jobs. It was a better game from the Galaxy roster across the board. They proved they are capable of playing well.
That's not to say that going to Orlando now and getting a win wouldn't be very difficult. Orlando haven't lost yet in their new stadium and the hot, humid conditions might be tough for a crucial player like Alessandrini. But a draw squeezing one point out of the road trip could make a rather big statement for the Galaxy.
The Lions are hardly an unbeatable team, even at home. Kaka, their linchpin in the midfield, has been out since the first match of the season and Orlando City have been mitigating the loss of their playmaker by playing very direct and they've barely clung on for a close string of results. A strong attacking performance from the Galaxy will make it very difficult for the Lions to keep things so tight.
It is still relatively early in the season and the Galaxy, with a new coach and new players are still figuring things out. But they might also be close just another game away from clicking. We'll find out on Saturday in Orlando City.
MORE FROM FOX SOCCER