The Jurgen Klinsmann to England rumors won't go away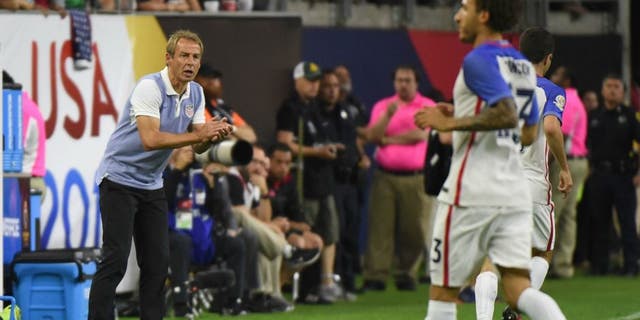 NEWYou can now listen to Fox News articles!
It's the rumor that won't seem to go away. There has been little concrete evidence, but talk of Jurgen Klinsmann leaving the U.S. national team to take the job in England hasn't let up.
It seems to be fueled by the obsession of English media to keep the story alive until England hire someone, and also by American fans who would like to see Klinsmann out. But despite all that, it's a move that doesn't make a ton of sense and, if you look at the rumors, probably isn't happening.
On Friday, Oliver Bierhoff -- who is the general manager for Germany and a friend of Klinsmann's -- sparked the rumors further when he was asked about the hiring decision ahead for England. He answered the question by comparing the situation to Germany's past.
"A lot of things need to come together. When we failed at Euro 2000 we invested a lot in the infrastructure and the education of young players and coaches, so now we have a lot of talented players and the Bundesliga is investing in young players," he said, according to The Guardian.
"Perhaps it is an advantage that good players go to England and other countries, so our clubs have to bring other players through. But since the arrival of Jurgen Klinsmann -- who I think is in discussions with England -- we have also given the national team a certain pride, atmosphere and organization."
People were eager to run with his quote because Bierhoff knows Klinsmann, but that's a pretty low bar when considering what Bierhoff actually said. Read the quote again more closely: "...Who I think is in discussions with England."
That's not exactly a strong or definitive quote, and it doesn't indicate any first-hand knowledge of the situation. It sounds more like Bierhoff read all the rumors floating around and was referring to that rather than having heard anything directly from Klinsmann. Up until Bierhoff's comment, the rumors of Klinsmann being up for the job in England were just that: unsourced, unattributed rumors that have spread like wildfire online.
Considering the England FA hasn't even reached out to get permission to speak with Klinsmann, it would be difficult for them to have talks.
That people in England see Klinsmann as a legitimate contender for the job points more to low expectations for the U.S. outside of the country than it does to confidence in Klinsmann's ability as a manager. Klinsmann's record with the U.S. is a mixed bag -- it can be spun in a positive or negative direction pretty easily. But overseas, the perception of Klinsmann is one of a manager who helped a weak team with little talent make the round of 16 in a World Cup. That perception isn't a very nuanced or critical one though, and if England look more closely at Klinsmann's track record, they may see it as more of the mixed bag it is.
For Klinsmann, he has come under a bit more scrutiny after a disastrous 2015, but his current gig still looks pretty comfortable. Klinsmann, who is both the coach and technical director for the U.S. program, has been given an extraordinary long leash to take risks. When the team performs poorly and below expectations, he time and time again earns the benefit to come back and do something right, which he almost always does. His salary may not be as high as Hodgson's was, but he earned $3.2 million in 2014, which is a big paycheck, and he gets to stay in California, where he has lived since long before he became the U.S. manager.
A flimsy quote from someone who happens to know Klinsmann doesn't really negate that Klinsmann has plenty of reason to stay in the U.S. and there isn't much reason for England to try to lure him away. But even though the rumors about Klinsmann going to England don't really add up, that sure doesn't mean they will stop anytime soon.
MORE FROM FOX SOCCER: