The Jets' payroll purge puts their quarterback and head coach in an impossible situation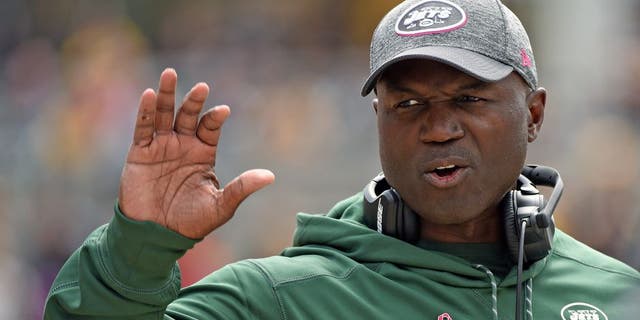 NEWYou can now listen to Fox News articles!
Expectations were high for the New York Jets last season. They were coming off of a 10-win season, Todd Bowles had a year of head coaching experience under his belt, and they added a dynamic back in Matt Forte.
Fast-forward one year, and there isnt a team with lower expectations than New Yorks green team. That became an undeniable truth on Tuesday when the Jets continued their purge of veterans. Linebacker David Harris was cut after 10 years with the team not long after he was put through a day of practice, mind you and Eric Decker is the next veteran on his way out with New York trying to trade the wideout ahead of a likely release.
They join a long list of 11 players cut this offseason, saving the Jets $68 million in cap space. Among them are Brandon Marshall, Nick Mangold, Darrelle Revis and Breno Giacomini, who combined to make 20 Pro Bowls more than the Jets entire roster.
Elsa/Getty Images
A teams desire to tank a season has almost never been as obvious as the Jets throwing 2017 out the window, and even general manager Mike Maccagnan wont deny it.
"That's not something we're focused on," Maccagnan said of tanking. "We're focused on making decisions to help this team going forward. … That's not our focus."
The latest two moves rid New York of somewhat pricey vets, but it also put two people in particular in an impossible situation. Those two people also happen to be huge factors in the future of the Jets.
Quarterback Christian Hackenberg and coach Todd Bowles are the biggest losers of New Yorks roster deconstruction for a number of reasons. For Hackenberg, its a matter of trying to get his footing as an NFL starter while surrounded bynot only the worst roster in the NFL but arguably the least talented unit the NFL has seen in years. Just try to name two of his starting receivers. Recognize any of these names? Quincy Enunwa, Robby Anderson, ArDarius Stewart, Jalin Marshall.
Those are Hackenbergs top targets this season with Decker almost certainly out of the picture. He doesnt have a reliable tight end, either, with New York utilizing that position less than any team the past two years. Does that seem like a situation that would make a second-year essentially a rookie quarterback look good? Dont kid yourself.
Even if Hackenberg does start, which hes not certain to do, hes going to struggle. He wont have the benefit of a Dez Bryant or a Terrelle Pryor, which Dak Prescott and Cody Kessler had last season. We saw how the struggles of Philadelphias receivers impacted Carson Wentz, and how the Rams lack of a No. 1 wideouthindered Jared Goff.
The same is going to happen to Hackenberg, and its eventually going to lead New York to move on from him. Fair or not, that is whats going to happen. And this is all assuming he can beat out journeyman veteran Josh McCown, whom the Jets signed for some odd reason.
Sure, McCown isthe ultimate tank quarterback with a career win percentage of .300. But if the Jets are truly rebuilding for the future and they are why not let Hackenberg start all season? McCown is just slowing the overhaul because theres no chance hell be around in 2018.
Bowles, of course, may not be either.
The Jets are all for tanking (for Sam Darnold?), but that does nothing for Bowles. If the Jets do wind up with the first overall pick, itll likely mean they won fewer than four games. Do you really think the front office and ownership will be patient enough to keep Bowles around that long after he went from 10-6 to 5-11 last season?
The likeliest outcome from all of this is that the Jets stink, go 3-13, land the first overall pick and take a quarterback such asDarnold or Josh Allen. Thatll spell the end of the Hackenberg experiment after just two years and likely push Bowles out the door, too.
The only hope Bowles has is that Hackenberg beats out McCown in camp, plays respectablly in the regular season and the Jets win five or six games. Thatll still earn them a top-five selection in the draft and will probably buy Bowles and Hackenberg another season.
Its just that the odds of that happening arent great, and it makes the Jets decisions look questionable. Why not keep Decker and his $8.75 million cap hit stick around for 2017 rather than saving $5.75 million to cut him? Its not like the Jets need money to pay free agents this offseason. Instead, they could have parted ways next February and saved even more money -- $7.5 million in cap space, to be exact. By releasing Decker and doing very little to address needs at every skill position, the Jets are putting their young quarterback and head coach in an impossible situation.
Theres nothing wrong with the Jets tanking, but by doing so theyalready seem to be making decisions that don't include two of the most important people on their payroll.
Jerry Lai-US PRESSWIRE | US PRESSWIRE