The Chiefs bet against history by picking Patrick Mahomes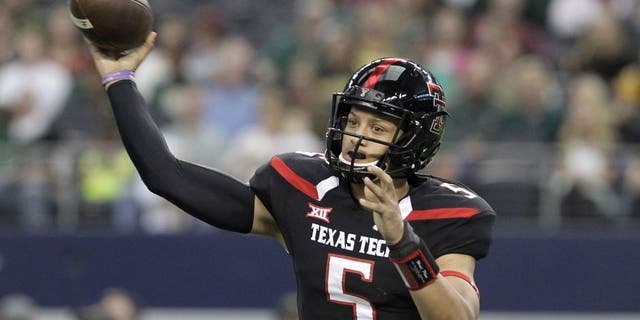 NEWYou can now listen to Fox News articles!
Quarterback Pat Mahomes has a cannon of an arm and a personalitythat won over teams across the league during pre-draft interviews. He was exciting and prolific at Texas Tech, and teams clearly fell in love with his devil-may-care, gunslinging style of play.
The Chiefs loved Mahomes so much that they traded up to pick No. 10 and selected him in Thursday night's NFL Draft.
And in doing so, the Chiefs bet on Mahomes and against history.
You see, while Mahomes has that great arm and exceptional vision and engrossing tape, he also ran the Air Raid offense at Texas Tech. The school and the offense are practically synonymous.
And the Air Raid, well, it's not exactly a "pro-style" offense. Even as the NFL moves more and more towards pass-happy, no-huddle, shotgun-snap spread offenses, the Air Raid still looks nothing like the offenses we see on Sundays.
Perhaps (OK… probably) because of that, the most successful NFL quarterback who ran the Air Raid in college is Nick Foles.
One would hope, for the sake of their fans, that the Chiefs didn't go all-in on a player they thought was the next Nick Foles.
No, Kansas City is betting that Mahomes can buck the trend of history that he is a special, transcendent talent and/or that theChiefs can adapt their system to fit him but that is a bold stance, because the history against Air Raid quarterbacks is seriously overwhelming.
SBNation did the important work of listing all of the Air Raid quarterbacks with NFL experience earlier this month. It's a who's who of busts and flameouts.
Tim Couch, the No. 1 overall pick in 1999, was the first real Air Raid quarterback to hit the NFL Mike Leach, who went on to Texas Tech, was his offensive coordinator at Kentucky. We know how things worked out in Cleveland for Couch.
Then there's Johnny Manziel (though the offense can't be blamed fully for his flameout), Brandon Weeden, Kevin Kolb, Geno Smith, John Beck, and Foles. That's the best selection of the company Mahomes keeps.
Oh, and there's Jared Goff, whom the Rams selected No. 1 overall last year. The jury is still out on him, but they weren't making nice faces during testimony.
Why is it so hard for an Air Raid quarterback to succeed in the NFL? It's not because of the players' talent or smarts it's because the game is almost entirely different from college to the pros. Mahomes might have that great arm, impressive intelligence, and a winning attitude, but his offense in college was backyard football four guys ran in a straight line and then " got open".
That's not how things work in the NFL not even close. And they certainly don't work that way in Kansas City, where the receiver core hasn't gotten open much, even with predetermined routes, in recent years.
For a quarterback, transitioning from playing college defenses to the speed and complexity of NFL is already incredibly hard, but for the best of the best, it's doable. Imagine it as having to analyze and report on Cicero's Selected Works heady stuff, but hardly impossible if you know what you're doing and have read some Greek philosophy. For an Air Raid quarterback, that same task would be like having to speak knowledgeably about Cicero after reading Selected Works in their original Latin.
The Chiefs likely will "redshirt" Mahomes in 2017 giving him a year to learn "Latin" (his footwork needs to be totally rebuilt and he needs to learn how to read progressions in a timing offense) and that might be enough time. Perhaps he's a quick study.
Again, this is a big, bold move. No one not the Chiefs and not Mahomes knows if the pick will work.
But if it does if Mahomes becomes the franchise, All-Pro quarterback the Chiefs clearly think he can be it'll be historic.
Copyright The Associated Press. All rights reserved.