The Big Ten's best prospects in the 2016 NFL Draft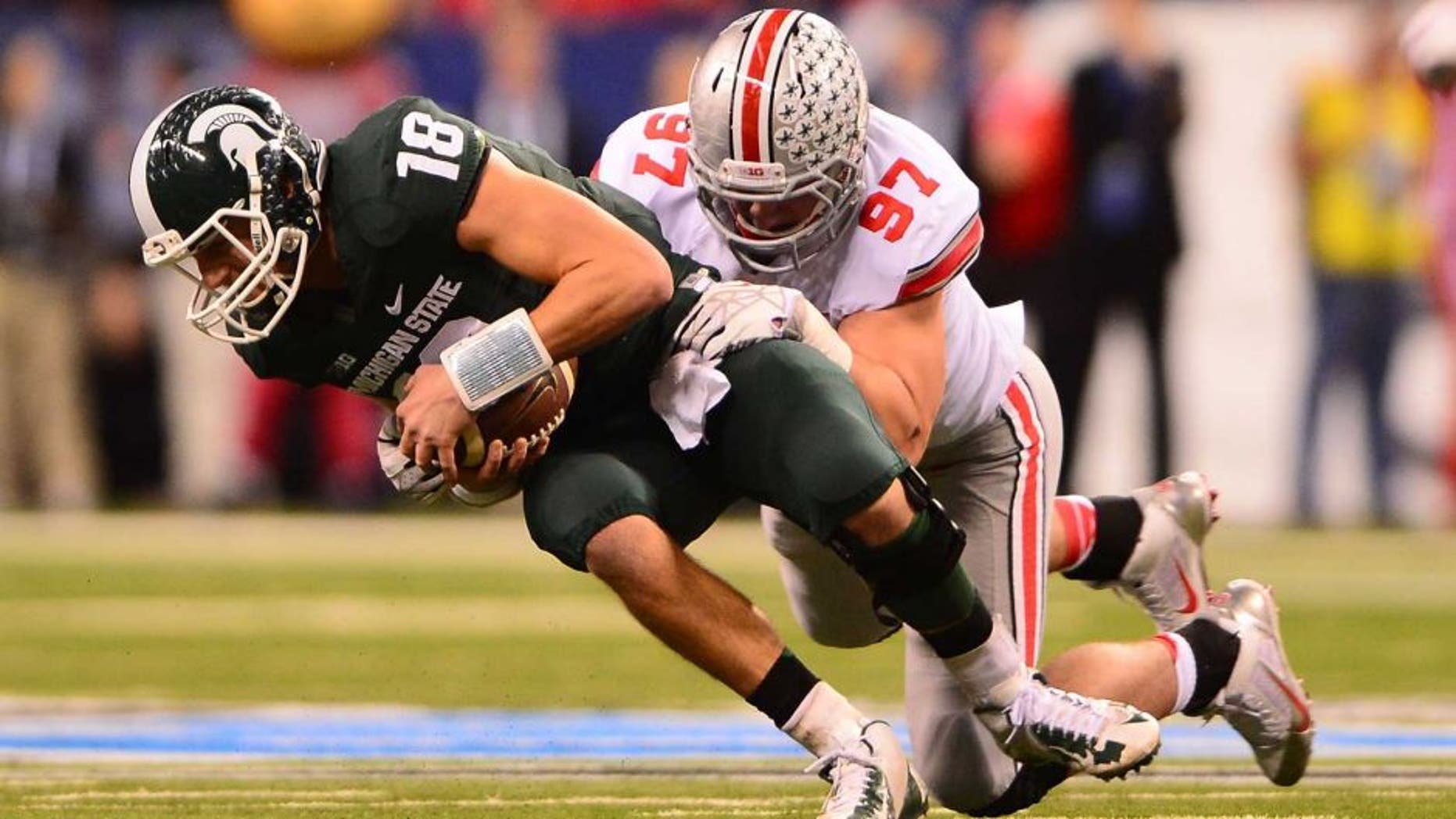 The Big Ten had a strong year on the field in 2015 that could extend to the NFL Draft in 2016.
While the league has taken a backseat to the other power conferences when it comes to elite talent over the last five years, the story might be different this season.
Here is a look at the creme de la creme of the league's talent.
Taylor Decker, OT, Ohio State
A consensus All-American and the Big Ten Offensive Lineman of the Year in 2015, Decker was a three-star starter for the Buckeyes.
The 6-foot-8, 315-pounder has the type of athleticism one would expect from a former high school basketball player. He has strong hands and upper body and plays with good leverage and a nasty streak.
Decker was a highly regarded high school prospect and finished his career as a team captain for the Buckeyes, who utilized multiple blocking schemes during his career in Columbus.
Decker can control the point of attack, pull, double team and get to the second level while displaying good lateral quickness in pass protection.
He was regarded as a leader and a strong presence in the Ohio State locker room.
Willie Henry, DL, Michigan
At first the 6-foot-3, 311-pounder looks like a gap-clogging tackle, but he has surprising quickness for his size and played some defensive end for the Wolverines last season.
On the edge he was more than just an anchor against the run but was able to win some one-on-one matchups with his ability to use strong hands to disengage and spin away from blockers.
He is an explosive athlete who still likely has a lot of room to improve as he arrived in Ann Arbor as a very raw prospect from Cleveland Glenville High School.
Henry is a scheme-diverse player would could fill a variety of roles thanks to his combination of power and agility. His best role will likely be as a disruptive 3-technique tackle but he could also play the nose or 5-technique.
After starting 22 games at Michigan, Henry's best football could still be ahead of him.
Braxton Miller, WR, Ohio State
A 6-foot-2, 205-pounder, Miller might be the most intriguing athlete in the 2016 draft.
He dominated Senior Bowl practices by many accounts but did not have much impact in the game.
That was unfortunately a continuation of his senior season, when he moved to receiver after starting for three years at quarterback for the Buckeyes.
On opening night at Virginia Tech, Miller showed off his crazy open-field running skills and the ability to shake a defender on a pass route, but his production was inconsistent during the season as the coaching staff seemed to struggle with finding ways to keep him involved.
Ultimately the two-time Big Ten Most Valuable Player earned honorable mention all-conference honors as a senior after catching 24 passes for 329 yards and three touchdowns. He also ran for 234 yards and a touchdown last season, leaving him sixth on Ohio State's all-time rushing list.
Miller is strong with great speed and devastating lateral quickness. One of the most elusive runners in the country since his freshman year, Miller has shown good hands but is still raw as a route runner and blocker at receiver.
He is a supreme athlete who started at one of Ohio's powerhouse high schools for four years but battled nagging (and sometimes more severe) injuries throughout his career at that level and at Ohio State, where two shoulder surgeries in an eight-month span hastened his move to receiver.
Vonn Bell, safety, Ohio State
A Georgia native who showed why he was a major recruiting target of Urban Meyer three years ago, Bell was a two-year starter for the Buckeyes.
He earned All-America honors last season while
At 5-foot-11, 200 pounds, he packs a big punch and is an aggressive tackler who finished fifth on the team with 65 tackles.
A ball-hawking safety, he has long arms and can handle receivers in man coverage. OSU cornerbacks coach Kerry Coombs said he could be a starting cornerback in the NFL, but he projects best as a versatile free safety who can be strong in run support.
Thought he was victimized for a handful of big plays during his career, Bell possesses supreme confidence and plays with a lot of swagger.
He had two interceptions and nine pass breakups last season.
Darron Lee, LB, Ohio State
Lee and Bell committed to Ohio State on opposite ends of the spectrum, one a can't-miss prospect (Bell) and the other a three-star who wasn't even sure what position he would play (Lee eventually became a four-star prospect before signing). Now they both look like potential first-round picks.
Lee ultimately settled at linebacker after adding about 30 pounds of good weight without sacrificing speed or quickness.
A former high school quarterback, he plays with great instincts and is an aggressive, hard hitter who is a great blitzer with a nose for the ball and knack for making big plays.
He played a walk-out linebacker position at Ohio State designed to combat spread offenses, meaning he had to be adept at blowing up bubble screens and taking on power running games.
How that translates to the NFL game remains to be seen, but he still likely has a lot of room to grow as a player since he has only been a full-time defender for three years.
Jack Conklin, OT, Michigan State
A smooth athlete for his 6-foot-6, 325 pounds, Conklin was a three-year starter at left tackle for the Spartans who decided to leave school with a year of eligibility left. That marked quite a rise for a player who began his career as a walk-on from Plainwell, Mich.
He started 38 career games but was banged up in the middle of last season. He still received first-team All-America honors and was a first-team All-Big Ten selection.
He was part of a front that mauled people when it was whole and played in a versatile, pro-style scheme that utilized his athleticism on the edge to protect All-Big Ten quarterback Connor Cook and in the run game.
Strong, smart and a hard worker who would be a lock to play early at right tackle and could be a pro left tackle.
Ezekiel Elliott, RB, Ohio State
A 6-foot, 225-pound bowling ball with breakaway speed, Elliott was one of the best running backs in college football the last two seasons and finished his Ohio State career second in total rushing yards.
The Big Ten Running Back of the Year and Offensive Player of the Year after leading the conference with 1,672 yards rushing and 19 touchdowns in the regular season, he added 149 more yards and four touchdowns in the Fiesta Bowl against Notre Dame.
Elliott is a bullish runner has great vision and breakaway speed. Runs behind his pads and doesn't give tacklers much to hit.
He is a patient runner who excelled in both zone and gap-blocking schemes. Can find a crease, make a man miss and go the distance.
After posting an unprecedented three consecutive 200-yard rushing games in the 2014 postseason, Elliott because Ohio State's most effective and consistent offensive player last season.
Austin Johnson, DL, Penn State
Although he was overshadowed at times by some of his teammates, Johnson was the one of the most productive players in the Big Ten the past two seasons.
At 6-foot-4, 323 pounds, Johnson looks like a typical nose tackle, but he proved to be much more than that throughout his career at Penn State. He does have nose tackle skills, including the bulk, balance and upper-body strength to take on double teams, but he is an active tackler who will make plays all over the field.
Johnson logged as many sacks (12) and 38 more tackles than fellow PSU tackle Anthony Zettel over the past two seasons, and Johnson's pass rush numbers might have been even better if he were playing Zettel's 3-technique spot.
Johnson is an impressive athlete for his size who plays with great energy and is consistent in pursuit, getting into plays from the backside and finding his way to the perimeter as well.
Joey Bosa, DE, Ohio State
Bosa was a two-time consensus All-American and two-time Big Ten Defensive Lineman of the Year.
The former five-star recruit made an immediate impact as a freshman in 2013 thanks to great natural strength and balance before turning in dominant seasons in '14 and '15.
Opposing coaches talk first about his ability to change direction without losing speed, something that separates him from other elite defensive line prospects, but he is blessed with nearly all the tools a great defensive lineman needs to succeed.
The 6-foot-6, 275-pounder has long arms to disengage from blockers and has a great first step with strong hands and upper body. Bosa also brings a strong work ethic and in college showed the ability to play end or 3-technique. He also occasionally
Has 50 career tackles for loss and 26 sacks.
Bosa's father, John, and uncle, Eric Kumerow, both played in the NFL.