The Bears should force Alshon Jeffery to prove himself under the franchise tag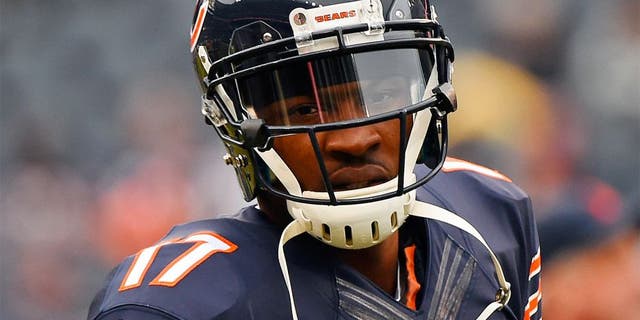 NEWYou can now listen to Fox News articles!
The deadline for players who have been franchise tagged to sign long-term extensions is quickly approaching. That day comes next Friday, July 15, and there are several big names vying for new deals before then. Among them are Kirk Cousins, Von Miller and Alshon Jeffery.
All three are irreplaceable to their respective teams, but that doesn't make it any easier for those teams to ink them to lucrative extensions. In fact, that only makes it more difficult. The Redskins would be left without a decent quarterback if not for Cousins, the Broncos wouldn't have won the Super Bowl without Miller, and Chicago's offense would look drastically different if absent of Jeffery.
All three will (most likely) remain with their current teams for the 2016 season, but it remains to be seen where they'll play beyond that. Jeffery's case is particularly interesting because of how far apart the two sides are. According to NFL Media's Mike Garafolo, there is very little confidence that the Bears and Jeffery will strike a deal before next Friday.
As a result, Chicago will pay Jeffery $14.6 million, which is the second most for any receiver next season. There's no doubt the Bears would prefer not to pay him that much, but that's what happens when a player is tagged: you overpay them. The benefit for Chicago is that it gives the front office another year to gauge Jeffery's worthiness of a long-term deal. It's clear at this point that the Bears have their doubts.
And they're not wrong for that.
Jeffery is an incredibly gifted receiver with unmatched ball skills and leaping ability. He has the potential to be a Dez Bryant-like player who you can just throw it up to and rest assured he's going to come down with the ball. Those types of players don't come around often, but Jeffery has his share of baggage, too.
In four years, he's missed 13 games, including seven this past season. In the nine games he did play, he had 807 yards and four touchdowns, both of which are very respectable. The numbers don't alleviate injury concerns that the Bears have, though. Particularly because they're not exactly severe injuries along the lines of a torn ACL.
Rather, he dealt with lingering ailments such as a calf strain, an injured hamstring and a groin issue. That's not to criticize Jeffery's toughness, but suffering from so many issues can be concerning for a team preparing to cut him a $60 million check.
And that's without getting into questions about his commitment and focus. Head coach John Fox wasn't exactly pleased with Jeffery's decision to skip voluntary workouts this offseason amid the contract dispute, which did no favors for the wideout.
Seeing guys like Keenan Allen and Doug Baldwin ink big deals probably frustrates Jeffery, but their contracts shouldn't be comparable to the one he'll receive. He's a better receiver, he just needs to prove it -- and that's what he can do under the tag this season.
The Bears have plenty of cap space to pay Jeffery his $14.6 million for 2016, and that's the best option as of now. If Jeffery remains healthy and has a season like the one he put up in 2013 (89 catches and 1,421 yards), they'll wind up paying him a bit more than they will if they sign him to an extension now. If he can't stay on the field once again, the Bears will either get a discount, or they'll let him walk and sign elsewhere.
Regardless of what the 2016 season brings, it will eliminate the big risk the Bears would be taking by signing him at this moment. Their best option is to let him play this season on the tag and see what he can do.