The 49ers and Colin Kaepernick might not be done with each other quite yet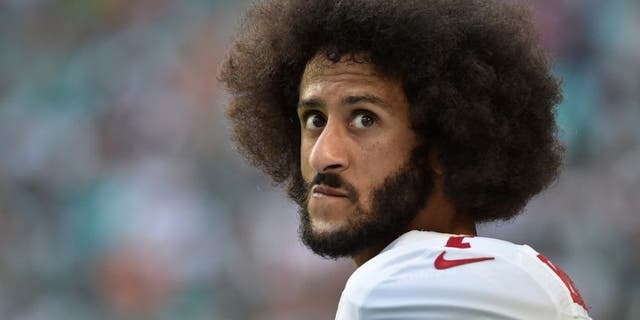 The gang is all finally in place for the San Francisco 49ers, with new general manager John Lynch and new coach Kyle Shanahan being introduced to the media Thursday.
One of the interesting things that came out of their press conference is that perhaps the team's most recognizable face over the past few years, quarterback Colin Kaepernick, might not be such a sure thing to part ways with the club he led to a Super Bowl in 2012.
Kaepernick -- who has faltered badly under each of the team's past two one-year coaches, Chip Kelly and Jim Tomsula -- reportedly had already decided to opt out of his contract and become a free agent this offseason, but Lynch told reporters Thursday that Kaepernick contacted him about a meeting:
"The first order of business is Kyle and I both really attacking [the roster] and seeing what we have here and we'll do that with his situation We'll sit down with him and if we see fit that he's a part of it, we'll commit to that. If not, we'll figure things out."
Kaepernick restructured his contract in October so he could get that opt-out clause, but he then won back the starting job from Blaine Gabbert -- though his performance remained spotty at best for the second straight season. Even if he does return -- either under his current contract or as a free agent -- it's likely he'd be a stopgap until the 49ers are comfortable with whatever young quarterback they'll probably draft this offseason.
Whatever the team decides on Kaepernick, it won't do it before Shanahan takes a long look at the player who is 3-16 as a starter the past two seasons after going 25-14 in his first three years.
"Colin, just like any other player, is someone I'm going to be watching a lot of tape on over these next few weeks," Shanahan said. "Before we can look into anything -- free agency, draft, anything -- you have to know what the players on your team are. That doesn't happen from just turning on a game. That happens from watching a lot of stuff. It takes a lot of time. It is a process. I am a little bit behind right now, but I have the time to do it and I'm looking forward to it and can't wait to get started on it."