The 2015 All-AFC East Team (Offense)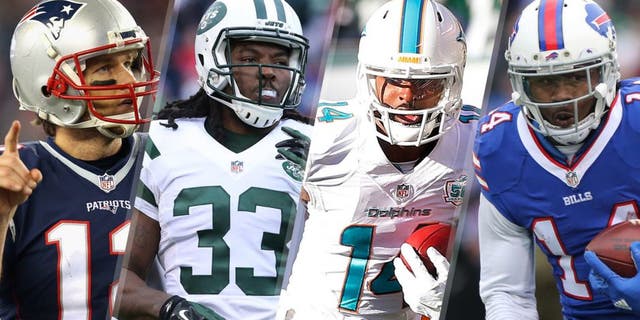 It was a disappointing season in the AFC East, with just the New England Patriots making the postseason. However, that's not to say there weren't plenty of outstanding individual performances.
With just the Super Bowl remaining, it's time to look at the best players in the division with the All-AFC East offensive team. Surprisingly, it's not the Patriots with the most representatives.
Tom Brady, quarterback
Entering the 2015 season, there were questions about the talent at quarterback in the AFC East. Ryan Fitzpatrick was a question mark, as was first-year starter Tyrod Taylor. Now that the season's wrapped up, there are several good quarterbacks in the division, but Tom Brady remains at the top as the runaway favorite. He finished the year with 4,770 yards, a league-high 36 touchdown passes and just seven interceptions. His 102.2 passer rating was also fourth-best in the NFL. Had it not been for injuries to Julian Edelman, Nate Solder and a large group of offensive players, Brady's numbers could have been even better.
Chris Ivory, running back
This was a toss-up between LeSean McCoy, Chris Ivory and Lamar Miller, but it was Ivory that came out on top. He was able to remain relatively healthy throughout the season, finishing with a career-high 1,070 yards and seven touchdowns, with another 217 receiving yards, as well. After the first few games, Ivory was up there with some of the best running backs with regards to his rushing yard numbers, but he fizzled down the stretch and wasn't as big of a part of the offense as he was before. Ivory is an impending free agent, and the Jets could lose their top rusher from the past three seasons.
Brandon Marshall, wide receiver
Had it not been for ridiculous seasons by Antonio Brown and Julio Jones, Brandon Marshall very well could have been an All-Pro. At the age of 31, Marshall had arguably the second-best season of his career, making 109 receptions for 1,502 yards and 14 touchdowns, breaking franchise records all along the way. He quickly became Fitzpatrick's favorite target in their first season with the Jets. To make his season more impressive, Marshall said he played several games with a high ankle sprain, an injury that typically keeps players out for three to four weeks.
Jarvis Landry, wide receiver
Jarvis Landry had a great rookie year in 2014 with the Dolphins, but he took his game to another level this season. In his sophomore campaign, Landry caught a franchise-record 110 passes (fourth-most in the NFL) for 1,157 yards and four touchdowns. He also added a rushing and punt return touchdown, giving him six touchdown on the year. His 194 receptions through two seasons are the most in NFL history, as well. He'll be in Hawaii for the Pro Bowl this year, the first of many trips to come for the promising young wideout.
Sammy Watkins, wide receiver
Through the first eight weeks of the season, Watkins had a grand total of 11 receptions, 147 yards and two touchdowns. It seemed as though he would suffer the dreaded sophomore slump, but he turned it around in Week 9. He finished the year with 60 catches for 1,047 yards and nine touchdowns. Once he finally got healthy along with Taylor, the Bills offense took off and began to make big plays. Watkins averaged 17.5 yards per catch, which was third-most in the league among players with at least 50 receptions.
Rob Gronkowski, tight end
Surprise, surprise: Rob Gronkowski was the best tight end in the AFC East, and in all of football. Despite dealing with an MCL injury late in the season, Gronkowski still finished the year with the 12th-most receiving yards in the NFL, leading all tight ends in that category with 1,176 on 72 catches to go along with 11 touchdowns. It shouldn't shock anyone that he was named an All-Pro once again this season given his numbers year in and year out. There simply isn't a better tight end in the NFL, never mind in the AFC East.
Branden Albert, left tackle
It's hard to imagine that a 31-year-old coming off of a torn ACL was the best left tackle in the AFC East, but that's exactly what happened. Branden Albert was a question mark to start the season after tearing his ACL in 2014, but he healed quickly and was able to get himself in the starting lineup for Week 1. He did miss two games, but the fact that he played well in 14 was a pleasant surprise for Miami.
Richie Incognito, left guard
A big reason why the Bills were able to lead the league in rushing is the play of their offensive line. Left guard Richie Incognito was the best of the bunch, opening up running lanes consistently. When the Bills ran the ball behind him, they averaged 6.58 yards per carry, which is the highest for any team since 2006. It's safe to say he revived his career after the bullying scandal in Miami, earning a Pro Bowl nod for his play this season.
Mike Pouncey, center
Mike Pouncey is one of the better centers in the league, particularly in pass protection. While Ryan Tannehill was sacked 45 times, Pouncey wasn't to blame for many of them. He earned his third consecutive Pro Bowl trip this season, even though he won't be playing due to a late-season foot injury that kept him out of the final two games. He's been the Dolphins' best offensive lineman since coming into the league as a first-round pick in 2011.
John Miller, right guard
A big reason why the Bills' rookie class was so much better than originally projected is because of the play of John Miller at right guard. He was inserted into the starting lineup for Week 1, and never looked back. He started 12 games this season, missing a handful due to injury. With Incognito, Eric Wood and Miller in the middle of the offensive line, Bills running backs had huge holes to run through, with two of the three making the Pro Bowl.
Breno Giacomini, right tackle
Right tackle was a weak spot in the AFC East this season. Sebastian Vollmer was forced to slide to left tackle while Cyrus Kouandjio and Ja'Wuan James dealt with injuries that forced them to miss most of the season. Brent Giacomini wasn't great, but the Jets allowed just 22 sacks in 2015 --€" second-fewest in the NFL. Giacomini seems to have found a home in New York after stints with the Packers and Seahawks, starting all 32 games in two seasons with the Jets.