Texans coach Bill O'Brien defiant amid rumors about his future in Houston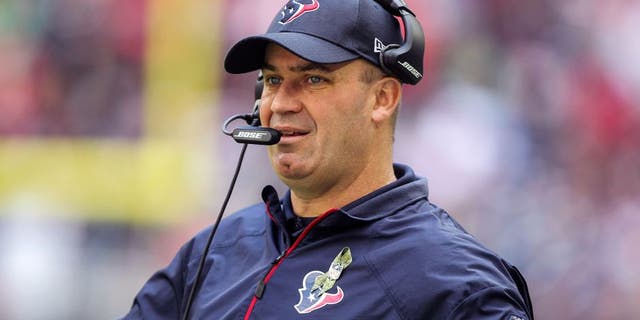 NEWYou can now listen to Fox News articles!
The Houston Texans were knocked out of the playoffs on Saturday night, falling to the New England Patriots 34-16. It ended what was a season filled with overachievement, as well as struggles on the offensive side of the ball -- namely by Brock Osweiler.
Their season was a bizarre one in which they were fortunate to sneak into the playoffs, only to be exposed by a good Patriots team. Bill O'Brien has come under some criticism and been rumored to be on the hot seat despite his team's success, but he addressed those claims after the Texans' loss.
"I'll be back next season," O'Brien said, via ESPN. "I'll be the Texans' head coach. I'll be back next season. Like I said, I have a five-year contract. This is Year 3."
O'Brien would like to put an end to the rumors that he might be fired, or possibly leave for another team. Sure, there have been some pitfalls during his tenure in Houston, and some tense moments, but three straight 9-7 seasons with a myriad of quarterbacks is pretty solid.
His next challenge is trying to figure out who his quarterback will be next season. Osweiler is obviously under contract and has a hefty cap hit in 2017, but his play falls far below his salary. That showed on Saturday night, with Osweiler once again throwing for fewer than 200 yards on 40-plus attempts -- the fourth time the Texans have done that this season.
"I'm looking forward to working this offseason to try to improve the team," O'Brien said. "I really enjoy coaching this team. I have a lot of great feelings about the guys that I coach in that locker room. ... And I'm looking forward to coming back and coaching those guys."
O'Brien said he's going to "work hard" to improve the offense this offseason, though he didn't say exactly what that would entail. One can assume working with Osweiler will be a big priority, if not replacing him completely.