Team USA skater's tweet draws mixed reactions after coin toss decides Olympic flagbearer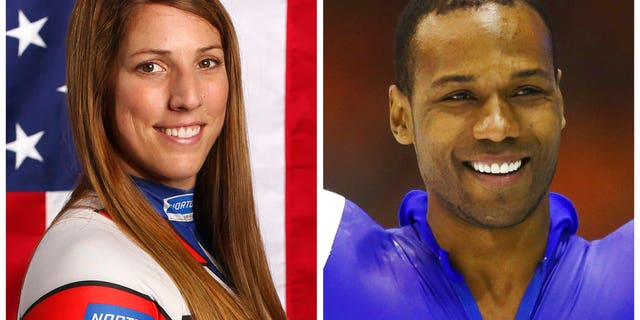 A speedskater on Team USA lambasted the organization Thursday for not allowing him to be the flag-bearer for Friday's opening ceremony of the Winter Olympics in South Korea.
The skater, Shani Davis, 35, lost a coin toss to luger Erin Hamlin, 31, after a vote ended in a tie, the Daily Mail reported. Both were among eight athletes vying to become the U.S. flag-bearer in the Parade of Nations.
Davis took to Twitter to criticize the decision and posture his credentials.
"I am an American and when I won the 1000m in 2010 I became the first American to 2-peat in that event. Team USA dishonorably tossed a coin to decide its 2018 flag bearer. No problem. I can wait until 2022. #BlackHistoryMonth2018 #PyeongChang2018"
His tweet was applauded by some but provoked backlash among others.
"Shani, you're one hell of an athlete and more than qualified to be the flag bearer," replied one user. "It wasn't right to be narrowed to a coin toss. It equally wasn't right to reference black history month reference in your retort. Only a person's accomplishments, not race, should be emphasized."
"Sounds like sour grapes to me," replied another user. "If it were up to me, you'd never be up for this honor in the future. #NotWorthy"
USA Luge declined to comment on the tweet. Calls placed to Davis' phone rang unanswered, and his agent Ian Baranski did not immediately respond to an email seeking comment.
Hamlin did not address Davis' tweet, but told USA Today: "Winning a medal is the effort you put in and the time and the work and sacrifice to succeed and achieve something. That's all on me. That's something I've done. Getting this honor is different because it's people looking at the work you've put in and acknowledging that. It's my fellow Team USA athletes who gave me this. That means a ton."
Hamlin is a four-time Olympian, a winner of a bronze medal at the 2014 Sochi Games, a two-time world champion and a winner of 23 World Cup medals. She announced her intention to retire at the end of the Winter Games, after nearly two decades of competitive racing.
The Associated Press contributed to this report.