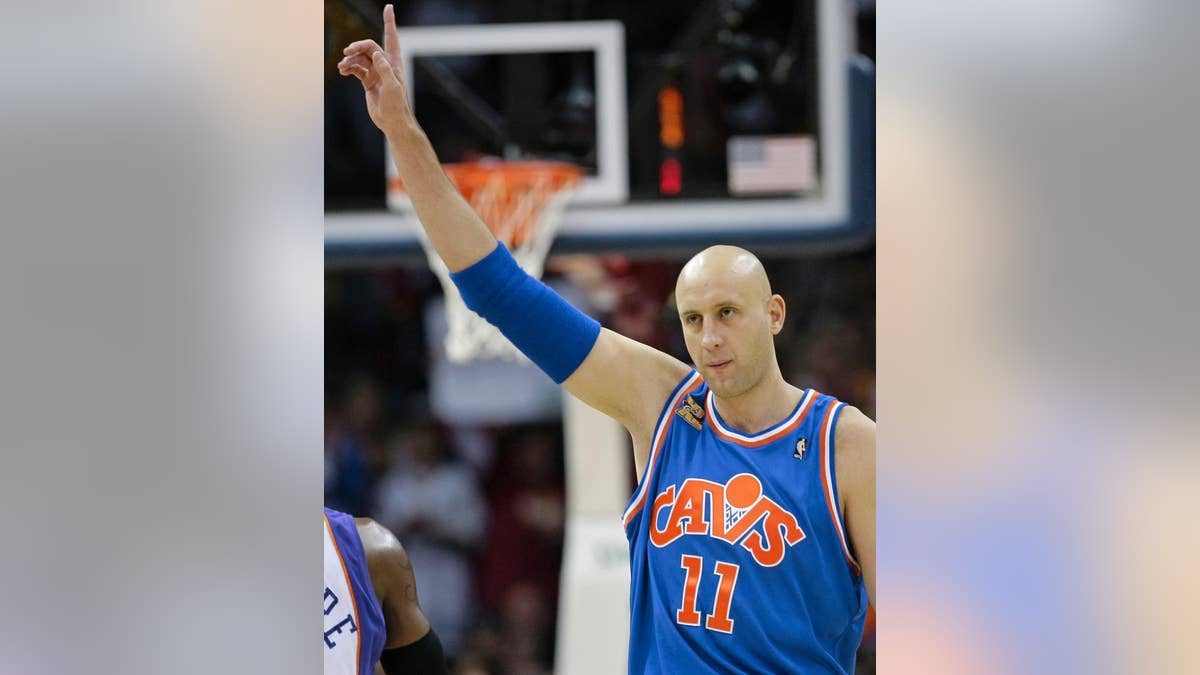 CLEVELAND – At 7-foot-3, Zydrunas Ilgauskas towered over everyone yet stayed completely down to earth.
Soft-spoken and doggedly determined, Ilgauskas, who overcame serious injuries and personal tragedy to become one of Cleveland's best and most beloved players, will have his No. 11 jersey retired Saturday night during an elaborate halftime ceremony certain to be emotionally poignant.
The seventh player in team history to receive the honor, Ilgauskas joins Austin Carr, Nate Thurmond, Bobby "Bingo" Smith, Larry Nance, Brad Daugherty and Mark Price in having his number raised to the rafters of Quicken Loans Arena.
All of them have career credentials worthy of the tribute, but the celebration for Ilgauskas goes far beyond any statistics.
"Throw basketball stuff out the window," Cavs coach Mike Brown said. "He's a terrific human being."
Ilgauskas will be joined at the celebration by his wife, Jennifer, and their adopted sons, Deividas and Povilas. He'll be surrounded by family members, friends, former coaches and teammates, including LeBron James, who was invited by Ilgauskas and wanted to support the player known simply as "Z."
"Probably one of the most talented guys I ever played with," James said.
Ilgauskas conquered career-threatening foot injuries to become a two-time NBA All-Star as well as the Cavs' career leader in rebounds (5,904), games played (771) and blocks (1,269). He's second on the scoring list, behind only James.
A gentle giant off the floor, Ilgauskas accomplished it all through hard work, enduring endless hours of grueling rehab and treatment to fulfill a dream that began as a small boy playing soccer and volleyball in Lithuania.
Ilgauskas spent 12 seasons with the Cavs, and for a long stretch of his tenure he was the only good thing about the franchise. That all changed when James arrived in 2003, and along with Ilgauskas — an odd couple if there ever was one — they led the Cavs to their only NBA finals appearance in 2007.
One of the enduring moments in Cleveland sports over the last 30 years was James and Ilgauskas wrapping their arms around each other to celebrate the Cavs' win over Detroit in the Eastern Conference finals. After being traded, Ilgauskas followed James to Miami and played one season with the Heat.
Ilgauskas retired in 2011, but returned to the Cavs the following year and has been working as a special assistant to the general manager.
He's always been special.
Ilgauskas connected with Cleveland fans like few pro athletes. Big Z endeared himself with his perseverance, resilience, loyalty and a dry, self-deprecating sense of humor. Shortly after undergoing his second major foot surgery, Ilgauskas quipped he "had as much hardware as Home Depot" in his feet.
The Cavs selected Ilgauskas with the 20th overall pick in 1996, and after a promising rookie season in 1997-98, he encountered the first of many medical obstacles.
Shortly after signing a six-year, $71 million contract, he broke his left foot just five games into the 1998-99 season. It didn't heal properly and Ilgauskas sat out the entire 1999-2000 season. Ilgauskas seemed poised to become one of the league's top centers, but felt a sharp pain in his left foot during a game in Miami.
Ilgauskas took himself out, and broke down in the locker room after, knowing his playing days might be over at 25.
After visiting foot specialists across the country, Ilgauskas underwent a risky operation to have his left foot radically reconstructed. He tortured himself during workouts to get back, and spent countless hours getting treatment on his feet, which required extensive icing before and after he played.
It all paid off when Ilgauskas was named an All-Star reserve in 2003. There were other hardships, the most challenging in 2007 when he and Jennifer lost the twins she was carrying.
Through it all, Ilgauskas was the consummate teammate.
"Z's like a big brother to me," Cavs center Anderson Varejao said. "He helped me a lot in this league, with everything, basketball, on the road. When I got here I didn't speak any English. He put me under his wing and took care of me. He's a big part of my life."
And in Cleveland, Ilgauskas has always been so much more than big.