Tall in Texas: Brad Keselowski snares the pole for Chase race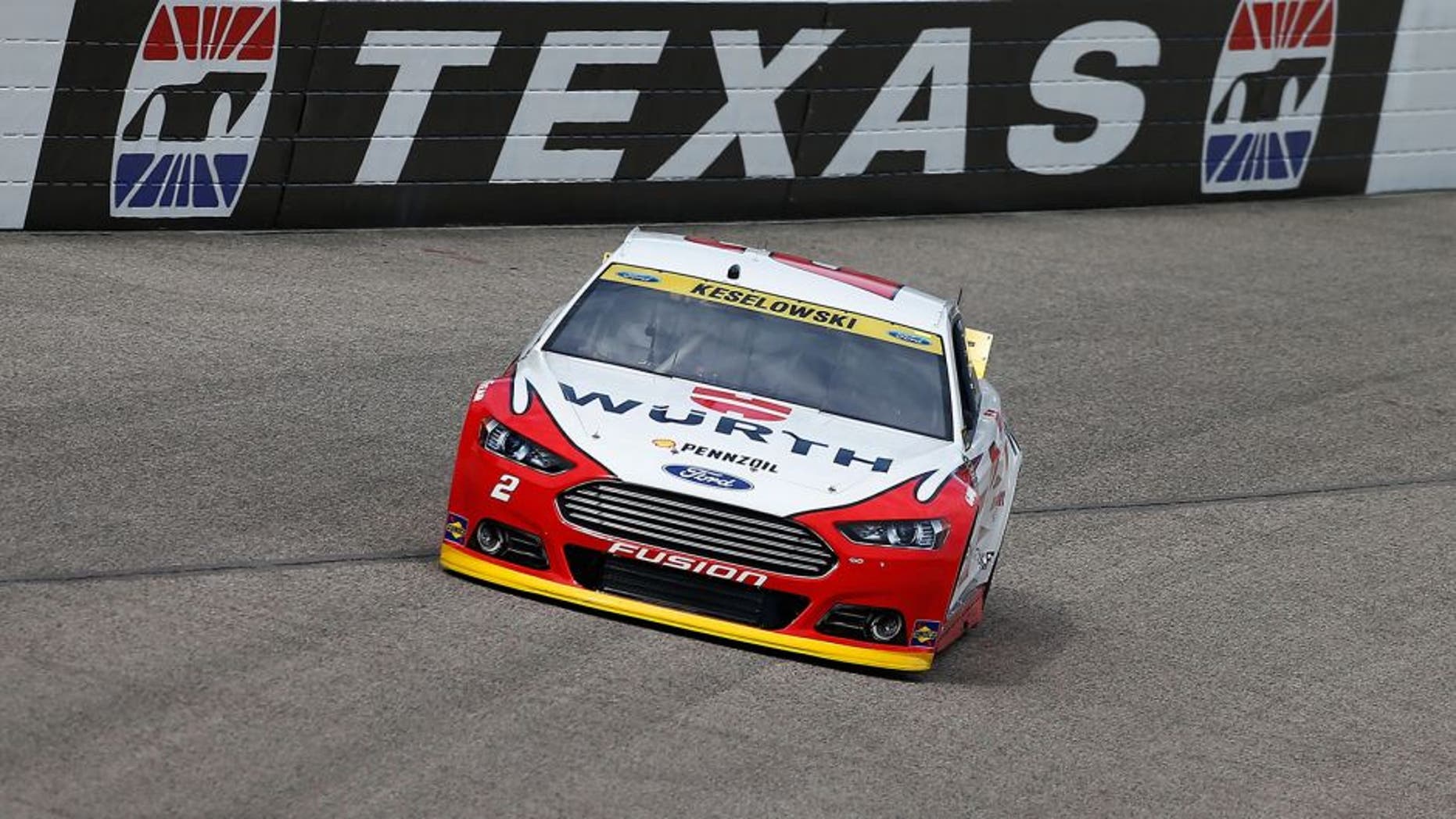 Brad Keselowski and his No. 2 Team Penske Ford continued to show blistering speed Friday night, when he captured the pole for Sunday's AAA 500 at Texas Motor Speedway.
Keselowski, still in contention for a second NASCAR Sprint Cup Series title, led all three rounds of qualifying, officially taking the top spot with a lap of 196.929 miles per hour in the final session. Earlier in the day, he was also fastest in the day's lone practice round.
The 2012 Sprint Cup said he was on the ragged edge in capturing his third pole of the year and 11th of his career.
"I was all over the track the last round with the tires starting to wear out," said Keselowski. "I came off Turn 4 and felt for sure I lost it … but the Wurth Ford Fusion has been really good since we unloaded."
Keselowski said his Friday was "very similar to where we were at Kansas. Really fast in practice, really fast in qualifying. We just needed it to stay with us during the race. And we didn't get that in Kansas, so we've got a lot of work to do tomorrow to make sure that happens."
Defending series champion Kevin Harvick was second in the No. 4 Stewart-Haas Racing Chevrolet at 195.993 mph.
Kyle Busch was third in the first of the four Joe Gibbs Racing Toyotas. Keselowski's teammate Joey Logano and Kyle Larson completed the top five. Erik Jones, filling in for the suspended Matt Kenseth, was sixth in another JGR entry.
"All in all, just continuous improvement throughout the rounds," said second-qualifier Harvick. "It wound up being pretty good."
The AAA 500 is middle race in the semifinal Eliminator Round of the Chase for the NASCAR Sprint Cup. The four drivers lowest in points will be knocked out after this round Is completed next week at Phoenix International Raceway, with the top four advancing to the season-finale at Homestead-Miami Speedway in two weeks.
The Texas race will be critical for seven of the eight drivers still in championship contention. Jeff Gordon, the winner last Sunday at Martinsville Speedway, is already locked into the Championship Round at Homestead. That leaves three spots left, with seven drivers vying for those spots.
The drivers deepest in points right now are Logano, who is 28 points behind fourth-place Harvick; Kurt Busch, 26 behind Harvick; and Keselowski, who is 24 points out of fourth.
Three Chase drivers failed to advance to the final round at Texas: Carl Edwards (13th), Gordon (18th) and Martin Truex Jr. (23rd). "Just a little bit loose, but the car was fast," said Edwards.
"There's nothing wrong with the car," said Gordon. "We're just lacking speed."
Two drivers failed to qualify at Texas: Joey Gase and Reed Sorenson.