Swinging a golf club is helping Pacman Jones win on and off the field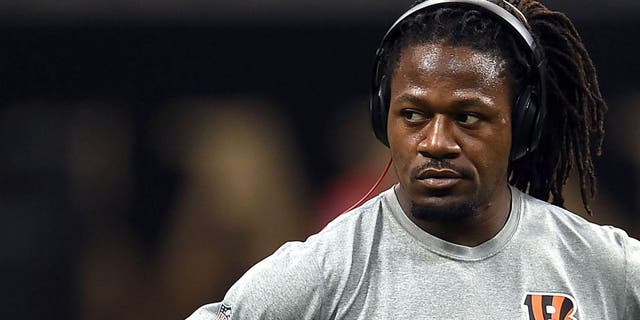 Eric Winston and a few buddies were enjoying a round of golf recently when another cart came out of nowhere to join them at a tee box. At the wheel was one of Winston's Cincinnati Bengals teammates -- a cornerback that wouldn't have been anywhere near a golf course just a few years prior.
Adam Jones joined Winston's group and immediately flubbed his first tee shot on a short Par 3. His second shot, from about 100 yards away, he nearly drained.
"Dammmmmn, that was almost an eagle!" Jones exclaimed, to Winston's recollection.
"Nah, a birdie. You already hit one," Winston replied.
"Oh, oh, oh, right, right," Jones said.
"He tapped in for par. It was an incredible second shot," Winston said the other day, "but I'm thinking to myself, 'Yeah, I've gotta watch this guy.'"
For a little more than two years now, Jones has gradually fallen in love with a second sport. It began when fellow Bengals cornerback Leon Hall took him to the driving range, and Jones smacked a few shots better than he expected. Eventually, he played several rounds and realized he was a bit of a natural. A 28 handicap in his first year playing, Jones claims he's down to a 15, recently carded his best nine-hole score of 40 and was inches from his first hole-in-one after hitting the pin on the fly.
A football player dabbling in golf as a hobby certainly isn't rare or noteworthy. But in this case, it's interesting considering the gentlemanly sport isn't one that would have appealed to Jones just a few years ago. The young man they called "Pacman," who drew headlines with questionable behavior in strip clubs, would never have been a member of a country club.
Jones recently joined two of them. And with every stroke he takes, he distances himself from his past transgressions.
"Young Adam would never play golf. I was too hyper, too this, too that," Jones told FOX Sports after Saturday's training-camp practice at Paul Brown Stadium. "It's crazy what two, three years can do for your maturity. You have kids and a lot of things change. You can't yell in the house. Little stuff that kind of hits you.
"But as far as life, (golf) helps a lot. That's all I want to do is golf. I don't have time for anything else but football and golf."
This summer, Jones stayed in Cincinnati between the end of Bengals minicamp and the start of training camp. By all accounts, he was at the stadium every day to train. After that, he would hit the course to get in at least nine holes. Jones played so much golf that his wife, Tishana, griped to Jones' agent, Peter Schaffer, that her husband was playing too much.
"My response is always that I've never seen a player get in trouble on a golf course," Schaffer said.
Schaffer is one of four agents featured on Esquire Network's upcoming documentary "The Agent," which premieres on Tuesday. A round of golf with Schaffer and Jones will be featured on one episode. Schaffer said Jones will outdrive the pros they play with, which jibes with Jones' claim he crushes his 3-wood regularly.
"I hit that mother------ 260, 270 straight down the pike every time," he said.
Jones was telling that story amongst his teammates in the locker room. At his country clubs, he watches his language.
"We went to play at his club and he walked in there and everybody was like, 'Hi, Adam,'" Schaffer said. "He just treats everybody with respect -- waiters, bartenders, club guys, cart guys. They just love having him around. He is very competitive, but at the same time, he's respectful of the rules of golf. If he gets an 8, he gets an 8. No Mulligans, no Clintons. He knows the rules."
That last part is debatable. Winston's story about mistaking a birdie for an eagle is one thing. Bengals secondary coach Vance Joseph's account of playing golf with Jones is more pointed.
"He's a decent golfer. But he has Adam Jones rules," a laughing Joseph said. "His best club is his pencil, OK?"
Told of Joseph's accusation, Jones shot back, "I don't even take score. Vance never even played with me, man!"
It's all playful chatter, just like any group of friends on the course. But the impact of the game on Jones' football career and life is genuine.
Once too much of a troublemaker even for the Dallas Cowboys, Jones is now a solid veteran presence in the Bengals locker room. He hasn't missed a game since 2011 and has six interceptions in the past two seasons combined. He's mostly avoided trouble away from the field (he apologized after getting kicked out of a casino in February, an incident that didn't result in any charges and one he dubbed a misunderstanding and a "learning experience") and those close to him say he's become a good husband and father.
Jones enjoys how his golf game reinforces the life lessons he's learned.
"I'm addicted. I just like the challenge," he said. "You can't have any excuses. It's a mental game. It teaches you patience. You have to forget about your last shot, whether it was good or bad."
Same as a cornerback. So maybe the game of golf is even helping Jones on the football field. That's where Joseph expects Jones to make a huge impact this upcoming season. It's a contract year for Jones, who is making $1.9 million this season.
"He's going to be 31 years old this year and he's playing like he's 21," Joseph said. "He's in great shape and he's doing things right. In the past, he wouldn't do it right. He would freelance outside of the defense. He's in tune, making very few mistakes and playing his butt off.
"It's an amazing story. If it wasn't for the Bengals, he'd be out of football totally. But he's come here, he's been a good person, he's worked hard, guys look up to him. His story helps steer young guys straight."
Just like those 3-woods down the fairway.