Super Bowl moment No. 33: Earl Morrall misses a wide-open Jimmy Orr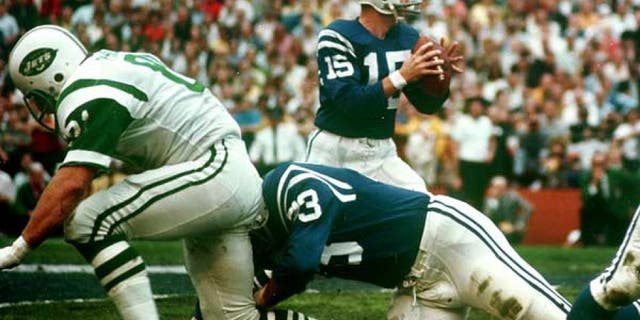 As we count down to Super Bowl 50 in Santa Clara, it's time to look back on the magical and memorable moments in the 49 previous Super Bowls. FOX Sports senior NFL writer Alex Marvez has ranked the 50 greatest moments in the big game's big history, and every weekday from now until Feb. 7 we'll unveil the latest addition to our countdown. Today, we look back at moment No. 33, when the Colts' loss shifted the balance of power in the AFL-NFL rivalry in Super Bowl III.
The Baltimore Colts, who entered as an 18-point favorite over the New York Jets, might have avoided the biggest upset in Super Bowl history if quarterback Earl Morrall successfully pulled off a trick play.
The Colts called a flea-flicker while at New York's 41-yard line late in the first half and running back Tom Matte lateralled the football back to Morrall after taking a handoff.
New York's defense was fooled, allowing Colts wide receiver Jimmy Orr to break free near the goal line. Morrall, though, failed to spot Orr and instead tried to connect downfield with running back Jerry Hill.
Jets safety Jim Hudson intercepted the pass to help New York preserve its 7-0 lead heading into halftime. Morrall was benched in favor of Johnny Unitas after throwing his third interception.
Here are highlights from Super Bowl III.
Final score: New York Jets 16, Indianapolis 7