Suns show Lakers how to really stink with 22-point half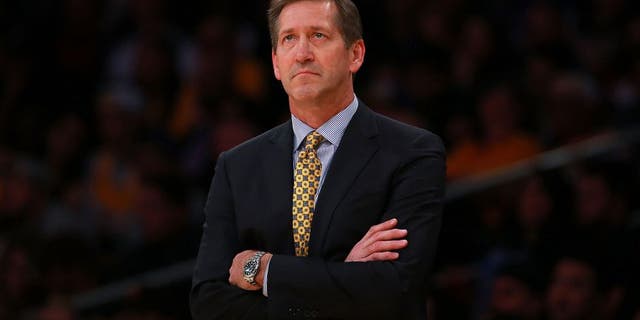 NEWYou can now listen to Fox News articles!
Suddenly, it looks like the Lakers need a lesson in tanking. Hopefully they were taking notes on Sunday night.
The Suns taught one helluva lesson in futility.
When the final horn sounded, Los Angeles had a 97-77 victory at Staples Center, L.A.'s third straight win. To put that into perspective, the Lakers had only five wins all season prior to this run. But the number that will really make your eyes pop out? The Suns' point total at halftime: 22.
Twenty-two. Or 18 points fewer that the Bulls' Jimmy Butler had in a half all by himself on Sunday.
A record-low for the Suns for one half? Yup. A record even in the storied history of the Lakers? You betcha. Sub-20-percent shooting (9-of-46, 19.6 percent) in the half, only 10 points in the opening quarter. It was that bad.
Hell, even a Lakers fan hit a half-courter for $95,000 during an intermission.
"Guys were tentative, and we basically laid an egg early," Suns coach Jeff Hornacek told the media after the game. "We couldn't throw it in from anywhere. I mean, 9-for-46 in the first half. We settled for shots, we rushed them, and we didn't attack the basket."
Keep in mind, Hornacek's job is apparently in jeopardy and the team just fired two assistants last week.
Might wanna dust off the old resume, coach.
-- The Associated Press contributed to this report