Suns need to find answer for Cousins if they are to halt losing skid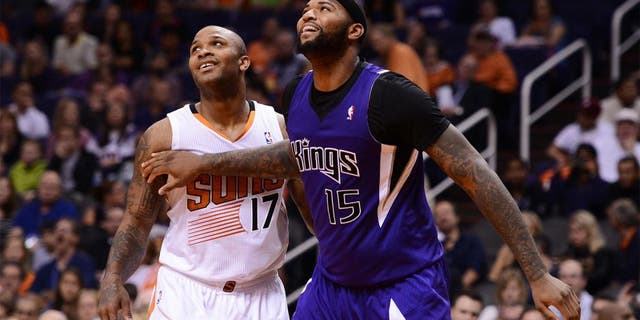 NEWYou can now listen to Fox News articles!
DeMarcus Cousins was ejected in an act of frustration earlier this week, and after an ensuing loss to the NBA's worst team, reportedly said that the Sacramento Kings have a dark cloud over them.
Cousins, though, has been a handful for the Suns, who are mired in a seven-game losing streak. To end that streak, the Suns will have to figure out a way to contain Cousins when they visit Sacramento on Saturday. The game can be seen on FOX Sports Arizona, beginning at 2:30 p.m.
Sacramento general manager Vlade Divac said he believed Cousins would be suspended for his reaction to being ejected from Monday's 122-103 road loss to Golden State, but the league did not so much as fine the All-Star before a 110-105 home loss to Philadelphia on Wednesday.
Cousins had 21 points, 11 rebounds and three blocks in the 76ers' loss before fouling out with 1:47 remaining. He was frustrated again after the Kings (12-20) committed 22 turnovers and allowed 50 points in the paint to easily the league's lowest-scoring team.
"I feel we dropped the ball," Cousins said. "Turnovers killed us, paint points killed us. I don't think the defense was where it needed to be."
Cousins ranks second in the league behind Houston's James Harden in home scoring average at 27.9. He's also put up 23.2 points and 13.8 rebounds in his last nine against the Suns, who hope the addition of Tyson Chandler will help them end his wrath in the series.
Cousins did not play in a 118-97 road loss to Phoenix on Nov. 4. In his most recent meeting with the Suns, he had 28 points and 12 boards while making the winning jumper as time expired in an 85-83 victory in Sacramento on Feb. 8.
Marco Belinelli is coming off his best performance of the season with 28 points against the 76ers. Rudy Gay, second on the team in scoring with 17.5 points per game, could be sidelined due to a sore Achilles as the Kings look to end their three-game skid.
T.J. Warren has stepped up for the Suns in the three games since leading scorer Eric Bledsoe was lost for the season, averaging 21.0 points - nearly 10 above his average - while going 7 of 11 from 3-point range. He had a career-high 29 points with nine rebounds in a 110-106 loss at Oklahoma City on Thursday.
Brandon Knight looks to shake his slump, having shot 33.8 percent in his last four games.
Among the worst defensive teams in the league, Phoenix (12-23) is in the midst of its longest losing streak since a 10-game skid March 20-April 9, 2013. It's allowed 108.0 points and 49.2 shooting over its last six.
"The hardest part about the NBA is that you're playing 82 games, and you have to somehow mentally prepare yourself every single night to go out there," coach Jeff Hornacek said.