Sun Devils unveil new 'Tillman Tunnel'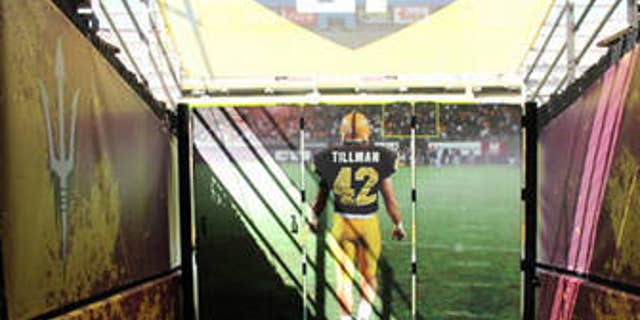 NEWYou can now listen to Fox News articles!
College football programs do all kinds of cool stuff to get players pumped to take the field.
There's Howard's Rock at Clemson and Notre Dame's "Play Like A Champion Today" sign. Purdue wheels out a big ol' drum, Auburn has the War Eagle, Oklahoma has the Sooner Schooner and FSU has Chief Osceola and Renegade, one of several man-on-horse combinations that dot the NCAA landscape.
But is there really a more awesome pre-game tradition than the one just unveiled by Arizona State ?
Starting this season, Sun Devils players will rush onto the field out of the renovated "Tillman Tunnel," so named for Pat Tillman, the former Arizona State linebacker and NFL star who was killed in Afghanistan in 2004 at the age of 27.
Though the tunnel existed before, the new one includes new graphics and signage, a gate that opens out to the field, double doors separating the locker room from the tunnel, a 90-inch TV and hanging speakers and subwoofers.
The whole new-look tunnel is really great, and if getting to the end, staring at that No. 42 and thinking about honoring Pat Tillman's legacy can't get you amped to play football, I'm not sure what else can.
"The way Pat lived -- the Sun Devil Way -- is something we teach our team about every day," Arizona State head coach Todd Graham said in a statement . "Now the final thing they will see before taking the field is the embodiment of everything he stood for -- and everything we hope to emulate and accomplish."
The Sun Devils open their 2013 schedule Thursday night at home against Sacramento State.