Stubborn Leicester weather Manchester City storm for draw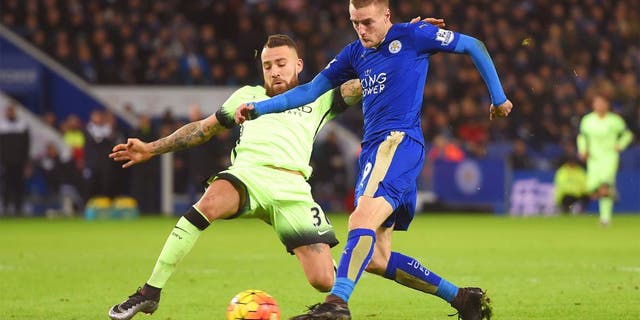 Look at the performance, or look at the result? Leicester City evidently has not got carried away with its early-season form. It played this like a lower mid-table side looking to hold a grandee at arm's-length, something at which it was broadly successful in the 0-0 draw with Manchester City.
There was no sense of this as a struggle of two evenly matched sides and yet the table shows that at the halfway point of the season Leicester is level on points with Arsenal at the top of the table, three points above City. Once again there was much to admire about Leicester. Wes Morgan, so hapless last season, has developed to be one of the most imposing centerbacks in the league; a commanding, authoritative presence alongside the robustness of Robert Huth. N'Golo Kante was, as he has been all season, a scurrying, inexhaustible presence in midfield. Kasper Schmeichel made two excellent saves.
And yet for all that, and all that Leicester became more adventurous as the game went on, the first hour was a reminder of the gulf that still exists between the elite and the rest: it's just that this season the elite isn't firing and teams from the Premier League's middle-classes have lost their fear of the traditional big sides and are inspired as a result.
"One of the good things about tonight is that we kept a clean sheet after many games without," Manuel Pellegrini told reporters at the week. "But I am not happy because we came here to try to win the game. We went for the three points and I think that we had more possession than Leicester and more attempts and did more things to win the game."
This was the fourth of a run of four awkward games over Christmas that it seemed would define Leicester's season. A haul of seven points from them is highly respectable -- good enough, certainly, that it would be ludicrous to exclude Leicester form a list of potential champions. But the way it set up, the way it scrapped, the way it left City to take the initiative spoke of a side squeezing every last drop out of modest resources.
For City, meanwhile, it was a familiar story of wasted opportunities and domination not capitalized upon. Neither Sergio Aguero nor David Silva, both of whom have had injury problems this season, looked fully fit, and the reliance upon them is a major issue. There was at least a first clean sheet this season without Vincent Kompany, who was watching from the stands having suffered a recurrence of his calf injury against Sunderland.
For most of this season, Leicester has played with either Fernando Ulloa or Shinji Okazaki behind Jamie Vardy, but Claudio Ranieri opted to play with a lone striker, bringing in Gokhan Inler to operate as a third central midfielder just in front of the back four. The result was a congested center and, for a long time, there was little flow to the game. That hasn't been unusual in Leicester games this season as the Foxes essentially allow the opposition to control the ball, there's often been a raggedness to the play, punctured with moments of attacking brilliance from Riyad Mahrez and Jamie Vardy.
From an attacking point of view Leicester was far more limited than it has been, its best opportunities coming when City squandered possession -- something it did far too often. Mahrez fired an early opportunity over after catching Aleksandar Kolarov in possession.
The more defensive shape, meanwhile, seemed to invite pressure and had it not been for two excellent saves from Kasper Schmeichel, the visitors would have been ahead within the half-hour. First Raheem Sterling, ghosting menacingly in a loose role behind Aguero, teed up Kevin De Bruyne for a chance that Schmeichel beat away and then Sterling ran on to Bacary Sagna's lofted pass and chested the ball down only for Schmeichel to divert the ball wide with a powerful wrist.
Vardy was isolated for most of the first half, chasing down aimless punts forward but, five minutes before the break, came a golden chance. Fernandinho dithered in possession and was dispossessed by Vardy, who ran on to Danny Drinkwater's subsequent through-ball but blasted his shot over with just Joe Hart to beat. It felt instantaneously a significant miss. The moment, perhaps, at which Leicester's hopes of clinging on at the top of the table vanished.
It was a let-off for City, one it seemed intent on capitalizing on at the start of the second half as Aguero darted across he near post to meet a De Bruyne cross, only to lift the ball over the bar from close range. But the expected City onslaught never came and Leicester looked rather more dangerous in the second half than it had in the first, N'Golo Kante sending a swerving long-ranger flashing just wide and Albrighton dragging wide after a neat through-ball from Mahrez. Ranieri even felt secure enough to introduce Ulloa for Inler.
The template by then, though, was set. It was the second game in a row in which Leicester had failed to score after scoring in the first 17 of the season, but that was of less significance than a hard-earned point.
"I think we made a very good match. It was difficult but we played well, we created some chances," Ranieri admitted after the goalless draw. "I wanted to see how my players responded after the Liverpool defeat and they responded well. This league is very crazy. I think the big teams have to stay at a high level, but sometimes it means nobody wants to win the league - it's very strange this league.
"It's not easy for us but we want to fight with everybody. It's a miracle what we're doing I'd love this to continue but it's not easy. I'd like my players to continue to fight like today. It's fantastic."
Information from FOXSoccer.com's newswire services contributed to this report.