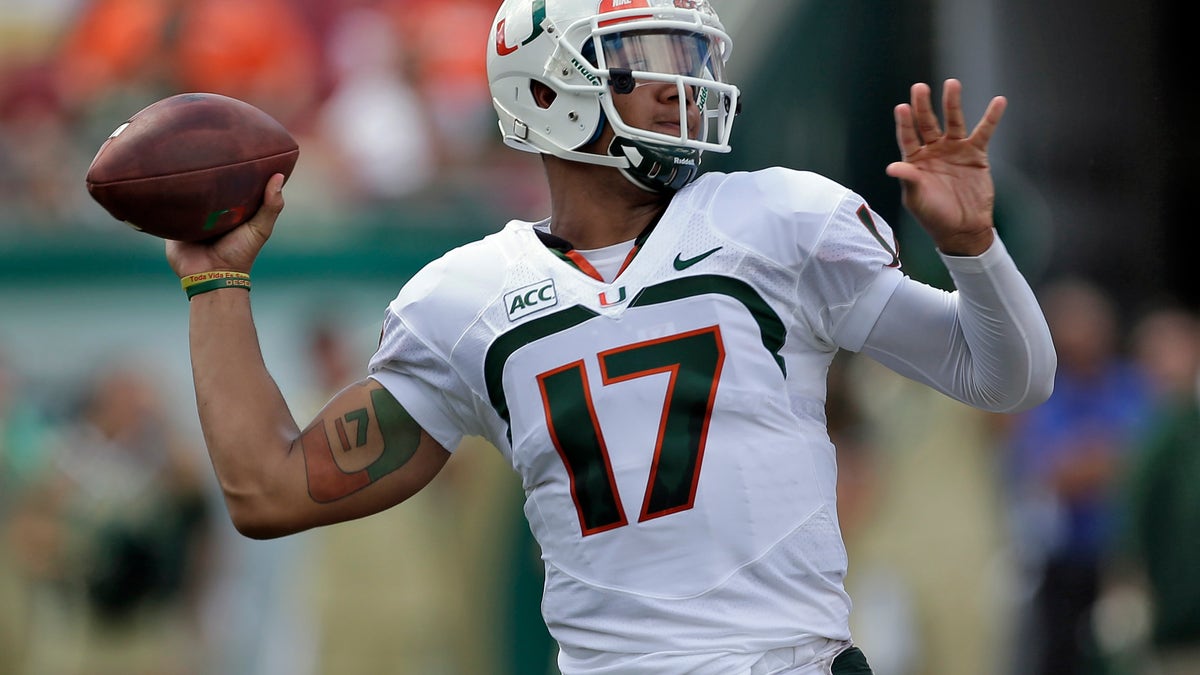 Stephen Morris has noticed some changes in Miami's defense over the past few days. There's more focus, more diligence in film study, extra effort being put in on the practice field.
In other words, it's Georgia Tech week.
No scheme in the Atlantic Coast Conference gets the attention of opponents quite like the Yellow Jackets' triple-option offense, one that Miami has handled in each of the past four years. The 14th-ranked Hurricanes (4-0, 0-0) will try on Saturday afternoon for their fifth straight win in the series, when they play host to Georgia Tech (3-1, 2-1 ACC) in Miami Gardens, Fla.
"You can feel it in the building. All eyes are on the defensive players, and rightly so, because they have a huge challenge," said Morris, Miami's starting quarterback. "It's not like we're facing an average defense, either. This defense is very well-coached and highly ranked, so overall, obviously we know that we're facing a great team and a challenge. It'll be a good fight."
He very easily could be proven right.
Through the first month of the season, there haven't been too many defenses statistically outperforming these two clubs. Georgia Tech came into the weekend No. 9 nationally in yards allowed (275.5 per game), one spot ahead of Miami (283.5) on that list.
"They've always had great athletes," Georgia Tech coach Paul Johnson said of the Hurricanes. "Duke Johnson may be the best running back in the country. If he's not, you could count on one hand the guys that are at his level. The quarterback has played well. They always have fast receivers and a huge offensive line. So they've got a pretty good combination of guys. Clearly, this will be the best offense that we've played."
Miami is concerned about Georgia Tech's offense as well. That scheme gives just about everyone trouble, and even though Georgia Tech's point and yardage total has dropped in each of the last three games, the Hurricanes say the Yellow Jackets — who are coming off a loss to Virginia Tech — still present problems.
"It's a great challenge in all three phases," Miami coach Al Golden said.
___
Here's five things to watch when Georgia Tech plays at No. 14 Miami on Saturday:
TIME OF POSSESSION: Miami plays a brand of quick-strike football that isn't conducive to great time-of-possession numbers, but this may be a critical stat. Georgia Tech is 19-3 since 2008 when having the football for at least 35 minutes, and the Yellow Jackets' ground-and-pound style is the sort that can wear down any opposing defensive front. "We're going to have to sustain some drives and do our jobs on third down," Morris said.
MIAMI'S DEFENSE: The Hurricanes' regular defense has allowed three touchdowns in four games — two against Florida and one against South Florida. (Disregard the special-teams one against Savannah State and two more that came against largely third-string outfits in the USF game.) Miami's defense has flat-out owned the Yellow Jackets since 2009, holding them to an average of 317 yards per game. Against all other foes during that span, Georgia Tech has averaged 441 yards per game.
LEE'S EFFECTIVENESS: The forward pass isn't the go-to move in Georgia Tech's offensive system, though if defenses are lured to sleep against the option run, the Yellow Jackets can turn downfield throws into huge plays. Quarterback Vad Lee is coming off a 7 for 24 effort against Virginia Tech, which marked the fourth-worst accuracy percentage this season by any FBS quarterback in a game with at least 20 attempts.
TURNING TEAMS AROUND: OK, punters aren't typically a big reason to watch a football game, but Miami and Georgia Tech might have the two strongest-legged guys in the ACC. Georgia Tech's Sean Poole averages 47.4 yards per kick and Miami's Pat O'Donnell averages 47.1, those numbers showing that both have the ability to ensure the other offense doesn't get a short field to deal with.
EXTRA INSPIRATION: Both sides will say this doesn't matter, but the memory of last year's game in Atlanta will probably be in the recesses of the Hurricanes' and Yellow Jackets' minds on Saturday. It was a wild one, Miami running out to a 19-0 lead, then giving up 36 unanswered points to fall into a huge hole, then scoring the final 23 and prevailing in overtime. Expect the Yellow Jackets to be even more motivated to try and avenge a game that they surely think got away.