Strikeforce's Last Show, Cormier & Marquardt Go For Wins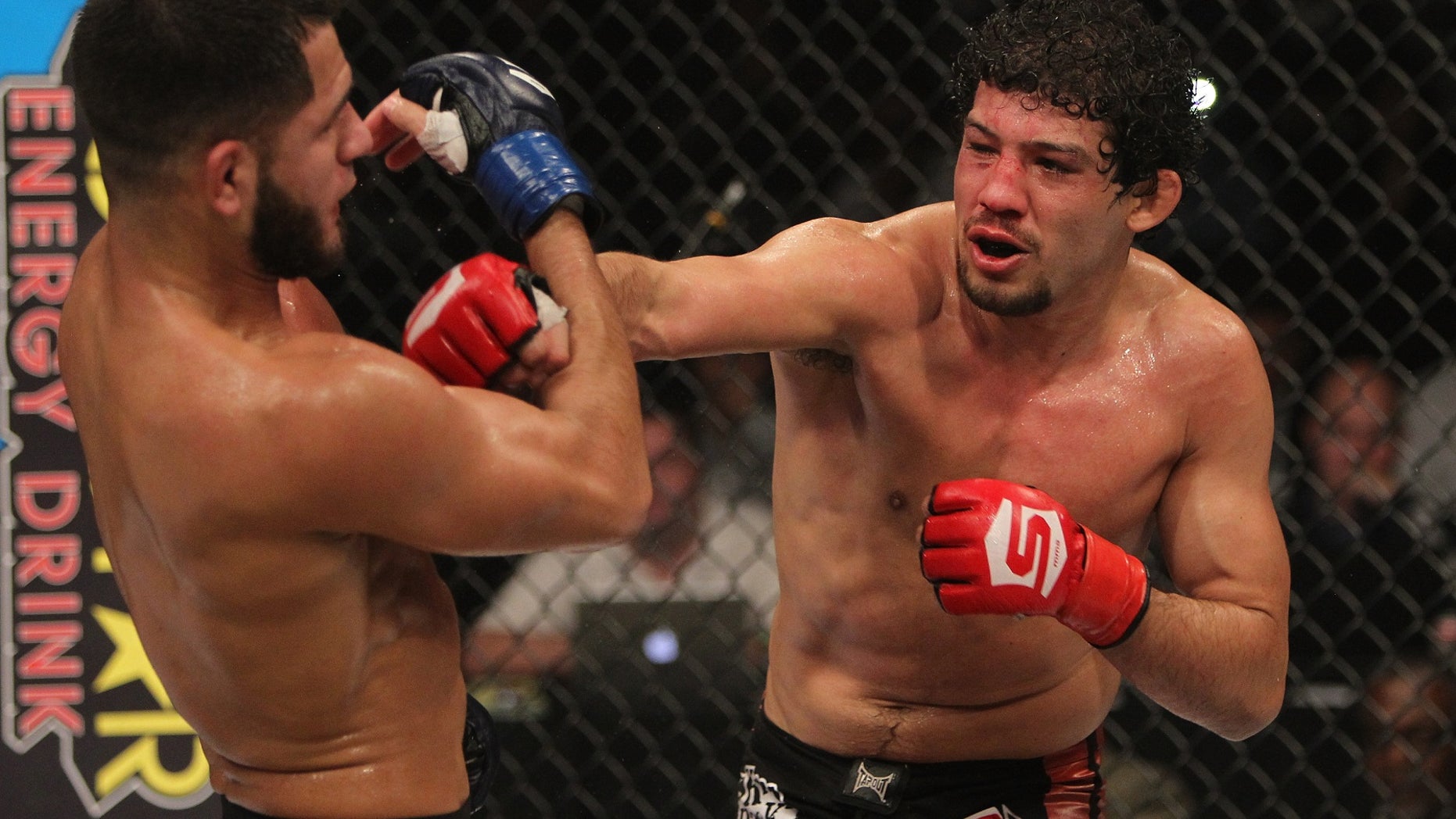 Ever since Strikeforce was bought out in 2011 by it's much bigger and successful brother in the form of the UFC, its days have always been numbered. For the past year now Strikeforce has essentially been a zombie promotion, slowly and aimlessly moving through the fighting world, devoid of its top fighters who had moved along to pastures new, mostly into the warm embrace of Dana White at the UFC.
So this Saturday night in Oklahoma City, Strikeforce will finally bow out with it's final promotion before the remainder of its stars leave their hexagonal world and move to the Octagon. Many thought Strikeforce was never to return in as fitting finale as this, given two previous shows had already been cancelled. But instead in the first major MMA show of the year it will be Strikeforce's last. A fitting finale indeed.
Nate Marquardt - Tarec Saffiedine
Headlining the event will be Nate Marquardt [32-10-2] facing off against Belgian Tarec Saffiedine [13-3] for the chance to be the final ever 170 pound champion and a worthy footnote in MMA's history books. The winner undoubtedly gets the best of springboards into the UFC's ever improving welterweight division while the loser faces the prospect of finding a new employer.
For Marquardt, his previous fight in Strikeforce was against Tyron Woodley who he stopped in the fourth round after weathering some early storms. Given that Marquardt was a very credible 185 pound fighter there's no reason to think he won't be a tough but to crack 15 pounds lighter. He'll also be favorite against Saffiedine. Why? Because despite the fact that the feisty Belgian has built up a more than credible 5-1 record in Strikeforce his lone defeat came against, you guessed it. Woodley. The winner takes all in this fight, or at least what's left of it. But the chance to impress one final time means the stakes are high and fans can expect something special.
Daniel Cormier - Dion Staring
Last week, newly re-crowned UFC heavyweight champion Cain Velasquez decimated Junior Dos Santos in statistically record breaking fashion. While this was great for fans it left nothing but a headache for the UFC's matchmakers. Who will fight Velasquez now? For all the heavyweight division's ability to provide spectacular matchups there are few great fights to be made in a division that lacks depth. Alistair Overeem is an option but who else?
Perhaps it will be Daniel Cormier [10-0] who faces Dion Staring [28-7] in the final heavyweight bout of his Strikeforce contract. To say that Cormier is a favorite would be a gross understatement. If Cormier was in the UFC now he would be an automatic contender in his division, therefore a loss against Staring would be nothing short of disastrous for his career, while a destruction would be nothing but a normal day at the office. So while Cormier is the overwhelming favorite, the threat of a bloody banana skin should provide something of intrigue to fight fans.
And if Cormier does emerge triumphant, as so many expect, will he be facing Velasquez? The stumbling block is that Cormier and Velasquez are gym-mates who've stated they won't face each other. This can't be great news for Dana White, but then again one only has to ask Rashad Evans and Jon Jones about what White thinks of fighters who say they won't fight each other.
As Strikeforce stages its final card and fizzles out of orbit, Saturday could prove to be a bright and exciting beginning for the last batch of stars to hoping that a meteoric rise is not out of the question. Tune in.