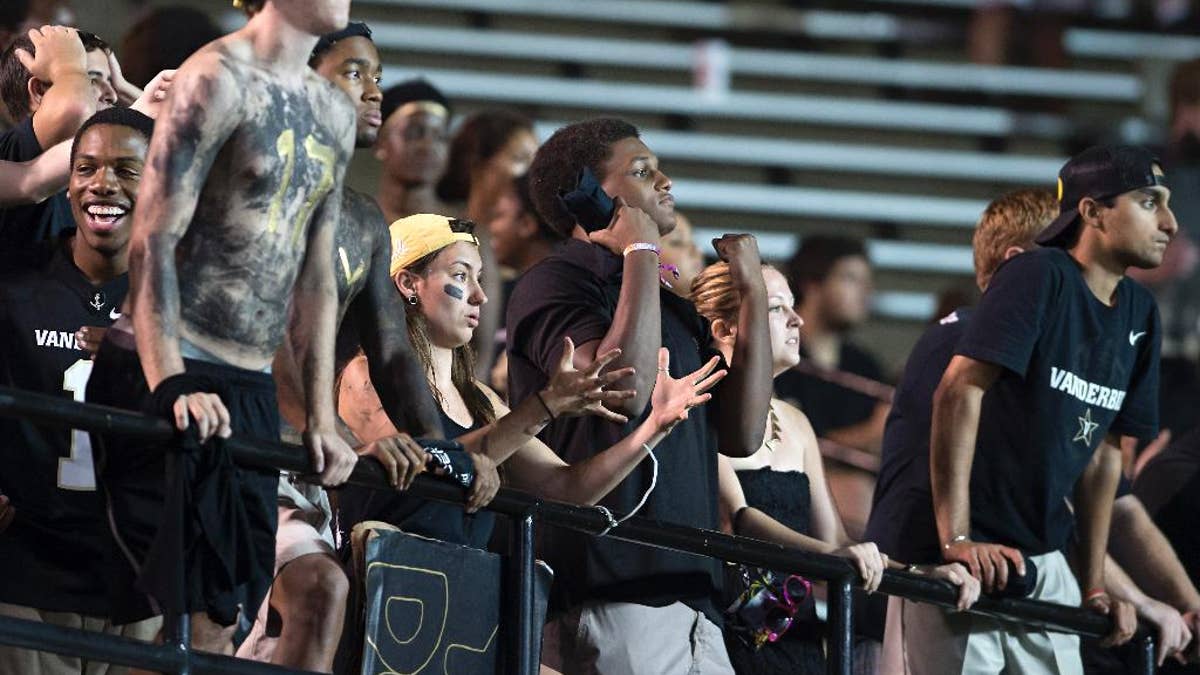 NASHVILLE, Tenn. – Vanderbilt first-year coach Derek Mason has studied the tape of the Commodores disappointing loss to open the season. He's found plenty of mistakes to correct, including how he acts on the sideline.
So expect to see a more demonstrative Mason on the sidelines this week.
Mason said Tuesday he kept his usual energy hidden while trying a stoic approach for his debut. People didn't see Mason working the sideline as he communicated with his coaching staff during the game, but he said he understands he needs to show more of himself after the worst home opening loss in Vanderbilt history.
That approach didn't work so well as Temple routed the Commodores 37-7, forcing seven turnovers. Mason says he's never had a team turn the ball over that much.
"You want to see it, I want to see it ...," Mason said. "And who I am is an energetic ball coach that loves the game and wants to see his team compete and compete hard and play extremely hard all the time. You can be encouraging. ... I'm sure I can do both."
Vanderbilt (0-1) has little time to dwell on how to act on the sideline hosting No. 15 Mississippi (1-0) on Saturday in the Southeastern Conference opener for both teams. Mason and his Commodores have been busy fixing a lengthy list of mistakes topped by the seven turnovers, something the head coach says he's never seen before by one team.
The Commodores, who played a total of 21 freshmen and redshirt freshmen against Temple, had turnovers on kickoff returns, errant throws, mishandled balls. Mason said all of those are fixable, and he didn't see any dropped balls or turnovers during weekend practices for the first time in a long time.
"We beat ourselves," defensive tackle Adam Butler said. "We fumbled the kickoff return, they get the ball inside the red zone and many more mistakes. Just bad, bad football."
Mason also isn't tipping his hand at quarterback the way he did a week ago when he said he wouldn't yank Patton Robinette quickly if he struggled. Robinette wound up just 4 of 6 for 38 yards and was sacked three times. Stephen Rivers also was sacked once and was 12 of 25 for 186 yards and a fumble returned for a touchdown just before halftime for a 21-7 deficit.
Johnny McCrary even took a turn and didn't complete a single pass to his teammates, though two were picked off.
Now Mason says he will not announce a starting quarterback until just before kickoff Saturday against No. 15 Mississippi (1-0) in the Southeastern Conference opener for both teams. All three quarterbacks continue to compete, though Mason said the coaches have an idea of who may play.
"We're a work in progress," Mason said. "Different guys have different skillsets. And we're going to work to those skillsets, and we're going to see who gives us the best opportunity."
Ole Miss coach Hugh Freeze expects a much improved Vanderbilt when these teams meet at LP Field. He said the Temple loss was one of those nightmarish games that he can understand from his Rebels' first-half struggles on offense before beating Boise State.
"I'm sure coach Mason felt the same way," Freeze said. "Their defense played really well actually, only gave up 300-or-so yards and had a short field quite a few times. I don't expect us to go in there and get seven turnovers from them. I'm sure they are making corrections, and I expect it to be an SEC fight like all are."
___
AP Sports Writer David Brandt contributed to this report.
___
Online:
AP college football website: http://collegefootball.ap.org/
___
Follow Teresa M. Walker at www.twitter.com/teresamwalker