Stipe Miocic: 'I'm not worried about being famous'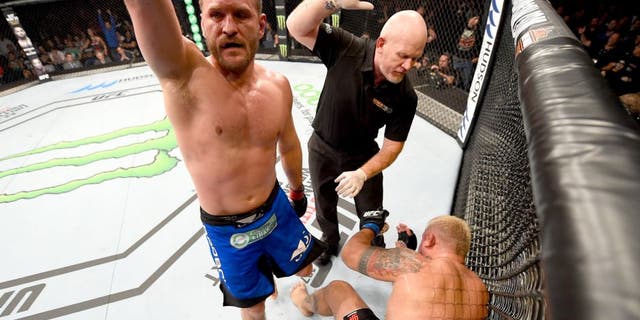 Stipe Miocic knows that promoting a fight goes hand in hand with actually beating an opponent inside the Octagon, but he's not concerned about his name landing in the spotlight so long as he wins.
Ranked as one of the best heavyweights in the sport, Miocic has been knocking on the door of a title shot for quite some time but the Ohio native revealed earlier this year that UFC president Dana White told him he needed to gain popularity before he'd get a shot at the gold.
While wins and losses will obviously count the most towards any potential fight, Miocic isn't going to worry too much about his standing with fans as he approaches his upcoming fight with Andrei Arlovski at UFC 195.
"I don't care. I mean I understand it's business man," Miocic said on a media conference call this past Monday. "So, I mean, it's about the money. And, maybe one day I'll get more fans which is fine. But, the fans are what makes the sport.
"But I'm not worried about being famous. I'm just worried about January 2 against Andrei. Yes I've been fighting and I'm super excited and that's all I'm worried about right now."
Miocic enters the fight at UFC 195 just three months removed from a back injury that prevented him from fighting in Ireland this past October when he was expected to face Ben Rothwell.
Miocic revealed the nature of the injury while speaking to FOX Sports on Thursday and says that it was definitely a difficult decision to pull out of the fight, but considering he could barely stand there was no choice in the matter.
"I had a bulging disc in my back. It was herniated or whatever and I couldn't walk. I couldn't stand up straight," Miocic explained. "I would sit down and it was painful. I couldn't sit on a plane for 8 hours, I wouldn't survive. And then trying to fight a man like that, 265-pounds who's good, top ten in the world, I couldn't do it. It was devastating."
Miocic says after the injury forced him to drop out of the fight in October, he immediately asked the UFC to match him up with Rothwell again but they had other ideas.
Ultimately, Miocic got Arlovski at UFC 195 while Rothwell will face Josh Barnett at FOX UFC Fight Night on Jan. 30 in New Jersey.
"I did ask for the fight, to fight Rothwell again. I told them, 'Hey, I'll fight Rothwell.' But they told me 'no, Arlovski.' I said 'okay.' Listen, anyone in the heavyweight division in the top ten, there is no easy fight," Miocic said. "I don't care what you say.
"One guy might be ranked higher, but it doesn't mean anything. Where these fights go, lots of things can happen."
As he prepares to face Arlovski this weekend, Miocic isn't thinking about what comes next, especially when the conversation turns to that elusive title shot that he's still waiting to land.
Miocic knows the biggest impact he can make for his career is to beat Arlovski impressively and that will do more for his popularity and title aspirations than anything he would say leading up to the fight.
"I think any fight you get into you've got to shine and show that you deserve to be up there," Miocic said.
"All I care about now is January 2 against Andrei, it should be a hell of a fight but I'm super excited, I'm confident and I can't wait."