Stingy scorelines leave La Liga fans scratching their heads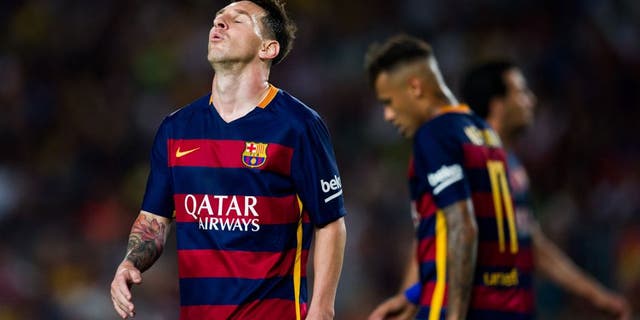 NEWYou can now listen to Fox News articles!
MADRID --
An hour into Barcelona's match at Malaga on Saturday night, a rather urgent question posed itself: Whatever happened to all of La Liga's goals? The season up until that point was 12 matches old, and five of them had ended goalless, three of them 1-0, and the champions now appeared to be heading toward a hard-fought draw.
On matchday one, a record for the blankest opening round of fixtures in Spanish history had been prevented only by Eibar's 3-1 win over Granada on Monday night. Granted, August in Iberia can be stiflingly hot, and fatiguing, sapping of the energies, but it hardly stultified Athletic Bilbao when they scored five times over two legs against Barcelona in the Spanish Super Cup less than two weeks ago -- or indeed Barcelona and Sevilla when they went to steamy Tbilisi, Georgia and shared nine goals in 120 minutes in the UEFA Super Cup. So why the stagnant start to the domestic league?
For nearly an hour and a quarter at Camp Nou, with Neymar, Lionel Messi and Luis Suarez lined up together for the first time since they scored 122 times between them across competitions in 2014-15, Malaga kept Barca at bay. Eventually, the breakthrough came, and, for the second weekend in succession, the champions collected three points by the minimum score. Perhaps Barcelona are pacing themselves for a tricky few weeks. The fixture list that greeted the La Liga, Spanish Cup and UEFA Champions League holders looked severe when it was drawn up in July, and head coach Luis Enrique left the stadium far more relieved that a 100 percent record has now been gathered ahead of the testing trip to Atletico Madrid, on matchday three on Sept. 12, than by the fact Messi is yet to score in La Liga.
The Argentinian inspiration might feel he was entitled to at least one goal so far. He had a penalty saved last weekend at Athletic Bilbao and Barcelona felt they had two strong shouts for spot-kicks turned down by the referee in the first half against Malaga. They found Carlos Kameni, Malaga's Cameroon international goalkeeper, alert and proactive. He twice kept Messi out and Malaga defended deep, efficiently and in numbers. Barcelona can expect plenty of that from their opponents in the coming weeks.
Their provider of points on Saturday night would be not Neymar, who was lively and unselfish on his return from an absence due to illness. Nor would it be Suarez, but the unlikely Thomas Vermaelen, whose winning goal will do a great deal to help his sense of belonging at a club where he has felt marginal for most of the 14 months since he joined from Arsenal. Injured for all but the final days of last season, Vermaelen has now contributed two solid showings in a central defense that has yet to concede after 180 minutes in La Liga and he now has a valuable goal to his name.
"We always knew him as a top-class player," said Luis Enrique of the Belgian defender. "He's still not back at his highest level [because of the long injury], but he has done good things for us already this season. He's got a strong personality and he knows the game. He is a key part of our strategy."
Unlucky with his fitness, Vermaelen may have been fortunate with Barcelona's circumstances this summer. Another club with their budget size who had conceded eight goals in their first two official matches -- the UEFA Super Cup and the first leg of the Spanish Super Cuip -- might have panicked into the market place to sign a defender, given Vermaelen's record of poor availability. Because of the FIFA-imposed ban on Barcelona's registering new players in 2015, they could not.
Similarly, Vermaelen's situation mirrors that of Real Madrid's Keylor Navas. Like Vermaelen, Navas signed for Madrid in 2014, immediately after his brilliant World Cup keeping goal for Costa Rica. His reputation in Spain was already excellent, thanks to his busy years with Levante. Yet his outings last season were scarce, mainly limited to the Copa del Rey, not because of injury but because Iker Casillas held the No. 1 role at Madrid.
With Casillas now at Porto, Navas has started both Madrid's La Liga games so far. Yet he woke up Saturday morning to read reports in some Spanish newspapers that the long saga which is Madrid's pursuit of David De Gea, the Manchester United and Spain goalkeeper, is close to ending, with De Gea still very much on Madrid's immediate agenda for this season. Navas, unlike Vermaelen, is not protected from extra competition for his place by a transfer ban.
Yet, on Saturday, Navas could hardly have presented stronger arguments for his candidacy to keep the No. 1 jersey until May. Madrid's first home match of La Liga, the 5-0 win over Real Betis late Saturday night, made no case for an urgent call to De Gea. Navas saved a penalty, made other good saves when called on and, gratifyingly, heard the crowd several times chanting his name: "Keylor, Keylor."
Madrid, goalless on matchday one, hit their stride early on matchday two. Gareth Bale put them 1-0 up in the second minute, with a header, and a flowing move involving James Rodriguez, Danilo, and a zippy, right-footed Bale cross, finished with a diving Karim Benzema header had them 3-0 up two minutes after halftime. James himself, making his first start under new coach Rafa Benitez, also scored a pair of spectacular goals; the first a direct, angled free-kick that thudded in off Betis keeper Adan's post so hard it threatened to uproot the frame of the goal; the second a resourceful overhead volley. Bale then completed the rout with long range drive two minutes from full time.
So Benitez, criticized for Madrid's blank score at Sporting Gijon six nights earlier, had a home debut as head to savor. He enjoyed the mastery, the flair of his attackers. And those five goals helped haul La Liga emphatically away from the stingy scorelines of its opening weekend.