Steven Matz included on Mets' NLDS roster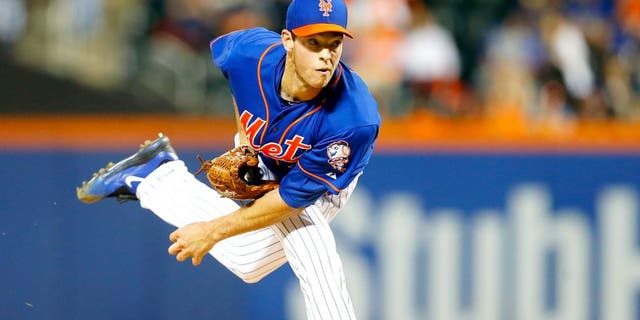 NEWYou can now listen to Fox News articles!
As the Mets get set to open the NLDS in Los Angeles on Friday, they announced that another one of their talented young arms has been included on their roster for the series.
While there was some doubt as to whether he would be included due to back discomfort, rookie Steven Matz has been placed on the Mets' 25-man NLDS roster, which is featured below.
Pitchers:
Tyler Clippard (R)
Bartolo Colon (R)
Jacob deGrom (R)
Jeurys Familia (R)
Erik Goeddel (R)
Matt Harvey (R)
Steven Matz (L)
Jonathon Niese (L)
Addison Reed (R)
Hansel Robles (R)
Noah Syndergaard (R)
Position players:
Yoenis Cespedes (OF, R)
Michael Conforto (OF, L)
Michael Cuddyer (OF, R)
Travis d'Arnaud (C, R)
Lucas Duda (1B, L)
Wilmer Flores (IF, R)
Curtis Granderson (OF, L)
Kelly Johnson (IF, L)
Juan Lagares (OF, R)
Daniel Murphy (IF, L)
Kirk Nieuwenhuis (OF, L)
Kevin Plawecki (C, R)
Ruben Tejada (IF, R)
David Wright (3B, R)
Notes: Although Matz has been placed on the roster, there is still a chance that Game 1 starter Jacob deGrom will start Game 4 in lieu of Matz, depending on how the series plays out.
Kirk Niewenhuis, who was traded by the Mets to the Angels earlier this season and reacquired in June, has made the 25-man roster and is expected to serve as a reserve outfielder during the NLDS.
As expected, Juan Uribe, who has a chest contusion, was left off the roster, but might be included on the Mets' NLCS roster if they advance in the postseason.
The Mets only have one left-handed reliever in their bullpen, Jonathon Niese, who was converted into a reliever at the end of the season to prepare for the postseason but otherwise has been a starter in his eight-year career.
If Matz doesn't start Game 4, he would be available for relief appearances as well.
Game 1 of the NLDS between the Mets and Dodgers is scheduled to begin at 6:30 p.m. PT on Friday.