Steve Smith joins family in stands after getting ejected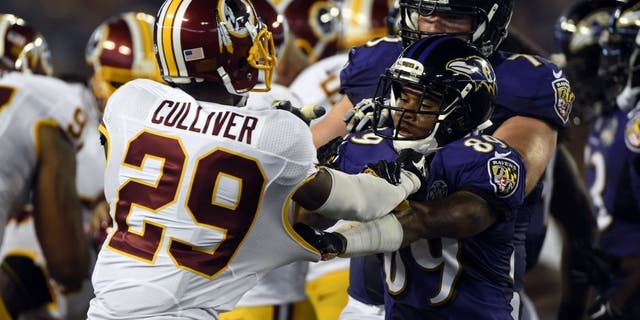 The mood was anything but relaxed when the Ravens and Redskins met on Saturday for a preseason game.
During the first quarter, a scuffle broke out that resulted in John Harbaugh and Jay Gruden getting into a shouting match. Steve Smith and Chris Culliver were both ejected for fighting after the play.
With the rest of the game off, Smith used the opportunity to enjoy some family time.
The veteran wide receiver, who announced this will be his last NFL season, headed up to where his son Peyton was sitting and took in the action with his boys.
Peyton posted a photo of him and his father to his Twitter account, along with the caption "1st time I've ever gotten to watch a game with my dad. Thanks @NFL."
Peyton was also pretty proud of his father holding his own in the fight, not that anyone would doubt Steve's ability to do so.
"That's what I'm talkin about pops! Not bad for a 36 year old," Peyton wrote on Twitter.
Peyton's probably seen his dad take on multiple opponents in fights during games, so this should have come as no surprise.
More from Larry Brown Sports: