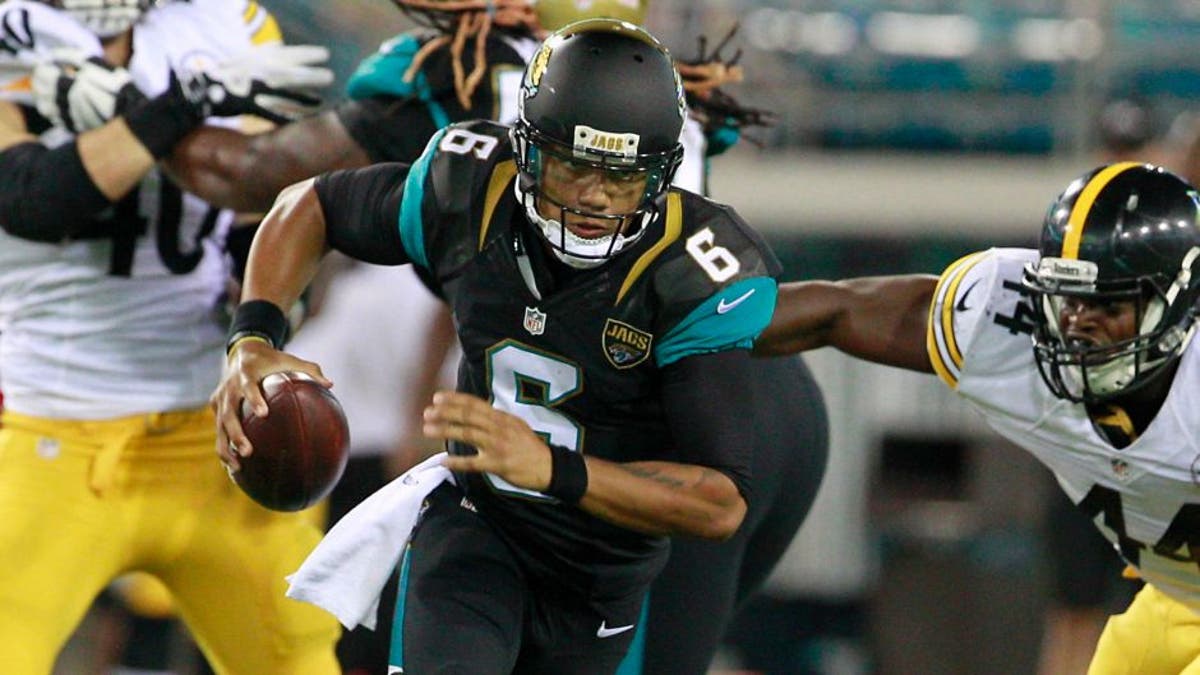 JACKSONVILLE, Fla. (AP) -- Big Ben needed just six plays to look ready for the regular season.
Ben Roethlisberger threw a 44-yard touchdown pass to Martavis Bryant on the opening drive, and the Pittsburgh Steelers were much more proficient in their second preseason game, a 23-21 loss at Jacksonville on Friday night.
The Steelers (0-2) managed just three points and 191 yards in a 14-3 loss to Minnesota in the Hall of Fame game last Sunday. Roethlisberger, running back Le'Veon Bell, receiver Antonio Brown and several other starters sat out Pittsburgh's preseason opener. The trio came up big in just six plays of work against the Jaguars (1-0).
Roethlisberger completed all three passes for 59 yards, including a perfectly lobbed deep ball to Bryant on third down. He also completed a pass on a 2-point conversion. Bell carried twice for 18 yards. Brown caught the only ball throw in his direction.
"We want to start fast," Roethlisberger said. "We got everybody involved. ... I told the O-line if you guys protect like that and open up holes in the run game, good things are going to happen. That's what we need to do every time. We need to start fast like that."
Observations from the game:
BIG LOSS
Jaguars tight end Julius Thomas, the team's top free agent acquisition, likely will miss the rest of the preseason with a broken left hand.
Coach Gus Bradley said Thomas has a "stable fracture" in the back of his hand.
"The good news is it's quick healing," Bradley said. "The tough thing is he's going to be out probably the rest of the preseason. Hopefully, if everything works out right, he'll be back ready for the first game."
Thomas sustained the injury when Steelers cornerback William Gay tackled him on a 2-yard gain in the first quarter. It came on Jacksonville's second play of the preseason and Thomas' first game since signing a five-year, $46 million contract that included $24 million guaranteed.
DROPS GALORE
Steelers: Rookie receiver Shakim Phillips dropped a would-be touchdown in the fourth quarter. Pittsburgh had to settle for a field goal.
Jaguars: The Jaguars were plagued by four drops, including three on passes from Blake Bortles. Receiver Allen Hurns, running back Bernard Pierce and tight end Clay Harbor failed to hold on to balls early, and tight end Nic Jacobs dropped another one late.
QB COMPARISON
Steelers: Backup Landry Jones completed 24 of 46 passes for 200 yards and a touchdown. He also was sacked twice.
Jaguars: Bortles played nearly the entire first half, completing 11 of 15 passes for 118 yards. Three of his incompletions were drops. Bortles also ran for a score, a diving, 4-yard scamper that had teammates cheering and his coaches cringing. Bortles rolled left, took off and took a shot from safety Alden Darby as he lunged for the pylon.
"That's him," Bradley said. "We talked about his toughness. That's part of his game. I don't see how you could change that with him."
FANTASY WATCH
Steelers: Rookie WR Sammie Coates was targeted 11 times, catching five passes for 52 yards.
Jaguars: Second-year WR Allen Robinson, expected to be the team's top playmaker, caught two passes for 25 yards.
INJURY UPDATE
Steelers: LB Lawrence Timmons did not play because of a toe injury. RB Josh Harris left the game with a foot injury.
Jaguars: Bradley hopes to get RB T.J. Yeldon (hand) back for the team's next preseason game. Yeldon injured his hand in a scrimmage last week and did not play against the Steelers.
QUOTABLE
Steelers: "It wasn't the outcome we desired obviously, but what awesome situations for the group to be in," Steelers coach Mike Tomlin said. "Some positive things, some negative things. I liked the energy and effort of the guys. We just came up short."
Jaguars: "When you're the quarterback and you come into the huddle confident, you can make things happen," guard Brandon Linder said of Bortles.
LEG WORK
Steelers K Garrett Hartley made both field goals, including a 48-yarder. The team signed Hartley this week to replace Shaun Suisham, who is out for the season with a knee injury.