Steady rains dump even more uncertainty on All-Star Race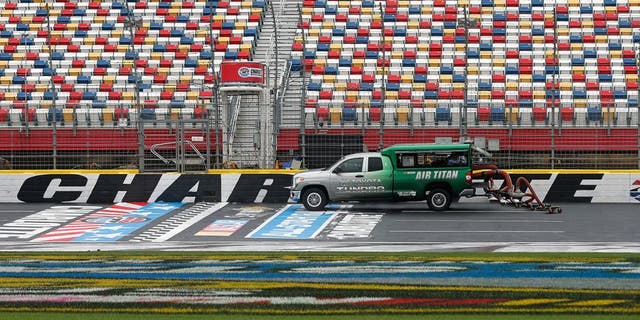 Friday's steady rains cancelled all on-track activity at Charlotte Motor Speedway and created another huge unknown for a NASCAR Sprint All-Star Race already filled with them.
On Friday, there was supposed to be a 1-hour, 40-minute practice session for tomorrow night's All-Star event (FS1, 7 p.m. ET). But rain washed that out, which means there will be just 30 minutes of early-morning practice for NASCAR's $1 million-to-win, non-points race.
So the All-Star competitors will practice at 9:30 a.m. Saturday to set their cars up for a night race that features a new, three-segment, 113-lap format; a new aerodynamic rules package; and a new tire combination.
The big change to the format comes at the end: After two 50-lap opening segments, there will be a random draw to decide whether the top nine, 10 or 11 cars must enter pit road for a mandatory four-tire pit stop. Pit road will be closed for all other cars.
Pit-road exit determines Segment 3 starting order, cars leaving pit road line up behind cars that did not pit.
The key element is that the final segment will begin with the leading nine to 11 cars all on old tires and everyone else behind them on fresh rubber. This should deliver high drama over the closing 13 laps.
As if that weren't enough, Friday's miserable weather threw another obstacle at the races.
The rains mean that a race already designed to be as random and unpredictable as possible will be even more so. And that has some of the competitors wondering what to expect under the lights on Saturday night.
Carl Edwards, a two-time winner on the season already, said he thinks the restart to begin the final 13-lap segment will be aggressive.
"I think the last restarts are going to be the toughest part," said Edwards. "I think you have to make decisions -- you're going to have to decide do I want to stick the car in there or do I want to go up there and fill that hole? It's going to be tough. I think avoiding the chaos or the wrecks that happen, that's going to be tough."
Matt Kenseth, Edwards' teammate at Joe Gibbs Racing, said he doesn't know what to expect in the big race.
"I'm curious to see as much as everyone else, I think," said Kenseth.
Kevin Harvick, the 2014 Sprint Cup champion, acknowledged that strategy of where you want to finish in the second segment is tough to figure out.
"It's hard to me to wrap my arms about racing for 12th (place in the second segment)," Harvick said. "I think for me, if you have a nine, 10, or 11, I'd rather be first and try to be on the outside of that first row of cars on new tires. I don't know. It's just against the grain and there's a lot of thought that has to go into it because there is strategy that plays into it."
Also rained out Friday were the Sprint Showdown race, which sets the final five spots in the 20-car All-Star field, as well as the North Carolina Education Lottery 200 NASCAR Camping World Truck Series race.
Those races will be run earlier Saturday, with the Showdown slated for an 11 a.m. ET start and the Truck Series race set to start at 12:30 p.m. Both will be televised on FS1.