StaTuesday: The history of postseason field goals and Packers' Crosby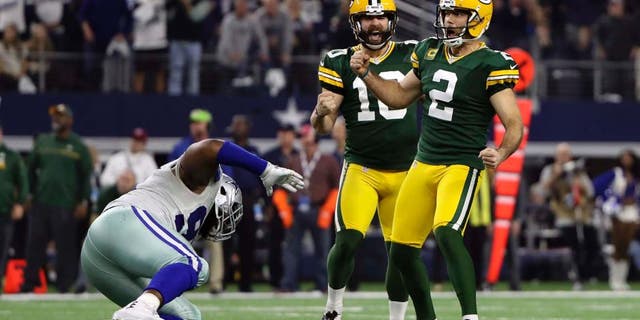 NEWYou can now listen to Fox News articles!
The Green Bay Packers' Mason Crosby making two field goals from 50 yards and longer in the final 93 seconds of a playoff game was obviously something kind of special.
Forget the time element, though, Crosby making two kicks from that long of a distance in a game was rare enough -- in fact, he'd never made two 50+-yard field goals in a game before Sunday's win over Dallas.
Before Crosby, no kicker had made two field goals of 50+ yards in a game since … well, seconds earlier when the Cowboys' Dan Bailey did it.
But no one did it before Bailey since … well, the previous week when Detroit's Matt Prater turned the trick.
However, no one did it before Prater … ever. Yes, in NFL history no kicker had made two field goals of 50+ yards in any playoff game until this season, and it happened three times in eight days.
Only four kickers in playoff history had even attempted two kicks of 50 or more yards in a game -- Miami's Pete Stoyanovich on Jan. 5, 1991 (he made one), the Rams' Jeff Wilkins on Feb. 3, 2003 (he made one and St. Louis lost the Super Bowl by three points), Carolina's John Kasay and Wilkins, both on Jan. 10, 2004 (and each made one) and Seattle's Josh Brown on Feb. 5, 2006 (he missed both).
Crosby had missed his previous two attempts from 50+ yards -- missing from 50 at Atlanta on Jan. 15, 2011 and from 54 at Arizona on Jan. 16, 2010.
But now Crosby is just one of 12 kickers in NFL history to have two field goals of 50+ yards in playoff games. It would only take one more such boot to put the Packers' kicker into a tie for second place all-time. (And note that Crosby isn't the only Packers kicker to have two 50-yarders in the playoffs.)
50+-YARD FIELD GOALS IN PLAYOFFS
In all, there have been 129 field-goal attempts of 50+ yards in NFL playoff history (the first attempt coming in 1939; the first make was in 1951), with 64 of those coming since 1999. The NFL went from Dec. 22, 1973-Jan. 16, 1983 without a 50-yard make (10 misses in that span).
We mentioned Crosby missed his previous two 50-yard attempts. Those also happen to be his only misses in the postseason.
Those long makes boosted Crosby's average distance on attempts in the playoffs to 35.79 yards over his career. That isn't the longest average in Packers history, but Crosby is one of the most accurate Green Bay kickers in the playoffs.
The other, Atlanta's Matt Bryant, hasn't had 10 attempts yet, but has been successful on 8 of his 9 (88.9 percent).
Statistics courtesy pro-football-reference.com
Dave Heller is the author of the upcoming book Ken Williams: A Slugger in Ruth's Shadow as well as Facing Ted Williams Players From the Golden Age of Baseball Recall the Greatest Hitter Who Ever Lived and As Good As It Got: The 1944 St. Louis Browns