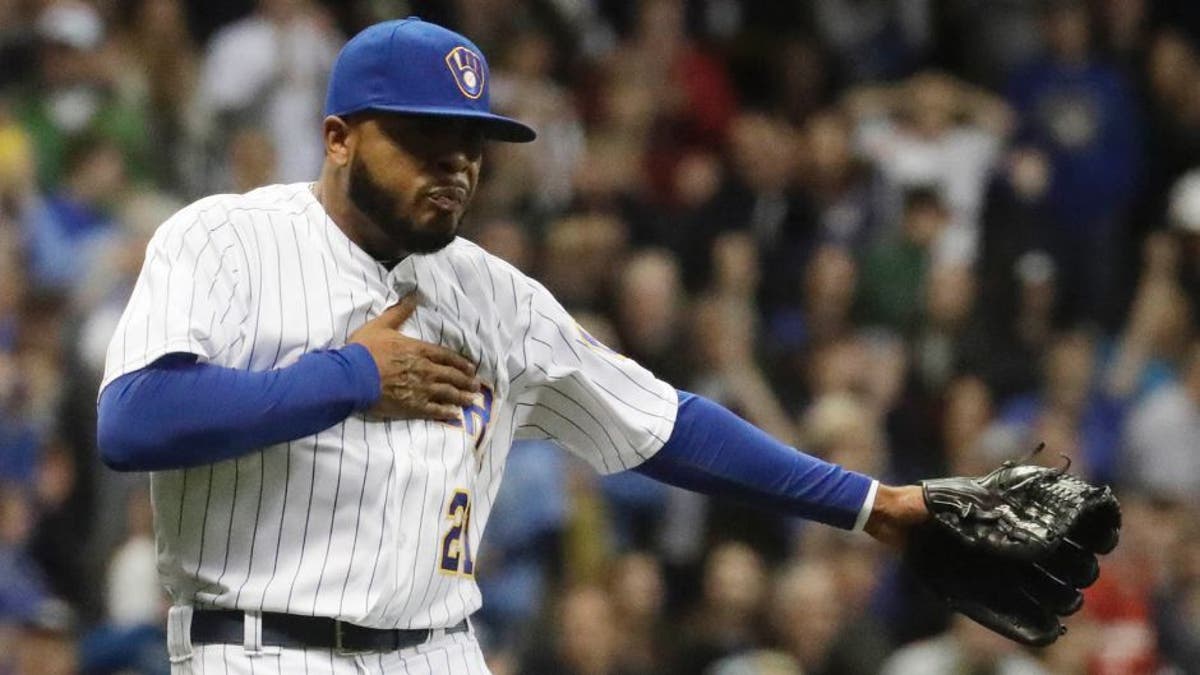 The Milwaukee Brewers were on the winning end of a pitcher's duel Friday, as Junior Guerra, Michael Blazek, Tyler Thornburg and Jeremy Jeffress combined for a 1-0 victory.
It turns out that 1-0 wins are relatively rare in Brewers history.
The team has won 74 games by a score of 1-0 since it moved to Milwaukee in 1970, which averages out to less than two a year. The Brewers won a single-season high of five 1-0 games in 1971 while Milwaukee has not had any 1-0 victories in eight different seasons, most recently in 2010.
| | |
| --- | --- |
| Number of 1-0 wins per season | Number of seasons with 1-0 wins |
| 0 | 8 |
| 1 | 17 |
| 2 | 11 |
| 3 | 6 |
| 4 | 3 |
| 5 | 1 |
So what does it take to achieve a 1-0 victory? For starters, of course you need a shutout by your pitching staff, something the Brewers have done 405 times since 1970. Typically that means limiting hits and walks while striking out a decent number of batters.
The Brewers have averaged 4.5 hits and 6.0 strikeouts per game in their 1-0 wins, striking out at least 10 batters in 12 of them. They've averaged 2.5 walks in those wins, allowing double-digits hits in just two of them.
A 1-0 win also means the team struggled on offense, whether that's because of a strong opposing pitcher or an off night. Milwaukee's offense has averaged 5.7 hits and 6.1 strikeouts per game in its 1-0 wins, accruing 31 extra-base hits and 22 home runs.
Here's a look at some of the Brewers most intriguing 1-0 victories:
Sept. 2, 1971: Marty Pattin allowed five hits and three walks over nine innings, as the Brewers defeated the Kansas City Royals at County Stadium. Milwaukee managed just one hit -- a single by second baseman Ron Theobald, and that didn't even figure into the lone run scoring. The Brewers tallied the only run of the game in the second inning thanks to a hit batter, walk and a pair of force outs.
June 9, 1975: Catcher Darrell Porter hit a home run off the Chicago White Sox's Rich Gossage in the top of the ninth inning, and Bill Travers, Eduardo Rodriguez and Tom Murphy combined for the Brewers' win. Milwaukee won despite Travers and Rodriguez yielding nine walks between them.
Aug. 24, 1983: Don Sutton pitched nine innings and Jim Slaton added five in relief as the Brewers beat the Angels on a Robin Yount walk-off single in 14 innings at County Stadium. Milwaukee improved to 72-53 with the win, maintaining its half-game lead in the AL East. The Brewers finished the year fifth in the division after a 10-18 September.
July 28, 1997: Rookie Steve Woodard outpitched the Toronto Blue Jays' Rogers Clemens in the first game of a doubleheader, allowing just one hit in eight innings and striking out 12. Woodard pitched parts of four seasons for the Brewers and finished his major-league career with a 32-36 record over seven seasons.
June 8, 2004: The Brewers struck out a franchise-record 26 times but defeated the Angels in 17 innings, thanks to a two-walk, four-hit performance by their pitching staff. Ben Sheets allowed one hit and zero walks over nine innings, and five relief pitchers finished the shutout. Craig Counsell scored the game-winning run on a Scott Podsednik double with one out in the top of the 17th inning. Geoff Jenkins struck out a franchise-record six times, Ben Grieve struck out five times and Lyle Overbay and Keith Ginter struck out four times each.
July 5, 2004: Counsell hit a second-inning home run and Sheets struck out 12 in seven innings as the Brewers defeated the Cubs. Milwaukee struck out 17 Chicago batters in total, good for fourth-most in a game in franchise history.
Information courtesy STATS Inc., fangraphs.com and baseball-reference.com.