StaTuesday: History of Milwaukee Brewers triple plays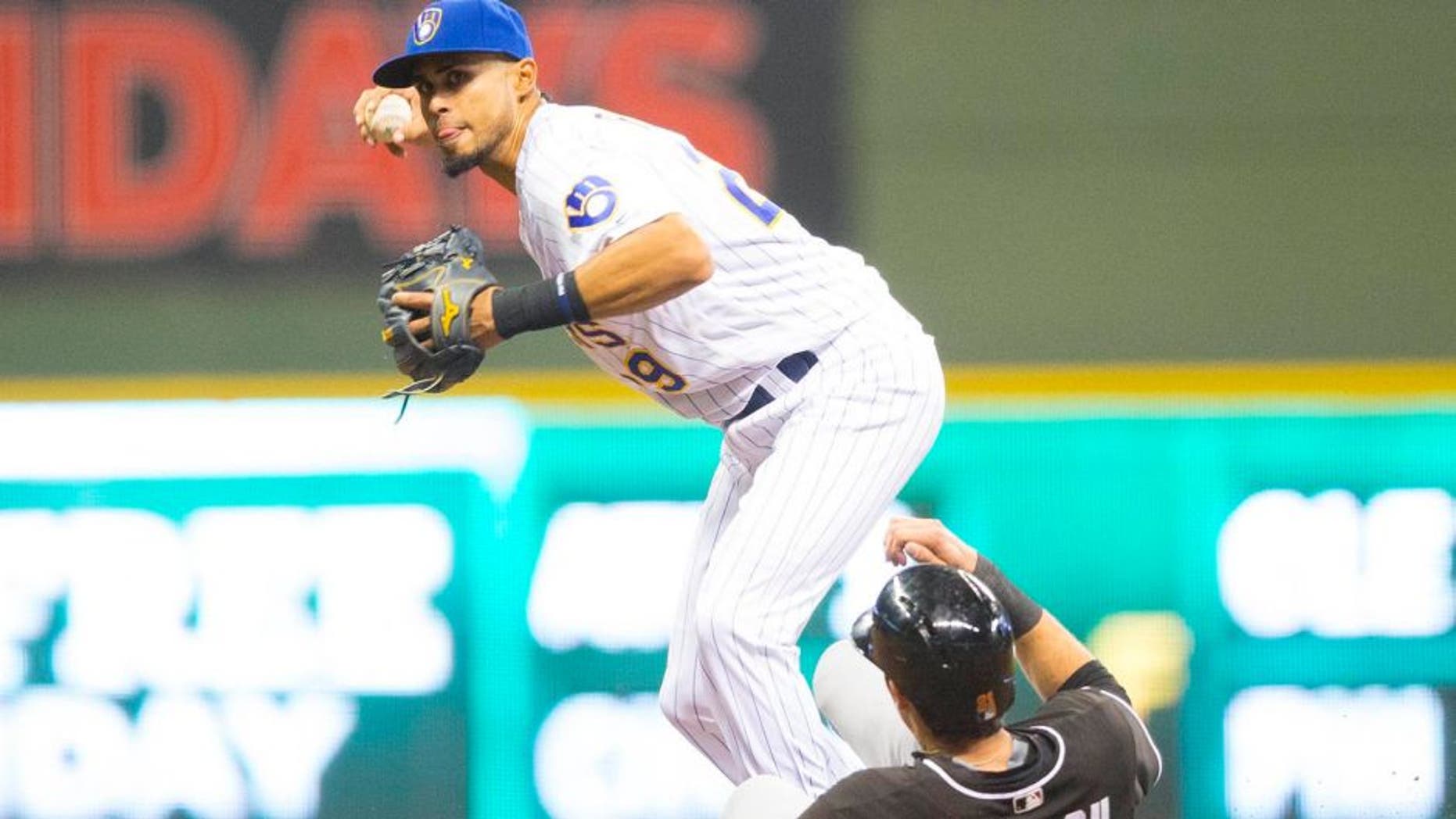 The Milwaukee Brewers turned just the seventh triple play in franchise history last week -- eight if you want to consider another Brewers incarnation.
The rare trifecta occurred in the fifth inning of the April 29 game against Miami when Marcell Ozuna, with runners on first and second, grounded one to third baseman Aaron Hill, who stepped on the bag, threw to second baseman Yadiel Rivera, who then completed the triple play by nailing Ozuna at first with his peg to first baseman Chris Carter.
This play actually had a lot in common with previous Brewers triple plays. Five of the seven Milwaukee has turned have been accomplished 5-4-3. Also, this now made it four out of seven times the Brewers had lost the game in which they turned the triple play.
Here is the complete list of triple plays in franchise history:
| | | | | |
| --- | --- | --- | --- | --- |
| DATE | OPPONENT | BALLPARK | PLAY | FINAL |
| April 28, 1971 | Red Sox | Fenway Park | 6-4-3-2 | Boston, 10-3 |
| May 16, 1979 | Angels | Angel Stadium | 5-4-3 | California, 4-3 |
| July 28, 1997* | Blue Jays | County Stadium | 5-4-3 | Milwaukee, 9-3 |
| April 16, 1999 | Cubs | County Stadium | 5-4-3 | Chicago, 9-4 |
| Sept. 6, 2009 | Giants | Miller Park | 5-4-3 | Milwaukee, 2-1 |
| Aug. 15, 2011 | Dodgers | Miller Park | 4-6-3-2 | Milwaukee, 3-0 |
| April 29, 2016 | Marlins | Miller Park | 5-4-3 | Miami, 6-3 |
* -- Game 2 of doubleheader
Those triple plays, for the most part, weren't too flashy (other than the fact that three outs were recorded on one play, of course). But here are a few tidbits:
-- The three players who were out in Milwaukee's initial triple play were Billy Conigliaro (batter), Don Pavelitch (first base) and George Scott (third base). All three were traded to the Brewers shortly after the conclusion of the 1971 season.
-- Here was the description of that 1971 triple by longtime baseball writer Lou Chapman of the Milwaukee Sentinel: "To the amazement of the chilled, sparse audience of 4,437, Scott merely stood about 15 feet off third and watched the goings on. The big first baseman didn't break for home until Kubiak's relay to first for the twin killing on Conigliaro."
-- Third baseman Sal Bando started the triple play in 1979. He was thinking it was a possibility according to a postgame quote: "When the count was 2-0 and I moved toward the bag, it was in my mind. I knew if it was hit at me or to my right, I had a chance to go around the horn. When we did it, I thought maybe it was a good omen. Maybe we'd do something." The Brewers were trailing at the time 2-1 in the second inning. While they'd tie the game and send it into extra innings, Milwaukee would go on to lose in the 11th -- thanks to a Bando throwing error. So much for the good omen.
-- The 1999 triple play occurred in the final home opener for Milwaukee at County Stadium.
-- The defensive players for each triple play: 1971 -- SS Rick Auerbach,2B Ted Kubiak, 1B Mike Hegan, C Ellie Rodriguez; 1979 -- 3B Sal Bando, 2B Paul Molitor, 1B Cecil Cooper; 1997 -- 3B Jeff Cirillo, 2B Mark Loretta, 1B Dave Nilsson; 1999 -- 3B Jeff Cirillo, 2B Fernando Vina, 1B Sean Berry; 2009 -- 3B Casey McGehee, 2B Felipe Lopez, 1B Prince Fielder; 2011 -- 2B Josh Wilson, SS Yuniesky Betancourt, 1B Prince Fielder, C George Kottaras; 2016 -- 3B Aaron Hill; 2B Yadiel Rivera; 1B Chris Carter.
-- Oh, and that triple play by the "other" Brewers team? That occurred in 1901. That Milwaukee Brewers franchise moved to Baltimore and then to New York, where they are now the Yankees. But, at least compared to the other Milwaukee franchise's triple plays, it was perhaps the most interesting. First baseman Jiggs Donahue snared a liner down the first-base line, robbing the White Sox of a double. Chicago had the runners on the move and Donahue was easily able to get the second out at first base. His throw to second was a tad too late to get Fielder Jones, but Milwaukee threw to third where Dummy Hoy, who had crossed home plate, was ruled to not have had enough time to tag up and score and thus was the third and final out.
Triple play information courtesy of the Society for American Baseball Research's triple play database