StaTuesday: Final 2016 Brewers defensive ratings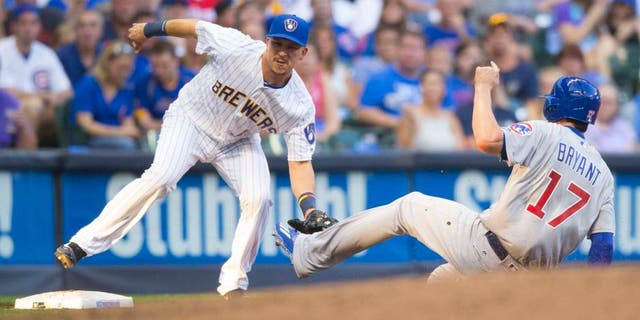 Back in June, we presented the initial results of the Society of American Baseball's (SABR) Defensive Index rankings (SDI).
As we mentioned back then, according to SABR, these rankings account for roughly 25 percent of the selection process used in determining each season's Gold Glove winners, which were announced last week.
The Defensive Index is compiled from different fielding metrics and incorporates a myriad of categories (for a more detailed explanation, please click here).
Which Milwaukee Brewers player do you think was rated the highest (note: had to meet qualifications for the Gold Glove)?
OK, this is kind of a trick question.
The top-two rated Brewers players didn't finish the season with Milwaukee.
Catcher Jonathan Lucroy, who was dealt to Texas at the trade deadline, was up for a National League Gold Glove as a Brewer (would that have been awkward if he won?) and he led the team with a 3.0 SDI, which was also third-best among NL catchers.
Third base was a big question mark heading into the season, but the players who manned the hot corner the most acquitted themselves quite well.
Aaron Hill, who was traded to Boston at midseason, finished with a 2.3 SDI. Hernan Perez, who somehow qualified despite playing only 60 games at third base, was right behind Hill in the National League ranking at 1.3.
(So if you guessed Perez as the highest-rated, congratulations.)
Milwaukee had two other players finish with a positive SDI.
Kirk Nieuwenhuis, who was at 1.7 back in June, finished at 1.0, which was still tied for sixth among NL center fielders. Interestingly, Pittsburgh's Andrew McCutchen had a -15.5 SDI, lowest of any qualifying outfielder in the majors.
Zach Davies was one of 21 NL pitchers to finish with a positive SDI, coming in at 0.4. Jimmy Nelson, who was a -3.1 in 2015 but was at 0.8 in June, fell down to a -3.2, worst among qualifying National League pitchers.
The Brewers had no qualifying players in right field while left fielder Ryan Braun had a -2.0 SDI.
Also not faring too well was Chris Carter, who had a -3.5 SDI, second-worst among NL first basemen. In 2015 with Houston, Carter had a 0.2 SDI.
At second base, Scooter Gennett slipped from a 0.5 in June to a final rating of -2.4, while shortstop Jonathan Villar had a -1.1.
It will be fun to see how Orlando Arcia is rated in next year's SDI. He has some tough company as five NL shortstops had a better than 10 rating. Of course, on the other end of the spectrum it is very doubtful he'll be like San Diego's Alexei Ramirez, whose -17.4 rating was the worst of any player in Major League Baseball.
To view all the ratings, click here.
Dave Heller is the author of the upcoming book Ken Williams: A Slugger in Ruth's Shadow as well as Facing Ted Williams Players From the Golden Age of Baseball Recall the Greatest Hitter Who Ever Lived and As Good As It Got: The 1944 St. Louis Browns