Spurrier critical of officials in loss to Missouri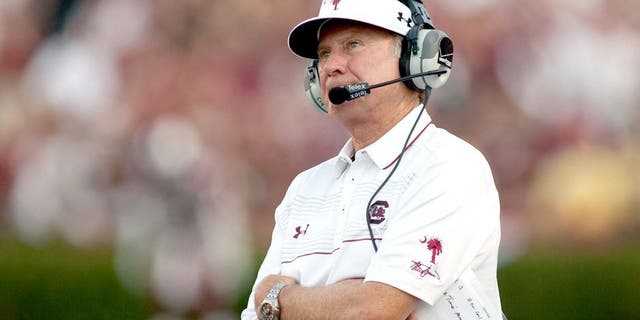 NEWYou can now listen to Fox News articles!
When things aren't going right, any issue could be magnified to an even bigger degree.
Desperately looking for a win this past Saturday at Missouri, Steve Spurrier's South Carolina team came up short in a 24-10 defeat.
Spurrier voiced his displeasure over the officiating after the game, and furthered those claims on a teleconference Sunday afternoon. The head coach was seeking clarity on multiple calls made during the contest. He admitted to leaving a voicemail for SEC coordinator of officials Steve Shaw.
"The only thing that ever happens is, [Shaw will] call us back and say, 'Yeah, the ref missed that one,' or, 'He was OK on that one...' That's about what we get," said Spurrier. "Nothing ever really happens too much to make referees accountable, except maybe at the end of the year some of them are not rehired. They're sort of told to retire, too many bad calls and so forth."
The general frustration for how the year is currently unfolding surely exacerbates Spurrier's thoughts on the topic.
One play in particular had Missouri quarterback Drew Lock throwing the ball away in what looked like the end zone. Intentional grounding would've been called in this instance, which results in a safety for South Carolina. Instead, the officials ruled Lock had released the ball prior to breaking the plane of the end zone. This then equalled an incompletion. Needless to say, Spurrier was unhappy at the convoluted nature of the play.
"But [Lock] was clearly in the end zone. Everybody knows that. And I just wished the head ref would have come talk to me. He wouldn't come talk to me."