Spring Training May Be Kicking Off, But MLB's Venezuelan Players Focused On Home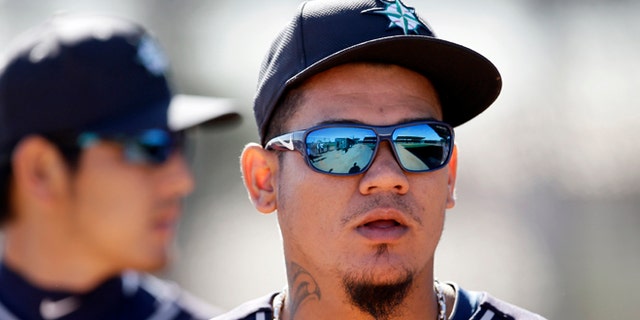 Spring training is a time to get in shape for the upcoming major league season, work on mechanics or maybe compete for a spot on the team.
For Miguel Cabrera, Felix Hernández and many other Venezuelan players, it's an even more complicated mix. They have their minds thousands of miles away on civil unrest back home.
Political violence is blamed for at least eight deaths and more than 100 injuries since Feb. 12 in Venezuela, home to 63 players who were on opening day rosters at the beginning of the 2013 season.
Cabrera on Friday tweeted a photo with several teammates, including fellow Venezuelan and new Tigers infield coach Omar Vizquel, posing with two Venezuelan flags and messages in Spanish such as "#WE ARE YOUR VOICE VENEZUELA", "#FAR BUT NOT ABSENT" and "#SOSVENEZUELA".
"Supporting VENEZUELA from here," wrote the two-time AL MVP, born in the central city of Maracay, at the Detroit Tigers' camp in Lakeland, Fla.
Marlins pitcher Henderson Alvarez and several Miami teammates posed on Saturday with a Venezuela flag, holding signs with the word "Peace" in Spanish. The 23-year old right-hander said he brought his wife and 2-month-old daughter to Florida after the baby suffered respiratory problems because of tear gas thrown near their home in Caracas.
"My family in Valencia is fine. My daughter is the one who was affected," said Alvarez, who threw a no-hitter last season. "She was affected by tear gas twice. I sent for her yesterday, I brought her and my wife to Miami."
Valencia, in the northern Venezuelan state of Carabobo, is the hometown of a 22-year old beauty queen who was slain this week during a political protest. Government opponents say her death was the result of indiscriminate violence used by President Nicolas Maduro and his supporters to stifle dissent across the country, while the government alleges she was shot by opposition protesters.
Hernández, the Seattle ace, also is from Valencia.
"I'm kind of worried because my family is over there," he said. "I just want peace. That's all I want, man. Venezuela is a little dangerous; I just want my family to be safe. That's all I want."
Hernández said he is trying to get bring his mother to the United States.
"My mom is trying to figure out how she's going to get here," the 2010 AL Cy Young winner said at the Mariners' camp in Peoria, Ariz.
Hernández said it is "really scary" watching images on TV of the clashes between anti- and pro-government forces in the streets of Venezuela. Social media has helped players in Florida and Arizona keep up-to-date with news from home.
"Watching the news here and on Twitter and Instagram, and watching the Spanish channels here," Hernández said.
Red Sox pitcher Felix Doubront, another native of the state of Carabobo, has his wife and children in Fort Myers, Fla. He's concerned about his mother, father, sister and brother, who all remain in Venezuela, while trying to focus on his job in spring training.
"There's a lot of things I worry about, but there's nothing I can do, just to help my family and protect them from here," said the 26-year old left-hander. "Everybody's talking about Venezuela, but I don't want to lose my focus here."
Texas Rangers shortstop Elvis Andrus said he has two older brothers in Venezuela. He said he talks to them every day and that they're safe, but they've stayed inside with their families for a couple of days.
"As a human being, you always get angry when you see what's happening with the military back home doing stuff to the civils, and to the students, and that's what really gets me angry," he said at Rangers camp in Surprise, Ariz.
"I'm not a political guy," he said. "But I just hate when you see somebody just walking and trying to say something get hit by police, or get hit by any military from the country that's supposed to defend the country instead of shoot him or hit him."
Follow us on twitter.com/foxnewslatino
Like us at facebook.com/foxnewslatino