Spielman says Vikings 'not honed in on' first-round receiver in NFL Draft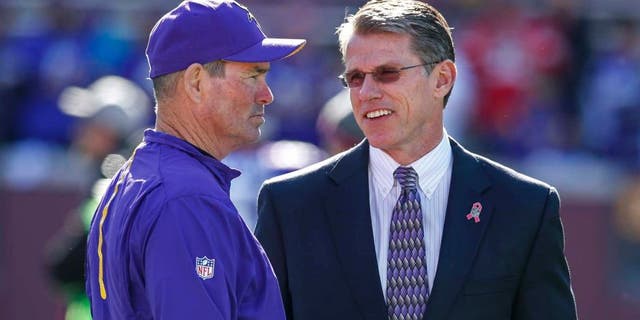 NEWYou can now listen to Fox News articles!
EDEN PRAIRIE, Minn. -- The Minnesota Vikings spent much of free agency shoring up some of the team's biggest weaknesses on the offensive line and at linebacker and safety.
The one area of need they didn't address in free agency was at receiver, leading to mock drafts all over predicting that they will grab one with the 23rd overall draft pick in the first round on Thursday night.
General manager Rick Spielman knows the perception about his receiver group and the expectations many fans and observers have heading into the draft. Maybe that's why he didn't wait for the questions about the position to come on Tuesday during his final meeting with reporters prior to the draft.
"We're not honed in on a receiver in the first round," Spielman offered during his opening remarks.
It's smoke screen season, so every quote offered by an NFL general manager should be examined for ulterior motives. But Spielman does have a history of staying true to the "best player available" cliche.
When the Vikings enter the draft on Thursday, there very well could be a receiver on the board worth taking, including TCU's Josh Doctson and Mississippi's Laquon Treadwell. But the Vikings also could use depth and youth on the offensive line, an impact safety to push free agent signee Michael Griffin and another pass rusher.
The Vikings decided not to bring back veteran Mike Wallace after a disappointing season, leaving them with Stefon Diggs, Jarius Wright, Charles Johnson, Adam Thielen and Cordarrelle Patterson as returning receivers. So adding another threat for third-year quarterback Teddy Bridgewater would appear to be a good way for them to go, and Spielman said he likes the versatility of this class.
"There's fast guys, there's possession guys. There's a lot of different flavors," he said. "We know after sitting and going through that position in particular, what guys we identify that we think would be a good fit here."
He has also shown a willingness to make deals throughout draft weekend, and left the door open for that possibility on Tuesday. Spielman said he has received two calls from teams looking to move up to No. 23 -- either from lower in the first round or in the second round.
"We're going to have to make some determinations and usually those decisions aren't made until we're actually on the clock," Spielman said.
NOTES: Free agent signee Alex Boone confirmed that he will play LG next season, apparently paving the way for Brandon Fusco to move back to his position as RG. ... C John Sullivan said he is feeling much better after missing all of last season with back problems. Sullivan needed two surgeries to address the injury and said he has participated fully in the optional workouts at team headquarters this week. .... S Harrison Smith is up for a contract extension this summer. "I'm here to be on a very good team in 2016," Smith said. "I try not to pay attention to it. Rick's got a pretty good track record of getting things done in the offseason so I'm just going to let them handle it."