Sony Open winner Fabian Gomez says he learned art of golf during his caddie years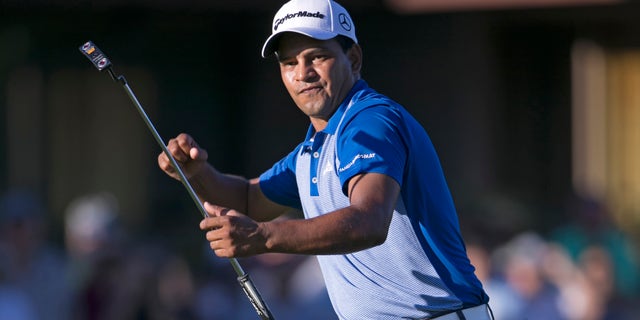 HONOLULU (AP) – Some of the toughest battles Fabian Gomez ever faced were with the other caddies he grew up with in Argentina.
Money didn't come easily. He got by on about $20 per round as a caddie in Resistencia, and he mowed lawns to earn extra cash. Cutting grass paid more. But it was those games with the other caddies that helped prepare him for moments like Sunday in the Sony Open.
"I learned how to behave, be patient and all that kind of stuff," Gomez said after his playoff win over Brandt Snedeker. "I actually learned playing with the other caddies. They would go out there play for money. You have to learn no matter what, because you have to win."
He needed all those lessons, and the greatest birdie streak of his life, to capture his second career PGA Tour title.
Starting four shots out of the lead in the final round, the 37-year-old Gomez ran off seven birdies that allowed him to soar into the lead. The streak started with a 12-foot putt on No. 6, and the next six birdies were all 8 feet or closer.
He followed with two straight bogeys, allowing Snedeker and Zac Blair to catch him. But he birdied the last two holes, from 10 feet on No. 17 and from 20 feet just off the 18th green, to close with an 8-under 62 and finish at 20-under 260.
Snedeker forced a playoff with a 4-foot birdie on the 18th, and Gomez outlasted him with another birdie — his 11th of the day — on the second extra hole.
"I felt good all week long and was about to put on a great round today," Gomez said through a translator. "And I had Brandt Snedeker in front of me. I got on a streak with seven putts in a row. And it makes me feel good and feel like I could win the tournament."
He was in tears on the 18th green for a couple of reasons — the resiliency he showed in winning, and the moment he shared with caddie Coco Monteros, whose father died shortly before Christmas. Gomez didn't know Monteros' father well, but it didn't matter.
"We knew we would have a chance, and we were proud we were able to do it for him," Gomez said.
Family is everything in Resistencia, especially in the golf world. Jose Luis Campra, the caddie for Emiliano Grillo of Resistencia, served as his translator. Campra's father died last year while he was in Shanghai, and he stayed on with Grillo through the Race to Dubai on the European Tour.
Argentina's first major champion was Robert de Vicenzo in the 1967 British Open. Angel Cabrera is a Masters and U.S. Open champion. But when asked for his golfing hero as a kid, Gomez picked Jose Coceres, who also learned the game as a caddie in the Chaco province.
Gomez won for the second time on the PGA Tour, following his four-shot victory in the St. Jude Classic last year. He moved to No. 55 in the world, and with no other Argentine inside the top 225, it looks more and more likely that Gomez will join Grillo in the Olympics this summer in Rio.
"I'm really excited about being able to get in the Olympics," Gomez said. "I work hard to be able to win, but I know that by winning I will be able to reach that. It depends on how things go with other players, but I feel like I will be almost there."
As excited as he was for his second win, Snedeker and Zac Blair left Oahu with a measure of disappointment.
It was more like frustration for Snedeker.
He struggled with the speed of the greens all week and fell flat at the start with seven pars and a bogey in his opening eight holes. But he rallied with enough good iron shots that set up short putts, and his delicate 55-yard shot to the par-5 18th in regulation led to a 4-foot birdie for a 66 and a chance in the playoff.
But on the first extra hole, his 12-foot birdie putt for the win was weak. And needing a 10-foot birdie to extend the playoff, he didn't give it enough pace and watched it tail off to the right of the hole.
"I just didn't make the putts I needed to make to win a golf tournament," he said. "Then on the first playoff hole, leaving that putt short is going to probably sting tonight and tomorrow."
But not too bad. He tied for third at Kapalua and lost in a playoff at Waialae. That's just over $1 million for two weeks in Hawaii, and optimism about the rest of the year.
Blair shared the 54-hole lead with Snedeker, made three birdie putts at 20 feet or longer and really didn't do anything wrong. Needing an eagle on the par-5 18th to join the playoff, he hit 3-wood to 10 feet and narrowly missed.
Like us on Facebook
Follow us on Twitter & Instagram