Soccer Round Up: Messi Pursues the Ballon d'Or, Suárez has a Hand Ball Mishap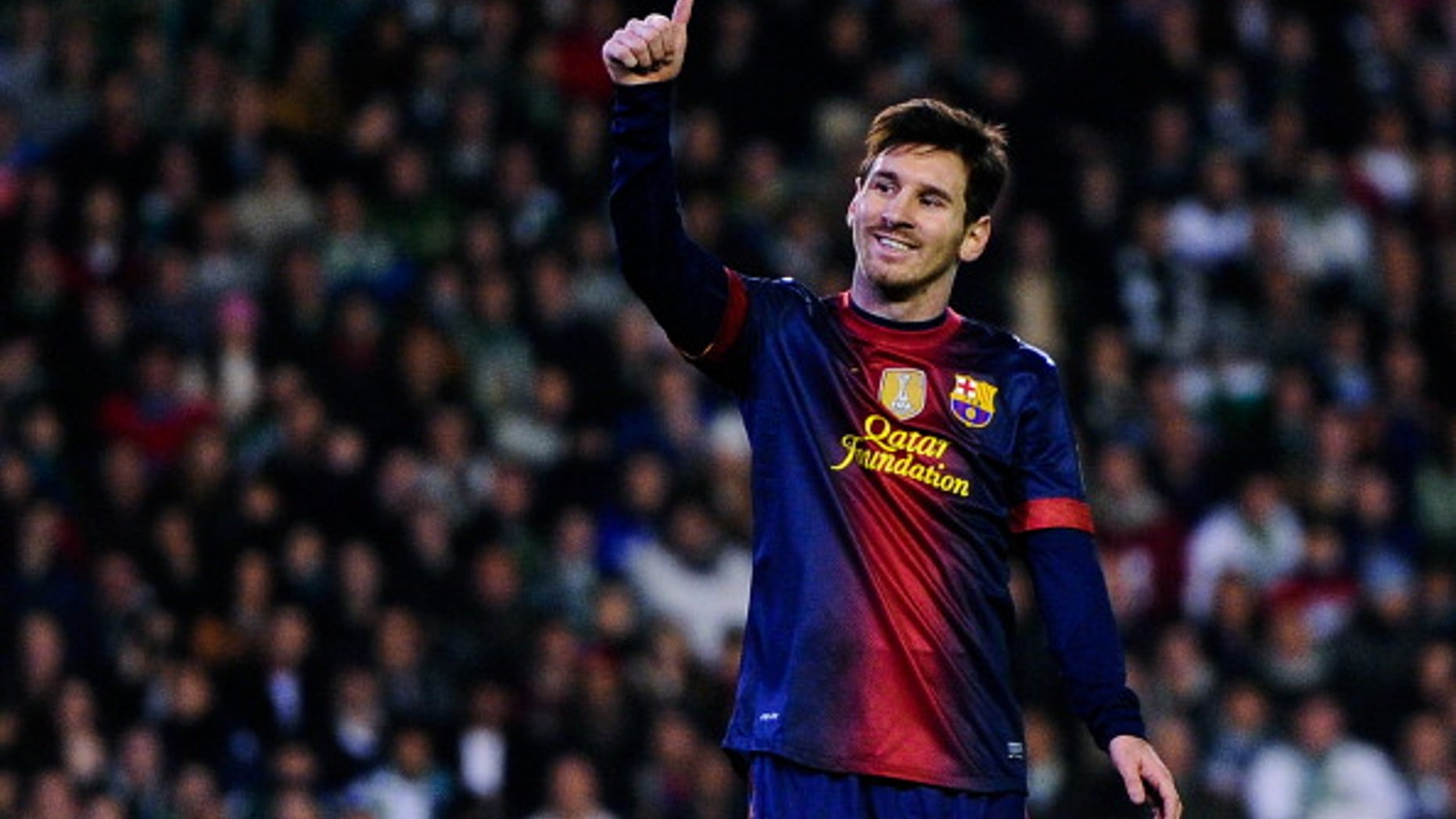 It was more of the same in European soccer this weekend.

Lionel Messi and Barcelona continued their relentless pursuit of Spain's La Liga crown with yet another goal and another win.

Luis Suárez wound up in yet another hand ball controversy this time for Liverpool in England, some 2 1/2 years after his first headline-making hand ball at the 2010 World Cup in South Africa.

And nine Argentine players, including Messi, found the back of the net for their respective clubs.

SPAIN

Lionel Messi, Carlos Vela, Iker Casillas

Messi and company started off 2013 the same way they ended it with goals and a 4-0 triumph, this time over Espanyol.

Expected to win the FIFA player of the year for the fourth consecutive time on Monday (Fox Soccer, 12:30 p.m. ET), Messi put an exclamation point on Barca's win, converting a penalty kick for the home team's final goal. Messi, who has scored in eight successive matches, leads the league with 27 goals and has 36 overall.

Barcelona coach Tito Vilanova, who returned to the bench after he missed one game for surgery for removing a tumor from a salvia gland last month, had front row seat to the rout. Xavi Hernández connected in the 10th minute before Pedro Rodriguez struck for the next two in the 15th and 27th minutes.

Barca (17-0-1, 52 points) extended its lead to 11 points over Atletico Madrid (13-3-2, 41), which settled for a 1-1 road draw vs. Mallorca on Kevin Garcia's equalizer three minutes from time.

"If the team keeps on like this, with the motivation we've got, there is no end to what we can do," Barca midfielder Cesc Fabregas said.

Real Madrid (12-4-3, 39) remained 16 points behind Barcelona as the Spanish champions recorded a 4-3 win over Real Sociedad as Portuguese international Cristiano Ronaldo bagged a brace within a three-minute span. For the second match in a row, goalkeeper Iker Casillas was benched by coach Jose Mourinho, but the Spanish international was forced into the fray after Adan Garrido was red carded in the sixth minute for fouling Mexican international striker Carlos Vela.

Brayan Angulo, Pablo Piatti

Angulo, a Colombian, started Valencia to its 2-1 win at Granada with a goal in the 50th minute on a long-range shot as the visitors took advantage of a red card to Mikel Rico. Piatti, an Argentinean, sliced the lead in half, connecting at the backpost in the 82nd minute.

ENGLAND

Luis Suárez

The Uruguayan international's latest hand ball headache came in Liverpool's 2-1 win over non-league club Mansfield in the third round of the English F.A. Cup. After Daniel Sturridge had given the Reds a seventh-minute lead, Suárez doubled it in the 59th as he brought the ball down with his hand before kicking it into the net.

"There's no doubt it was hand ball, but the referee and the officials ruled it wasn't deliberate," Liverpool manager Brendan Rodgers said. "I spoke to the fourth official when it was given because I couldn't see and he said it was [a hand ball], so I can only assume they thought it wasn't deliberate."

During the 2010 World Cup quarterfinals, Suárez handled the ball to deny Ghana a goal and was red carded. Ghana missed the ensuing penalty kick and lost via a shootout.

Carlos Tévez

Tévez was magnificent in Manchester City's 3-0 F.A. Cup victory over Watford. After John Eustace fouled the Argentine striker 25 yards out, Tévez exacted revenge with a stunning free kick for City's first goal in the 22nd minute.

Sergio Aguero

After undergoing tests in Italy he Manchester City and Argentine international striker said he had a hamstring tear, suffered in a 3-0 English Premier League victory over Stoke City on Tuesday. It was not known how long Aguero will be sidelined. "We have to keep on thinking positive and try to recover in the best way possible," Aguero said on twitter. He has 10 goals this season.

Javier Hernández

Chicharito came close to scoring for Manchester United in its 2-2 draw at West Ham United in the FA Cup. The Mexican international thought he had given the visitors a 1-0 lead in the 16th minute when Danny Welbeck converted his low cross. However, the linesman ruled Welbeckoffside. Hernández was replaced by Dutch international Robin van Persie in the 67th minute. Van Persie tallied in the 90th minute to force a replay.

Andrea Orlandi

The Spaniard scored in the first half to spark Brighton and Hove Albion (English Championship club) to a 2-0 upset of Newcastle United (EPL) in the F.A. Cup. Orlandi finished a cross from Wayne Bridge in the 33rd minute.

Roger Espinoza, Maynor Figueroa

Espinoza will have to wait a little long to make his Wigan Athletic debut. The Honduran international midfielder never got off the bench in Wigan's 1-1 draw with AFC Bournemouth in the FA Cup. Another Honduran, Figueroa, figured in the scoring. A mistake by Figueroa almost gave Bournemouth a first-half goal as he failed to clear a Marc Pugh left-wing cross. Matt Tubbs tried to finish, but Danny Redmond made a diving tackle to save a goal. After Bournemouth took the lead, Figueroa almost made up for his error by firing a 25-yard free kick off the crossbar early in the second half. Figueroa was dragged down from behind by Bournemouth's Richard Hughes and referee Robert Madley awarded a penalty kick in the 70th minute. Jordi Gomez's attempt was saved by goalkeeper Shwan Jalal, but the rebound came to the Wigan player Gomez converted.

Michu

Only 73 seconds after entering the match, the Spaniard scored Swansea City's first goal in the 58th minute a 2-2 F.A. Cup home draw with Arsenal. The teams combined for three goals in 10 minutes with Swansea's Danny Graham equalizing in the 87th.

Carlos Ruiz

The Costa Rican international's corner kick helped Fulham stave of elimination by Blackpool in a tie tie in the F.A. Cup. Ruiz sent a corner into the penalty area in the 80th minute. Blackpool's Robert Harris tried to clear the ball. But Fulham's Giorgos Karagounis intercepted on the edge of the penalty area and he volleyed a shot into the net to equalize.

Jose Enrique

Liverpool's Spanish defender is expected to be out for six weeks due to a hamstring injury suffered in last week's win at Queens Park Rangers. "It was unfortunate he has done that because he has looked fantastic in the [recent] games," Liverpool manager Brendan Rodgers said.

ITALY

Edinson Cavani, Pablo Osvaldo

Cavani struck for a hat-trick in Napoli's 4-1 romp over AS Roma as he took over the Serie A scoring lead with 16 goals. The Uruguayan international tallied in the fourth minute off Goran Pandev's feed, made it 2-0 off another Pandev pass in the 48th before collecting his third by heading home a corner kick in the 70th. Osvaldo, an Argentine, made sure Roma avoided a shutout.

Mauro Icardi

The 19-year-old Icardi, who was born in Argentina, but holds an Italian passport, struck twice for 10-man Sampdoria, which rallied for a 2-1 win over Serie A leaders Juventus. Sampdoria played a man down after Gaetano Berardi was red carded. Icardi scored in the 52nd and 68th minutes.

Luis Muriel

The Colombian connected for the insurance goal of Udinese's 3-0 home win over 10-man Inter Milan in the 75th minute. His goal was sandwiched around scores by Antonio Di Natale.

Gonzalo Bergessio

The Argentine missed a penalty kick that proved costly for 10-man Catania in its scoreless tie at home to Torino. Bergessio botched his opportunity in the 22nd minute, nine minutes after teammate Francesco Lodi had been red carded.

ARGENTINA

Juan Román Riquelme

The former Argentine international said that he would not return to Boca Juniors. Riquelme, 34, had not played with the team since June after having disagreements with former coach Julio Cesar Falcioni. "I can't change the decision I took six months ago. I'm not coming back to Boca," Riquelme told reporters. "I thought about it up to the last moment because of the coach but I can't change the decision I made. I love this club, I have a lot of memories. Boca will always be my club but I have my word."

FRANCE

Lisandro López

The Argentine could not stop Lyon from becoming the first French Cup winners since 1998 to be eliminated in the round of 64 of the next competition as the team was ousted via penalty kicks, losing to Epinal, two leagues below the Ligue 1 team. López hit the woodwork in extra time after playing to a 3-3 tie in regulation.

PORTUGAL

Nicolás Gaitán, Eduardo Salvio

Benfica's one-two Argentinean punch was too much for Estoril Praia in a 3-0 road win. Gaitán found the back of the net in the 37th minute for a 1-0 lead Salvio closed out the scoring in the 66th.

Jackson Martínez

The Colombian striker tallied in the 24th minute of FC Porto's 1-0 home win over CD Nacional.

AUSTRALIA

Marcos Flores

The Argentine midfielder scored the first goal of Melbourne Victory's 2-0 win over visiting Wellington Phoenix in the 43rd minute in the A-League match.