Soccer Round-Up: Chicharito is Back!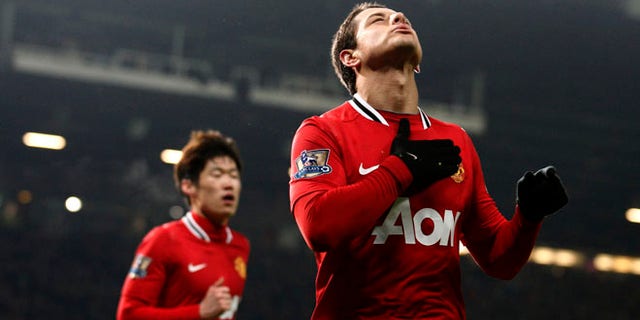 Chicharito is back.
Just ask Stoke City and Chelsea.
For the second time in five days on Sunday, striker Javier Hernández scored. However, this time, it was much more important and much more dramatic as the Mexican international's four-yard header lifted Manchester United to a 3-3 comeback draw with Chelsea at Stamford Bridge.
Hernández headed home a Ryan Giggs cross from the left side in the 84th minute after the Chelsea goalkeeper blocked Wayne Rooney's header.
Second-place United remained within striking distance of city rival Manchester City in the English Premier League. MU trails MC (57 points) by two points with both sides having played 24 English Premier League matches. City, which registered a 3-0 win over Fulham on Saturday.
On Wednesday, Hernández converted a penalty kick to give United its first goal in a 2-0 EPL victory over Stoke City. The goal had snapped a personal scoreless streak of 282 minutes over nine games, or since a 1-1 draw with Newcastle United on Nov. 27.
Early in the second half on Sunday, United manager Sir Alex Ferguson brought on Chicharito for Ashley Young to added a little spark. He got that and then some.
"To be honest, I maybe should have played Chicharito from the start. When he came on, he just had them on toast really," Ferguson said. "He really put them under pressure with his movement and positional play. Danny Welbeck has been terrific and he's going to be a top player. But when Chicharito came on in the second half, it was a different game."
Chicharito's Excellent Adventure
The Blues cruised to a 3-0 lead by the 51st minute behind an own goal by Jonny Evans, Juan Mata's left-footed volley and David Luiz's head shot. But ManU rallied behind a pair of penalty kicks by Rooney in the 58th and 69th minute to set up Hernández's late heroics.
England
Sergio Aguero, Bryan Ruiz
The Argentine international converted a penalty kick and set up another goal in Manchester City's 3-0 victory over Fulham, the team's 12th home victory in as many matches this season. Aguero put away his penalty past goalkeeper Mark Schwarzer in the 10th minute for his 18th goal this season in an encounter that was played in snowy conditions. As it turned out, Aguero's run set up the penalty. He passed to Adam Johnson, who was tripped by Chris Baird (who had an own goal later). Aguero closed out the game in the 72nd minute as his weaving run set up Edin Dzeko for the score.
Ruiz, a Costa Rican international and a second-half substitute, sent in a corner kick that struck Dzeko and hit the post in the 77th minute.
Hugo Rodallega
The Colombian striker admitted he was talking to other clubs as he prepares to leave Wigan Athletic at the end of the EPL season. "It's sure that I won't play anymore for them after this season," Rodallega told The People newspaper. "This will be my last three months with Wigan. I'm already talking with other teams, but I won't name them. I must respect Wigan.
"Wigan have received many offers for me, but they always said no. I want to leave Wigan with the team having avoided relegation. I would love that Wigan fans recognize my effort when I leave the club in May."
Germany
Claudio Pizarro
The Peruvian striker stayed on fire, netting a pair of goals to help Werder Bremen play to a 2-2 tie with last-place Freiburg. Pizarro, who has totaled 15 goals in only 18 Bundesliga matches, found the back of the net in each half. Pizzaro, 33, gave Bremen the lead in the 29th minute as he placed a volley under the goalkeeper, but three minutes later Freiburg tied it on Cedrick Makiadi's goal. The Peruvian struck again two minutes into the second half flicking Mehmet Ekici's into the far corner, but the hosts equalized on a goal by Frenchman Jonathan Schmid.
Lucas Barrios
Barrios, an Argentine-born, Paraguayan striker who was close to leaving the club this week, scored for Borussia Dortmund in its 2-0 victory in sub-freezing temperatures at Nuremberg. The win extended the Bundesliga defending champions' unbeaten streak to 14 matches. Barrios has asked to be placed the transfer list, but fortunately for Dortmund, there were no takers.
"Lucas really deserved this goal," Dortmund coach Jurgen Klopp was quoted on the club's website. "He is feeling good and it is normal that he is not happy when he is not starting games. We now have 14 more games and hopefully a few more cup games so we need to have his quality in our attack. He is going to get chances to play."
Spain
Carlos Vela, Jonathan dos Santos
Vela, a Mexican international, came off the bench in the second half and scored Real Sociedad's lone goal in its 2-1 defeat to Barcelona in La Liga. Vela entered the match for Diego Ifran in the 58th minute. Two minutes after Lionel Messi (he set up the opening goal) scored, Vela gathered a pass from Antoine Griezmann and beat the goalkeeper.
Another Mexican, dos Santos, started for Barca. He did not figure in the scoring, but reportedly played a strong game at central midfield. It was Santos' first league start. He was in the starting lineup of a Copa del Rey match earlier this season.
Hector Moreno
Had the Mexican international scored for Espanyol, the team might have been able to defeat Athletic Bilbao on Saturday. Moreno had a goal called back for an offside call and Espanyol was forced to settle for a wild 3-3 tie. He played the entire match for Espanyol.
Radamel Falcao
The Colombian had Atlético Madrid's best scoring opportunity midway through the second half of its scoreless draw with Valencia, but his close-range shot was cleared off the goal line by defender Adil Rami.
Andres Guardado
For the first time in several games, Guardado failed to create or score a goal for Deportivo la Coruña in the Spanish Second Division team's 1-0 win over host Recreativo. Juan Carlos Valerón connected for the lone goal of the match in the 15th minute.
However, the Mexican international midfielder did his best to produce a goal. Colotto got to Guardado's corner at the far post, but he headed it wide in the 22nd minute. Guardado had a free kick stopped by goalkeeper Manú Fernández in the 45th minute. He set up Riki in the 64th minute, but his six-yard shot went over the crossbar.
Italy
Rodrigo Palacio, Cristian Ledesma, Alvaro González
Palacio started Genoa to a 3-2 victory over Lazio with a spectacular goal in Serie A action. The Argentine, with his back to the goal, volleyed the ball over his head and into the net in the 10th minute. After Genoa grabbed a 3-0 lead by the 46th minute, Ledesma, an Argentinean-born player who plays internationally for Italy, pulled one back with a penalty kick in the 25th minute, and Gonzalez, a Uruguayan, tallied in the 90th minute.
France
Guillermo Ochoa, David Ospina
Only five minutes away from their fourth consecutive Ligue 1 win, Ochoa, a Mexican international goalkeeper, and Ajaccio surrendered a goal as they settled for a 1-1 draw. Ajaccio (5-10-7, 22 points) could have made some more room between the team and the relegation zone. The club is 15th place out of 20 teams, three points out of 18th place, which is the top of the zone.
Soccer-Mad Church Worships Diego Maradona as a God
Brazilian striker Eduardo converted a penalty kick past Ospina, a Colombian keeper, in the 57th minute after defender Kevin Gomis took down Frederic Sammaritano in the penalty area. Nice, however, came back as substitute Esmael Goncalves took advantage of an Ajaccio defensive error to beat Ochoa in the 84th minute.
Belgium
Matias Suarez
Suarez, an Argentine, erased Genk's early 1-0 lead with a quick goal of his own to help Anderlecht to a 4-2 victory.
Scotland
Emilio Izaguirre
The Honduran international defender did not dress for Celtic's 2-0 Scottish Cup victory over host Inverness Caley Thistle. No reason was given for his absence.
Australia
Dani Sánchez
The Spanish native scored to help second-place Wellington rally from a one-goal deficit to record a 2-1 triumph over Adelaide, which was a team-record fourth consecutive victory. It also was Wellington's third successive road win.
Greece
Ariel Ibagaza, Pablo Garcia
It was more hit the woodwork than hit the back of the net in Olympiakos' 2-0 win at PAOK. Argentine Ibagaza's shot hit the post for Olympiakos. The ensuing rebound was crossed across the penalty area as goalkeeper Dario Kresic could not clear as Djamel Abdoun put it away. But PAOK could not find the scoring touch as Garcia, a Uruguayan, hit the post in the 29th minute.
United States
Jose Adolfo Valencia
The first Major League Soccer season for the Colombian striker was over before it got started as Valencia and the Timbers discovered he would have to undergo surgery to repair damage cartilage in his left knee. The 20-year-old Valencia is the son of former Colombian international and New York/New Jersey MetroStars striker Adolfo Valencia.
Michael Lewis, who has been covered soccer for more than three decades, can be reached at SoccerWriter516@aol.com.
Follow us on twitter.com/foxnewslatino
Like us at facebook.com/foxnewslatino