Smith gives up rare run, Brewers lose 6-4 to Twins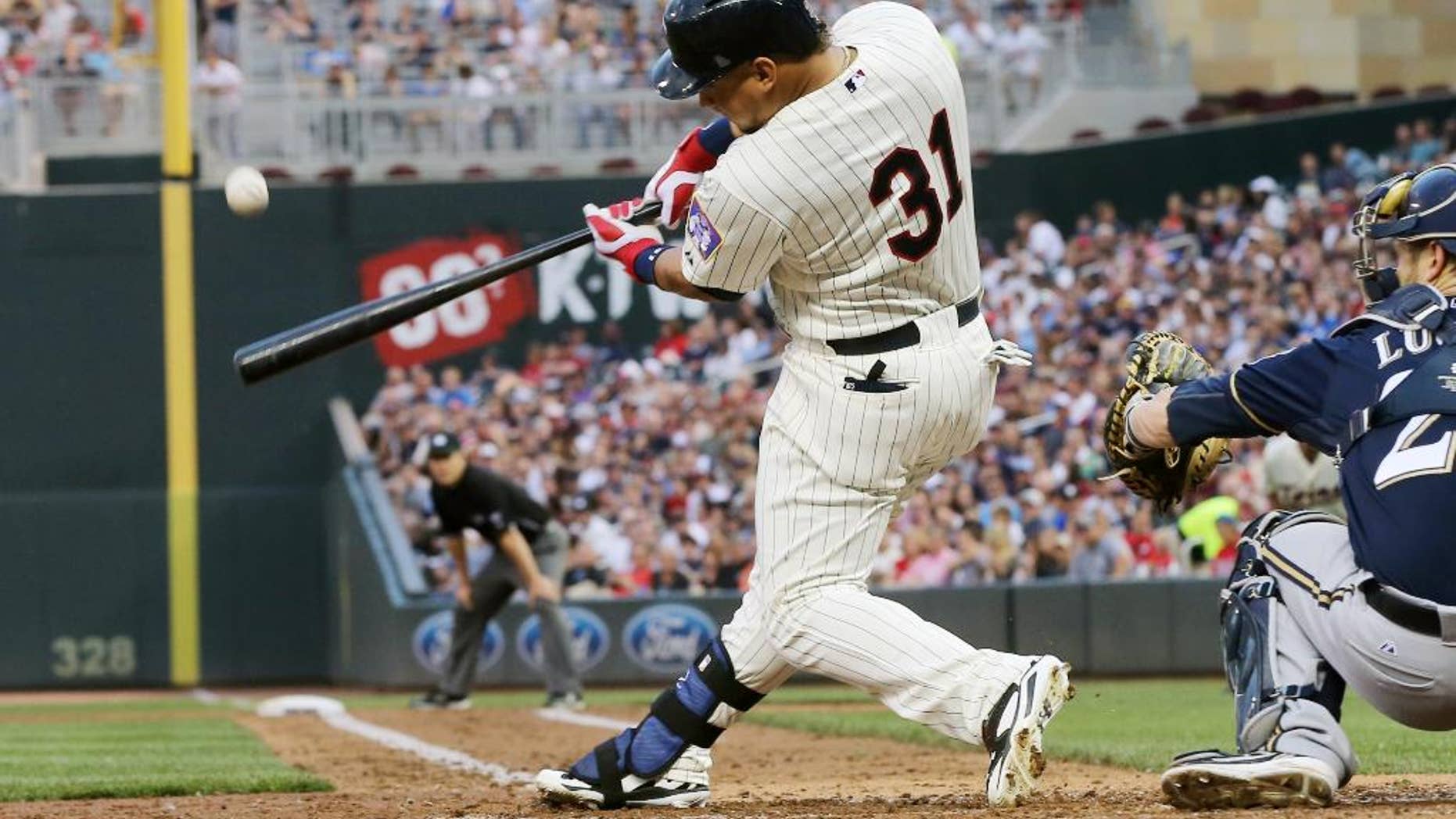 MINNEAPOLIS – Milwaukee Brewers reliever Will Smith seeks perfection every time he takes the mound. Wednesday night in Minnesota was a rare time he's been short of that this season.
Oswaldo Arcia drove in four runs, including the go-ahead run off Smith in the seventh inning, to push the Twins past Milwaukee 6-4 on Wednesday night for their seventh win in the last eight meetings with the Brewers.
With the game tied 4-4 in the bottom of the seventh, Twins slugger Josh Willingham hit a two-out double off Rob Wooten (1-3) and Smith was summoned to face Arcia, who singled, took second on the throw home and scored on a single by Trevor Plouffe. It was just the second earned run against Smith all season and the first in 15 games.
"You can't expect the guy to be perfect," Brewers manager Ron Roenicke said after Arcia became the first lefty to get an RBI off Smith this season. "He's thrown the ball great and he'll continue to throw the ball great. He just left a slider up a little bit and Arcia did a nice job of hitting. He hurt us tonight. Against Will Smith, not many left-handers are going to hit his breaking ball."
Arcia hit a three-run home run off Brewers starter Marco Estrada in the fourth inning, going deep for the third time in 10 games since his recall from Triple-A, and Willingham forced in a run with a bases-loaded walk in the fifth inning.
"Obviously that was a big blow but we stayed in the game — we came back and I thought we had it," Estrada said of Arcia's homer. "I don't know. It's just unfortunate the way the game turned out. We had a lot of close pitches, a lot of close pitches, and they just weren't going our way."
Aramis Ramirez returned from the disabled list after missing 21 games with a strained left hamstring to wallop a three-run homer that tied the game in the seventh, following leadoff singles by Jonathan Lucroy and Carlos Gomez.
"I hit that ball pretty good," said Ramirez, who started the season strong but was slumping badly when he got hurt. "He was throwing the ball well tonight but left that fastball out over the plate and I put a pretty good swing on it. Have to keep working. It's not easy to hit big-league pitching, especially when you're out for a month. I'm going to have to keep working to get my timing back."
Ricky Nolasco (4-5), who retired 13 straight batters until that point, recovered to finish the inning and pick up the victory when the Twins rallied again in the bottom of the frame.
Nolasco struck out seven without a walk while allowing six hits, another step forward from an awful first month with the Twins after signing the richest free agent contract in club history.
"The slow curveball really baffled us," Roenicke said. "He mixes in the fastball, he throws a nice slider down in the zone, but the curveball got us out of whack. We didn't do anything really until we got the three-run homer."
Glen Perkins pitched a perfect ninth for his 16th save in 18 chances.
The first-place Brewers haven't missed a beat without Ramirez, with Mark Reynolds and his 13 home runs at third base. They started this string of 15 of 18 games on the road with the lead after consecutive two-out doubles by Rickie Weeks and Reynolds in the second, but for the second straight game the Twins had success against part of what has been a sturdy rotation for the Brewers.
The return of Willingham and Arcia to the heart of the order after missing a combined 74 games with wrist injuries and rehab assignments was a big boost for the Twins last week, and they gave Estrada trouble.
Estrada has pitched six or more innings in 10 of his 12 starts, but only once has he finished seven. He gave up six hits and three walks while striking out four.
NOTES: The four-game burst between the border-state rivals finishes Thursday, with Wily Peralta (4-5, 2.73 ERA) pitching for the Brewers and Kevin Correia (2-6, 5.87 ERA) taking the mound for the Twins. ... Twins RHP Mike Pelfrey, put on the DL more than a month ago due to a strained groin, had an MRI Monday and saw a specialist Tuesday about his surgically repaired elbow. Next week, he will travel to Florida to see Dr. James Andrews, who performed the Tommy John ligament replacement procedure on his arm in 2012.