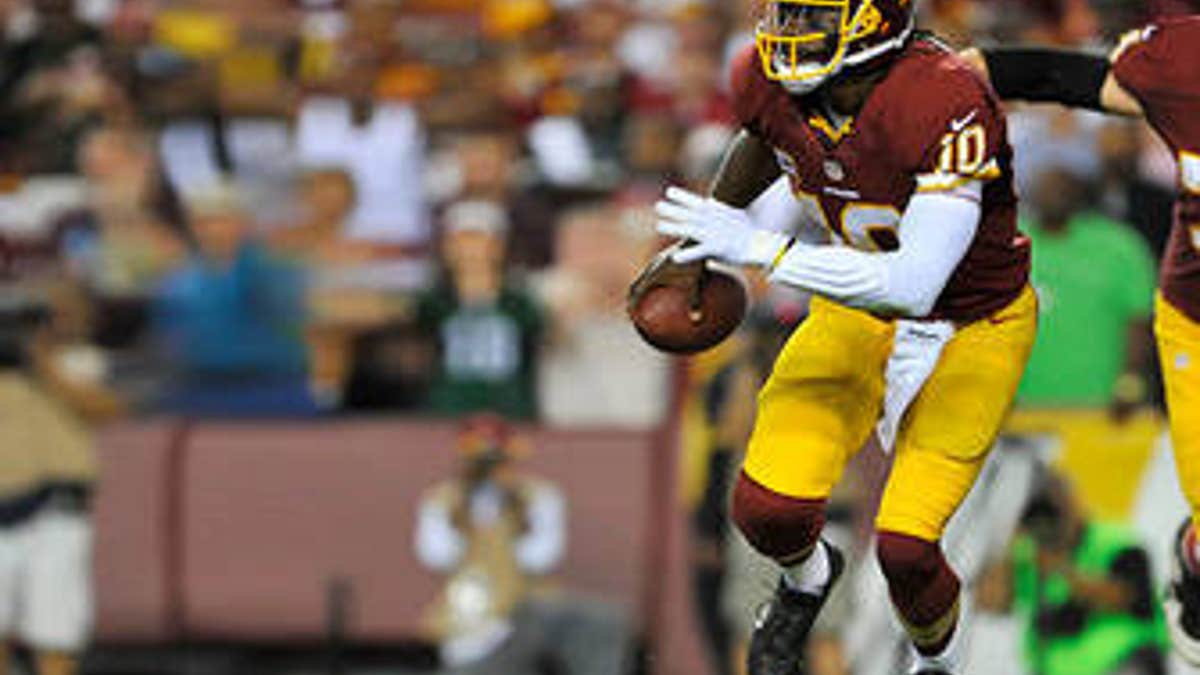 The Great RG III Knee psychodrama strides -- hobbles -- into Lambeau Field on Sunday (FOX, 1 p.m. ET). Are you enthralled or would you rather watch a repeat of the 2007 WNBA Finals?
Most of America will go with the first option. After all, what's not to like? It's two big-time contenders, each dying to avoid an 0-2 start. It's Aaron Rodgers. It's Robert Griffin III.
It's Robert Griffin III's right knee.
Repeat, it's Robert Griffin III's right knee.
Repeat again, it's Robert Griffin III's right knee.
I don't know about you, but if I hear much more about The Knee, I'm going to ask Dr. James Andrews to amputate my ears. It's not that I don't care about RG III's health. I can't wait to see him again run a 4.3 40-yard dash with one leg tied behind his back.
The problem is Griffin can't wait, either. Neither can Adidas. Mike Shanahan, we're not sure about. And Washington D.C. is completely torn and The Knee itself isn't talking to the media.
It's been that way since Jan. 7, when Griffin limped off the field, then back on, then off, then back on in a playoff game against Seattle. There was the initial controversy over whether Shanahan should have kept him in the game until his knee turned into linguini. That was followed by months of palace intrigue.
Were the coach and QB feuding? Could RG III pull an Adrian Peterson and return better than before? Was The Knee secretly dating Miley Cyrus?
It took on a life of its own, becoming the football version of Tiger Woods. You know, Jason Dufner could shoot a 59 and deliver triplets on the 10th tee, and the lead story would still be Tiger shooting a 71 to remain six shots back.
The Knee is an undeniably big story, since the future of the Redskins depends on it. It's just that a lot of people aren't overly concerned about what happens in D.C., which always shocks the people inside the beltway. If Russell Wilson were going through the same thing as RG III, there wouldn't be half the hype.
There also wouldn't be a marketing campaign built on an injury. A month after surgery, Adidas rolled out a commercial that had Griffin vowing to be "All in for Week 1."
Naturally, the nation's capital freaked over the bipartisan issue of whether RG III was being pressured to return too soon. Before President Obama could call Congress into emergency session, Griffin took to Twitter and tried to calm things down. That hardly made the story go away, which was probably what Adidas had in mind.
The Knee got a cover story on GQ. Then Griffin showed up for a preseason game in Tampa wearing a non-GQ T-shirt. It read "Operation Patience."
No doubt, being held out of contact and preseason games tested his patience. So did being asked about The Knee approximately 495,943 times since January. Then on Aug. 29, we finally got an answer.
"Operation Patience ... Complete," RG III tweeted. "Cleared. To God Be The Glory."
God apparently didn't tell Shanahan, who still didn't pronounce RG III fit for action. All of which guaranteed his debut this past Monday against the Philadelphia Eagles would be the most irresistible, over-analyzed performance of the year.
RG III was terrible in the first half. Connor Barwin even caught him on one play. You'd have thought Nancy Pelosi ran the guy down.
"You guys put him on a pretty good pedestal, so anything he does wrong is going to seem like a letdown," Redskins offensive tackle Trent Williams said.
Then the old RG III showed up. He completed 25 of 38 passes for 276 yards after Philadelphia took a 33-7 lead. All of which left us more confused than ever going into this Sunday's game.
Rodgers must find the whole thing at least slightly amusing. Sunday will be the second game of Griffin's second season. At this point in his career, Rodgers' main job was to make sure Brett Favre's blue jeans didn't have too much starch.
But that was way back in 2005, when quarterbacks were drafted as apprentices. Now they are named starters before they shake Roger Goodell's hand on draft night.
That's not a bad thing, as Griffin, Wilson and Andrew Luck proved last year. But it's helped turn The Knee into an overwrought debate.
Did RG III just need to kick off the rust Monday night, or do the Redskins have a real problem?
Whatever the answer, let's hope we get it Sunday. How much more Operation Patience can one nation take?