Six Points: Lions vs. Rams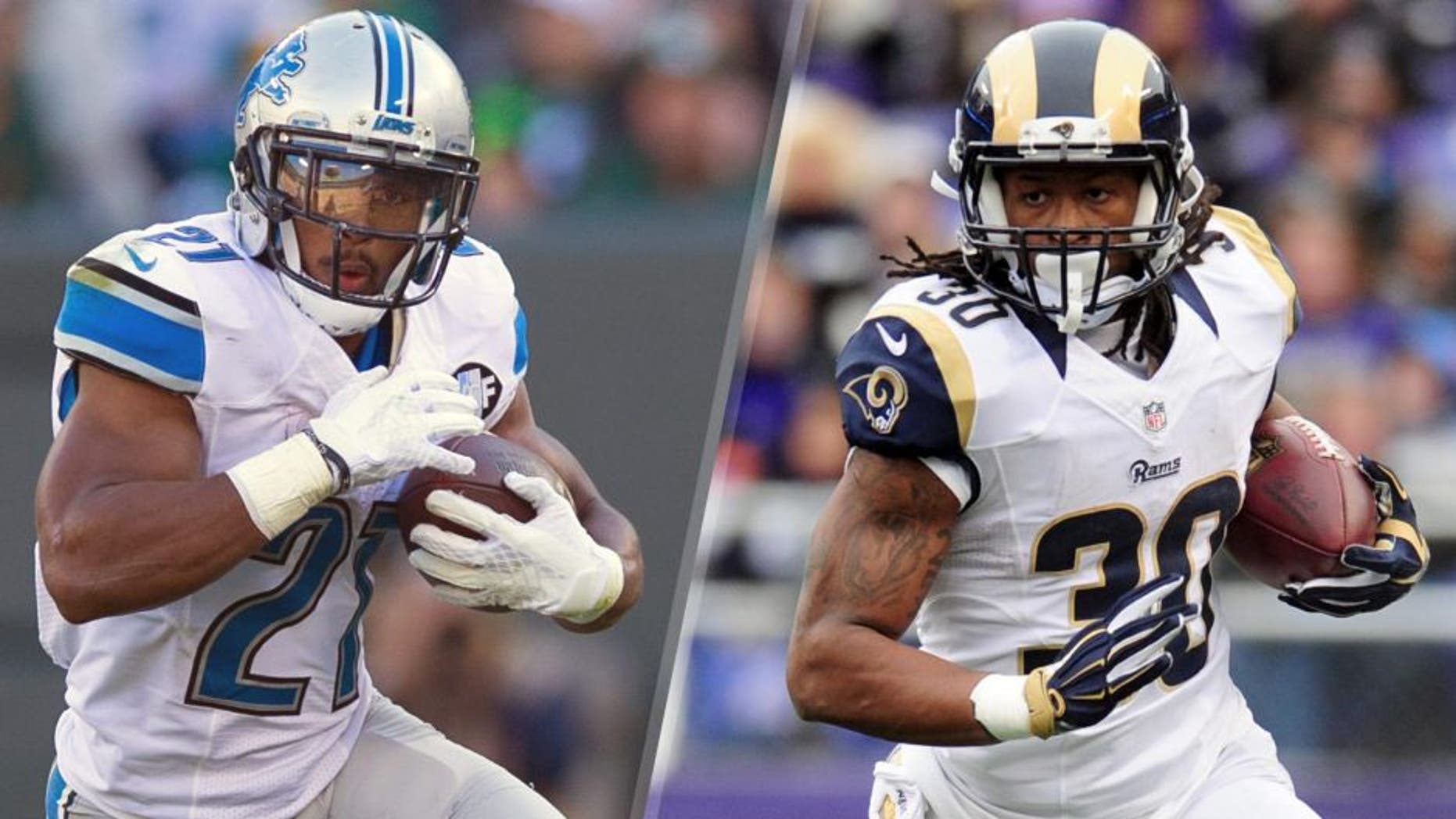 The Detroit Lions were seconds away from digging out of a massive early-season hole and joining the crowded NFC postseason chase, but now must find a way to recover from a crushing defeat when they visit the St. Louis Rams on Sunday.
The Lions were on the verge of running their winning streak to four games, only to absorb a devastating defeat when Green Bay's Aaron Rodgers capped a comeback from a 20-point deficit with a 61-yard "Hail Mary" touchdown pass on the final play.
The Rams' decline has been more gradual -- they have dropped five in a row to tumble out of the playoff hunt. Identical 4-8 records aside, St. Louis took a page from Detroit's playbook in an attempt to halt the slide, firing offensive coordinator Frank Cignetti this week.
Here are three keys to the game for both the Lions and the Rams.
Can you beat the Crowd's Line? Submit your final score prediction below. Good luck!
LIONS
1. Let Ameer Abdullah off the leash
The Lions have shown steady improvement on the ground the last two weeks. Rookie running back Ameer Abdullah has been the main beneficiary with 60-plus rushing yards in back-to-back games. Abdullah has displayed great playmaking ability, particularly on kick returns, but ball security has always been a concern. He hasn't fumbled in six straight games, though, so it may be time to let him off the leash.
2. Come after Case Keenum with pressure
The Rams have the worst passing offense in the entire NFL (178 yards per game), and now they're going back to Case Keenum as the starting quarterback. In his last start, Keenum completed less than half of his pass attempts. Defensive end Ezekiel Ansah (12 1/2 sacks, second most in NFL) and the rest of Detroit's pass rush should look to put the heat on St. Louis' inexperienced passer. Some unexpected blitzes and stunts from defensive coordinator Teryl Austin should do the trick.
3. Don't give Todd Gurley a chance to get hot
Rookie running back Todd Gurley got off to a hot start with four straight 100-yard outings in the beginning of the season. Since then, however, he has averaged only 52 yards per game and the Rams have lost five straight. The Lions can't allow Gurley to get started on Sunday. Otherwise, they'll be chasing him all afternoon. Detroit should be able to stack the box against Gurley since St. Louis' passing game isn't very threatening.
RAMS
1. Don't abandon the running game
Yes, the Rams have been outscored 58-10 in back-to-back losses to division leaders Cincinnati and Arizona, but they have trailed by only 10 points at halftime in each of those games. Given that the passing game has been a disaster, having Gurley receive only nine carries in both games was mind-boggling. New offensive coordinator Rob Boras has to make sure Gurley gets at least 20 touches.
2. Mix up the defensive scheme
Two strengths for St. Louis were defensive pressure from the front four and blanket coverage from its secondary, but injuries have changed the equation. Leading pass rusher Robert Quinn and safety T.J. McDonald are done for the season and top cornerback Janoris Jenkins sustained a concussion last week. The Rams must adjust and find ways to get to Matthew Stafford after generating only five sacks during their the five-game skid.
3. Take some shots downfield
With Tavon Austin utilized in motion and on end-arounds, Boras needs to find Keenum more receiving options beyond Kenny Britt, the de facto No. 1 wideout. Brian Quick showed promise before injuries ended his 2014 campaign, but he has struggled to make an impact this season. Quick has been targeted 18 times in the last three games and Keenan would be wise to keep force-feeding him.